Sport Truck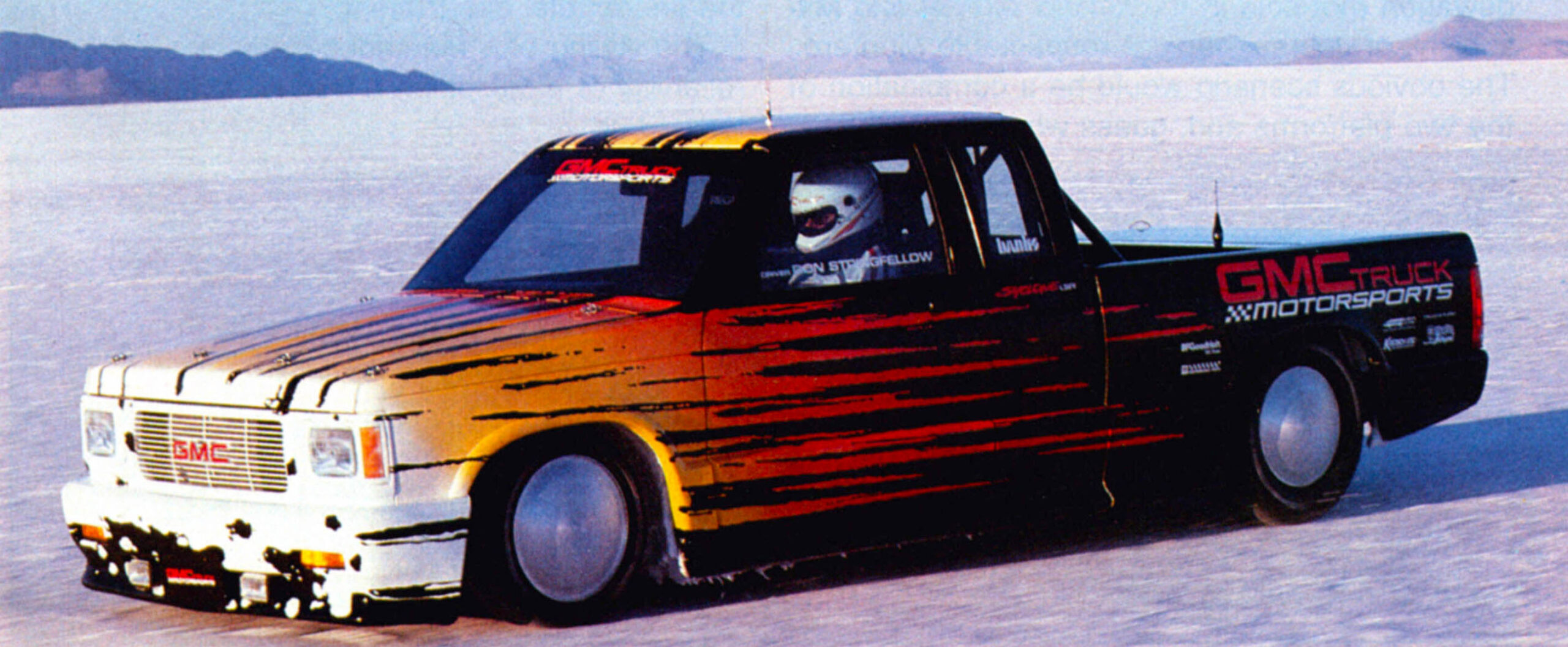 Hollywood couldn't have written a better ending. It was late on a September afternoon at the Bonneville Salt Flats in Utah. Track conditions were fine, but a nagging breeze was turning into a steady eight- to-i 0-mph wind that could seriously hamper a record run. If it was going to happen, it had to happen now.
And so veteran Bonneville driver Don String fellow put the gas pedal through the floor one last time and came up with the winning run. The GMC Truck Motorsports' Syclone LSR, a highly modified GMC Sonoma Club Coupe pickup truck, flew down Bonneville's black line at just over 210 mph. When averaged with a slower pass run against the wind a half-hour before, a new Federal International Automobile (FIA) Category A, Group II, Class 9 speed record was set at 204.145 mph through the flying mile.
This was not the first time GMC Truck had come to the salt with a record in mind. In July of 1989, a similarly modified GMC S- 15, then called the Engine Technology Vehicle (ETV), set the record at 194.770, reaching 197 mph during one of its passes ("194-mph GMC," April 1990). But GMC Truck and Gale Banks, whose company, Gale Banks Engineering, managed the record attempt, weren't satisfied. The magic 200-mph mark had eluded them, and they wanted another chance.
So they came back to the salt with a new and improved truck, the Syclone LSR (for land-speed record). The basic layout of the LSR is similar to the older ETV: Both trucks ran with modified 4.3-liter, 90-degree V-6 engines driving the rear wheels. The engines were bored and stroked to displace 5.0 liters, and both engines were naturally aspirated (since the F/A doesn't allow supercharging or turbocharging for its records).
But the Katech-prepared engine in the LSR had a higher compression ratio— 14.0:1 instead of last year's 12.0:1. That ratio and a new in take charge cooling system (to increase the intake air's density) netted the LSR more horsepower than last year's truck-549 hp at 7400 rpm, versus 523 hp at 6800 rpm. Torque was increased, too, from 414 lb-ft to 429.
All this power was fed through a Weisman five-speed manual racing transmission and back to 3.10:1 rear gears.
A sophisticated Delco Electronics GEN Ill engine management system (similar to those used on Chevy Indy-car motors) kept the engine running properly, while a Delco telemetry system sent critical engine in formation back to Banks' engineers while the LSR was making its record runs.
Underneath the truck, Bell Tech components lowered the suspension to improve aerodynamics. New GM-sourced body cladding also helped make the truck more slippery, and the LSR retained the ETV's innovative half-tonneau over the back half of the bed. These modifications gave the LSR a slick .315 drag coefficient.
Surprisingly, the LSR rolls on street-legal tires. Granted, they are shaved BFGoodrich Comp T/A R 1 s, which are special, competition- bred tires, but they are DOT approved radials. The LSR ran on P205/50ZR15s up front and P255/ 60ZR15s in back.
Inside the cab, the LSR bristles with electronics and safety gear, including a full rollcage, Recaro competition seats with five-point harnesses and a long aluminum lever to deploy the braking parachute. The S- 15's factory-stock steering wheel and steering column – complete right down to the turn indicator stalk and tilt lever— seem really out of place.
Banks, Stringfellow and the whole GMC Truck Bonneville team were ecstatic about the 210-mph pass and the new record. "The truck gave absolutely everything it had," Banks told us. "Every little bit. There was nothing left." Banks said he felt the new record should stand for quite a while. But if for some reason it doesn't, we have a feeling he'll be back.