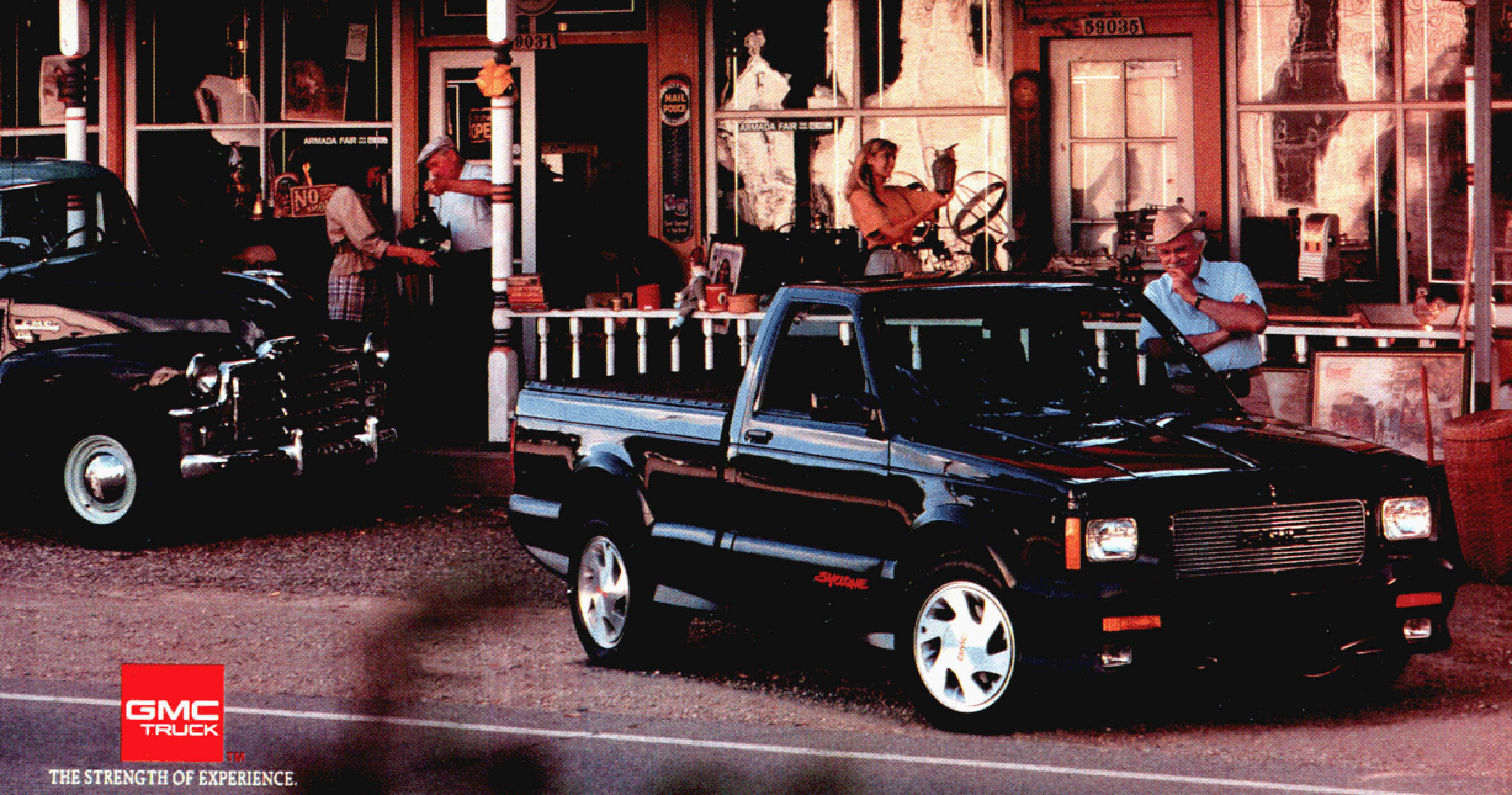 0-60 IN 4.6 SECONDS

ON SEPT. 14, 1990, A SPECIALLY MODIFIED GMC PICKUP REWROTE HISTORY BY CLOCKING 210.069 MPH IN THE FLYING MILE.
No one knows more of what a truck can be than GMC Truck. One very quick example: Our incredible GMC Syclone. With its 280 SAE net hp, intercooled, turbocharged 4.3L V6, full-time all-wheel-drive and 4-wheeI anti-lock brakes, it's a statement of contemporary engineering, indeed. A rolling testament to GMC Truck's commitment to leadership in truck technology that provides world class acceleration levels of 0-to-60 in 4.6 seconds. And since we believe there should be no end to a good thing, you'll see the Syclone influence on other Sonomas this year. Especially in the one wailing for you on the next page.
IT STARTS WITH A 195 SAE NET HP 4.3L V6. AND IT JUST GETS BE'ITER FROM THERE.
Ticking under the hood of our new Sonoma GT is the next best thing to Syclone's full-blown power: The new 195-hp 4.31. High
Performance (HP) V6.
Also standard: Syclone's front air dam and side skirts grounded by 15″ styled wheels and low-profile radial rubber with a special sporting suspension. A street truck equally adept at moving through the moonlight or slowing down owners of every other truck out there for long second looks and low whistles of envious approval al the stoplights.
Plus another performance feature we think you'll appreciate in a truck that looks this good and goes this well. A price that's every bit as finely-tuned as Sonoma GT's muscle.