Sport Truck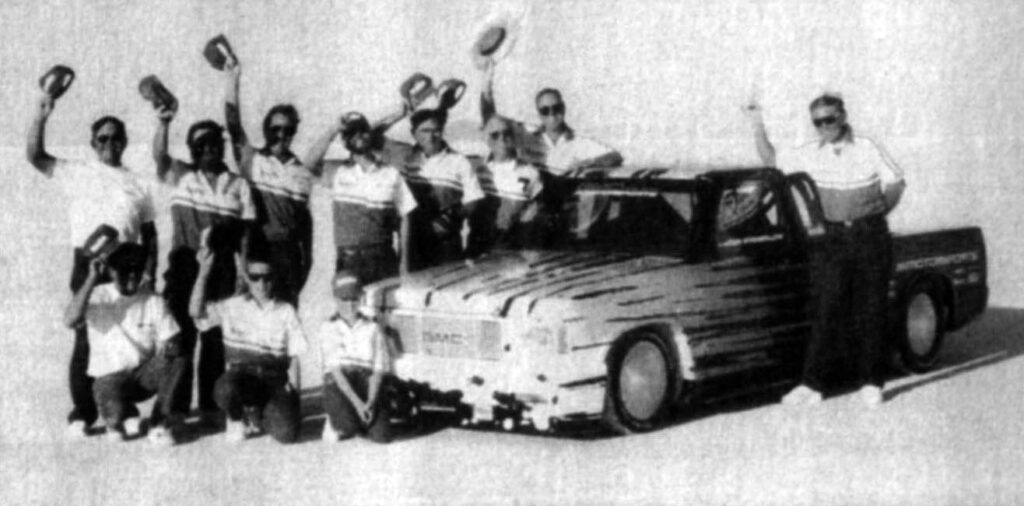 Just before we went to press, a modified GMC Sonoma Club Cab pickup set a new land-speed record of 204.145 mph in the flying mile at the Bonneville Salt Flats in Utah. A similar GMC truck, with a distinctive "salt splash" paint scheme, set a 194.770-mph record a year ago ("194-mph GMC," April '90).
The truck, called the Syclone LSR by GMC Truck Motorsports, was powered by a naturally aspirated, gasoline-fed, 90degree V-6 engine that was enlarged from 4.3 to 5.0 liters. The engine's power output is estimated at nearly 550 horsepower at 7200 rpm and 412 lb-ft of torque at 6000 rpm-just a tad over the 4.3's 160 hp.
At the hands of veteran Bonneville driver Don Stringfellow, who drove last year's record-breaking GMC, the Syclone LSR turned over 7800 rpm while making the fast passes. "There's a dent in the floor now," a happy String fellow told Gale Banks, who managed the record attempt with other members of his Gale Banks Engineering team.
In setting the record, the truck made a pass down the salt flats at over 210 mph, but a slower run in the other direction brought the average down to just over 204 mph. (A two-way average is necessary for a record under the sanctioning body's rules.)
We'll have more information on the truck and the speed record in our January issue.