Today's Truck & Sport Utility Performance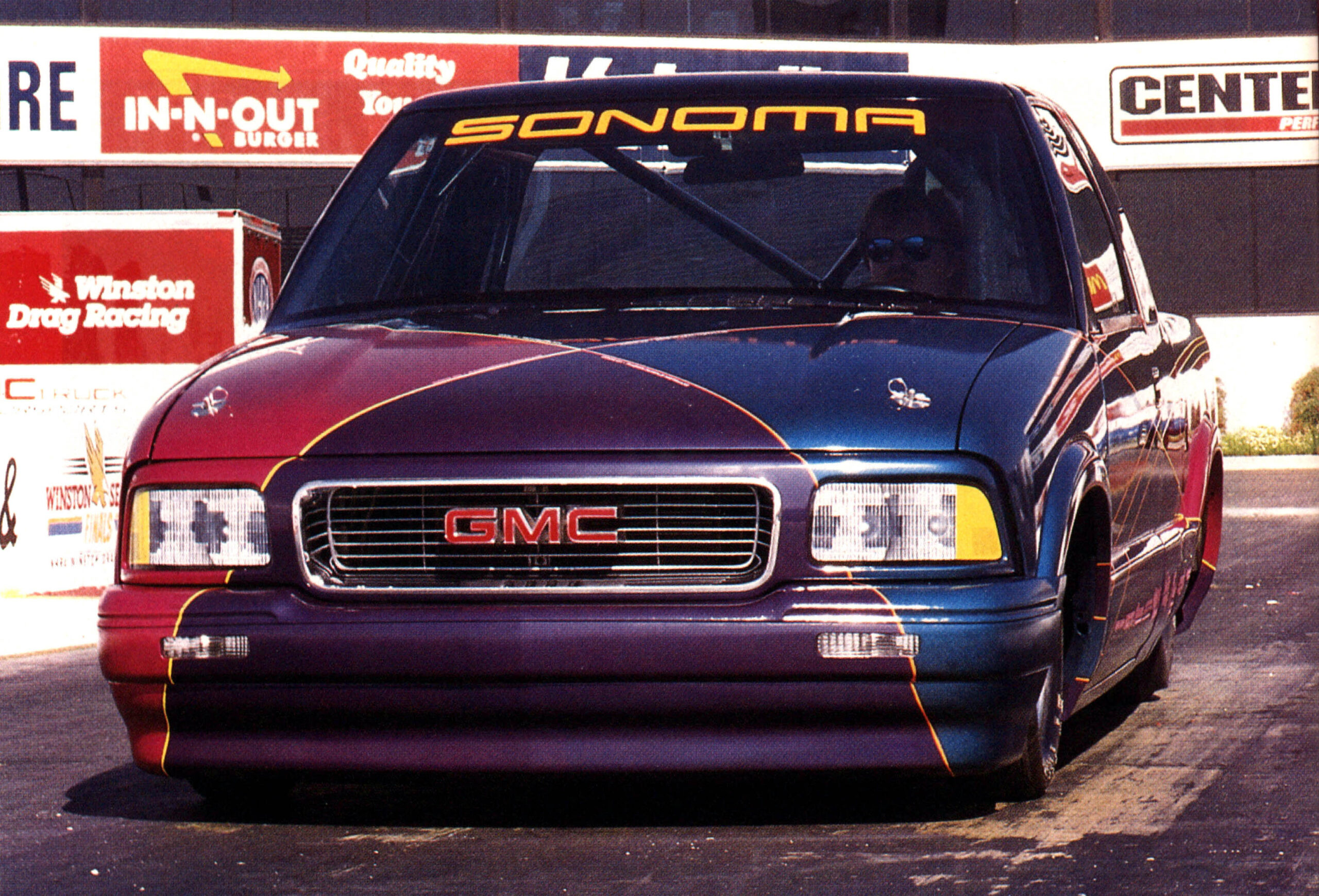 By Michael Ferrara
If you want real power, you need a V8. Right? It you believe that, the GMC Truck Super Coupe may just change your mind. The Super Coupe utilizes a Katech-prepared V6 powerplant to blaze down 1320 feet (1/4-mile) of pavement in only 9.85 seconds at a trap speed of 135 mph. If that doesn't impress you, take note that it accomplishes this feat in normally aspirated trim!
V6 Power-Bow-Tie Style
The engine which motivates the Super Coupe is based on the original 4.3-liter, 90-degree Vortec V6, but uses various GM performance parts and a host of aftermarket parts to produce 569 horsepower at 7200 rpm while generating 451 lbs-ft of stump-pulling torque at 6000 rpm. The foundation for the engine is a competition-prepped cast-iron Bow-Tie block (P/N 10185051) which was machined and assembled by Katech, Inc. of Mt. Clemens, Michigan. Knowing that this engine would be feeding on only racing fuel, forged-aluminum pistons sporting a 14.6:1 compression ratio were fitted into the cylinders which were precision bored to 4.126 inches. A forged-steel crankshaft checking in with a 3.75-inch stroke works with the oversized pistons to bolster displacement from 4.3-liters to 5.0-liters (302 cubic inches). Perhaps the biggest secret to this V6's tremendous power output can be found in the cylinder heads. This muscle bound V6 relies on splayed-valve, Bow-Tie cylinder heads (P/N 10134394) which bring the latest Pro-Stock technology to GM's 90-degree V6 engines. The splayed-valve design of the cylinder heads allows the valves to move away from the cylinder wall as they open. This design helps to unshroud the valves as they lift, improving airflow. Massive symmetrical intake ports, measuring 253cc of volume before porting, feed air to the 2.20-inch intake valve while 1.625-inch exhaust valves send spent gases through the equally spaced exhaust ports. Since these cylinder heads also offer a 45cc combustion chamber, high static compression ratios can be realized without the use of pistons with massive domes (domed pistons are an obstacle to high-efficiency combustion). Since the cylinder heads would provide some serious airflow, a capable fuel system was in order. A Delco Electronics GEN-III engine management system controls the fuel delivery to the injectors in the Kinsler/Delco Electronics manifold. This unique manifold uses slide valves instead of conventional butterfly valves to improve airflow while eliminating the turbulence caused by butterfly valves. Before finding its new home in the Super Coupe, this same engine was used to set a land speed record at Bonneville in 1990, powering the first truck to ever officially run over 200 mph.
Sonoma Super Coupe
Making a standard '95 GMC Sonoma Club coupe mini-pickup into a nine-second NHRA Super Gas drag truck required a number of chassis mods. Vehicle Research and Development (VRD) utilized 4130 steel-alloy tubing to construct the tube chassis which sports a 120-inch wheelbase (three inches shorter than stock). Up front, strut assemblies from Strange Engineering of Evanston, Illinois help transfer weight to the rear wheels during the launch. At the rear Mickey Thompson slicks of the 32×14.0x15 variety are mounted on Crager 15×14 Superstars. Power is channeled to the rear tires by a specially modified 3L80 (a.k.a. Turbo 400) transmission which uses a 5500 rpm stall converter and 9-inch rearend meshing 5.14:1 gears. Stopping power comes via Wilwood 10-inch diameter discs at all four corners. With a near-perfect balance of weight (49 percent front, 51 percent rear), the Super Coupe tips the scales at a scant 2361 pounds. To add some show to a vehicle with plenty of go, the GM design staff came up with the paint scheme which displays all the colors available in '95 for the Sonoma: Raspberry, Radar Purple. Bright Teal and Midnight Black.
Be On The Lookout
The Super Coupe is currently on a nationwide tour appearing at selected NHRA National Events. The truck will also be paying visits to GMC dealerships throughout the year. Although the Super Coupe serves as an exhibition truck, it reminds us all that V8 power can be derived from GM's 4.3-liter Vortec V6. The Super Coupe is proof positive that sometimes six can equal eight.