Consumer Review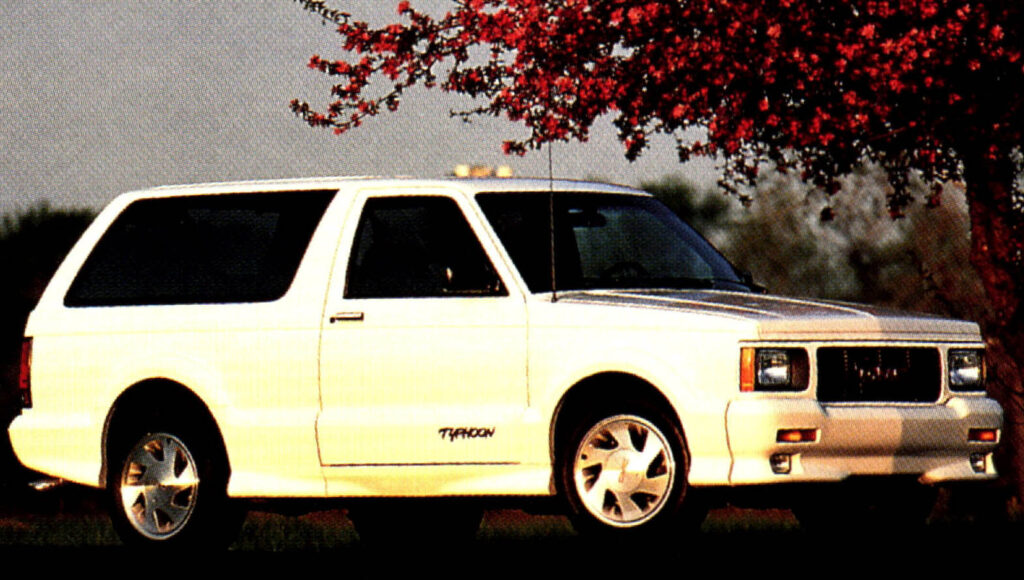 1993 GMC Typhoon
Vehicle Type
Though based on the existing two-door mid-sized Jimmy sport utility vehicle, the Typhoon differs vastly from its more sedate sibling. Under the Typhoons hood is a massively-powerful turbocharged V-6 engine with more power than virtually anything in its class.
The drivetrain for the Typhoon is also unique to this model, combining a full-time all-wheel-drive system with an automatic transmission and four-wheel anti-lock brakes for high performance in the truest sense. The all-wheel-drive system is not intended for off-road use, but is instead designed to aid acceleration and cornering.
For 1993, the Typhoon gets minor changes. The rear suspension has been retuned for what GMC states is "better road feel" and "reduced harshness." The driver's seat gets a six-way power adjustment and the passenger seat receives a power lumbar feature.
Inside, the Typhoon also differs from the Jimmy in its complete array of luxury features. A major asset of the Typhoon is the sports car-like instrument panel. This replaces the clownish variety found in other Jimmys.
Externally, the Typhoon is distinguished by its low stance, big tires and alloy wheels, trick paint job and aerodynamic trim. Think of the Typhoon as a sports car with a truck body and extra cargo carrying ability.
To match its performance image, the Typhoon is equipped with standard leather upholstery and interior trim, sport seats with a multitude of adjustments, tilt steering wheel unique to this model, a complete set of analog gauges and an upgraded sound system with available CD player.
Engine And Drivetrain:
With 280 horsepower on hand and 350 foot-pounds of torque available, the Typhoon is nothing short of a landbound rocket. Yet to harness the considerable power, GMC has equipped the Typhoon with an all-wheel-drive system that sends 35 percent of the engine's power to the front wheels and 65 percent to the rear. This system ensures that the engine's muscle won't be wasted on spinning tires.
The only transmission is a four-speed automatic. With all the power from low rpm on up, the engine is capable of a quick thrust without the need for shifting.
Ride, Performance & Handling:
Heavily revised springs, shocks, sway bars and new load leveling rear air springs bring ride and handling characteristics into the realm of sports cars as well, and the massive P245/50 V-rated tires generate impressive grip.
The Typhoon may look like a truck, but its athletic abilities will be right out of the sports car ranks. A 0 to 60 time of just 6.5 seconds and lateral acceleration on par with the likes of Porsches and Ferraris make this a very serious machine.
While some of the import brands are heading upscale, few offer any more standard equipment than the Typhoon and none come even close in terms of sheer performance. This is a vehicle that can go, corner and stop as well as some very expensive sports sedans. Plus it has real station wagon room. The only thing we might wish for would be two more doors to expand the potential market base.