Motor World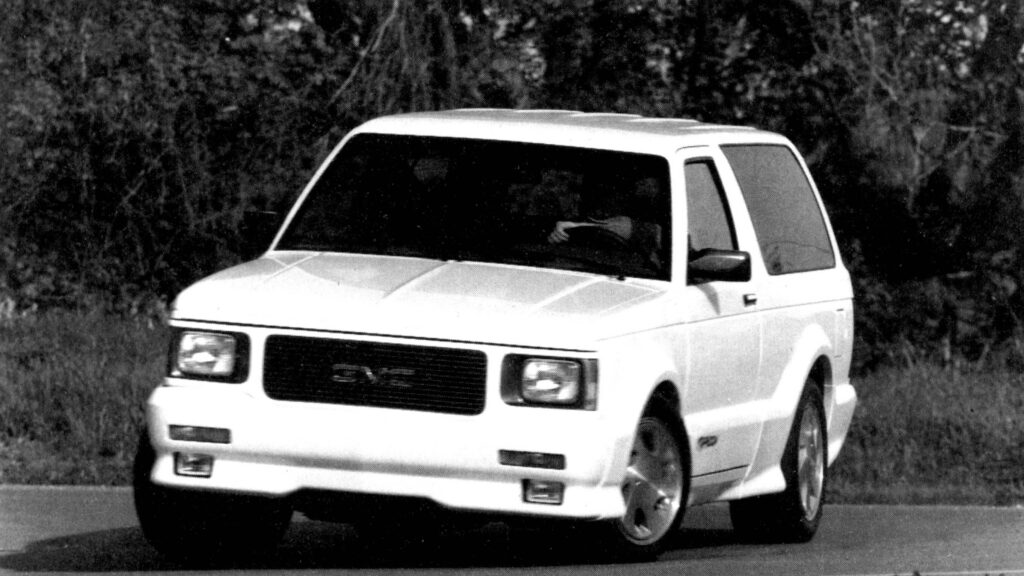 GMC Typhoon
Over 280 turbocharged/intercooled horsepower. Zero to sixty in under six seconds. All-wheel drive. Four-wheel anti-lock brakes and leather-trimmed interior. An exotic sports car, you ask? Not a chance. It's the 1993 GMC Typhoon, the hottest sport utility on the market.
Introduced last year, the GMC Typhoon entered a market previously inhabited only by custom hot-rod enthusiasts. GMC saw this opening market segment and jumped on it. A sport-utility vehicle with the sports-car characteristics of Typhoon is a testament to the increasing trend away from hard-riding trucks and towards more liveable, comfortable, fast, and fun-to-drive vehicles which people use for light work and hard play.
Make no doubt about it, Typhoon is definitely closer to a sports car than a sport-utility. GMC offers no trailer-towing option, and the all-wheel drive system has no low range. It is better suited for gaining traction on a race-track than in the out-back. Typhoon's interior is typical sports-car leather with a floor-mounted gear shift lever, not much unlike the Corvette. Front styling includes integral fog-lamps and aero moldings on front fenders, rear facia, doors, rocker and quarter panels.
For 1993, GMC has made only minor improvements to this formula. These include a retuned rear suspension that reduces harshness and also increases lateral acceleration, overhead console with reading lamps, standard leather seating with six-way power adjustment and lumbar, rear cargo net, body color grille, more aggressive Typhoon graphics on the tailgate, and a monochromatic all-white exterior color.
The engine that makes this all possible is a 4.3 liter Vortec V-6 that was first seen in the 1991 Syclone. (GMC discontinued the Syclone for 1993.) This incredibly strong engine makes 285 horsepower at 4,400 rpm and 360 lb-ft. of torque at 3,600 rpm. The only transmission available is GMCs Hydra-matic four-speed automatic with overdrive, the same unit previously found on L98 Corvettes. When you want to show off Typhoon and drive slowly, shifts are smooth and hardly noticeable. When you want to show off your Typhoon by driving quickly, very quickly, shifts are quick and come late enough to get maximum horsepower delivery out of the V-6.
The full-time four-wheel drive system does away with wheel spin when accelerating and provides sensational grip in fast corners. The transfer case's viscous coupling has power-distributing capabilities that also help Typhoon's handling.
To accommodate this spirited driving, Typhoon's front independent suspension includes unequal control arms, torsion bars and stabilizer bar. The rear has a semi-floating axle positioned by two-stage, semi-elliptical leaf springs and electronic load-leveling shock absorbers with integral air bags. The suspension gives Typhoon a low stance, like a sports car. Tires are Firestone Firehawk SVX P245/50VR16 speed-rated specially designed for Typhoon and sit on 1 6″x8″ aluminum wheels. Stopping power comes from front disc and rear drums assisted by a four-wheel anti-lock system that works in conjunction with the all-wheel drive.
Typhoon is a one-of-a-kind. GMC expects to sell only about 2,500 units this year. In fact, demand for Typhoon has slowed considerably since its introduction, and many dealers are offering this hot rod sport utility at thousands under sticker. If you've always liked the practicality of a utility but wanted performance more akin to a Ferrari, better grab one now. Snatch one up while you can; you won't be disappointed.