Sport Truck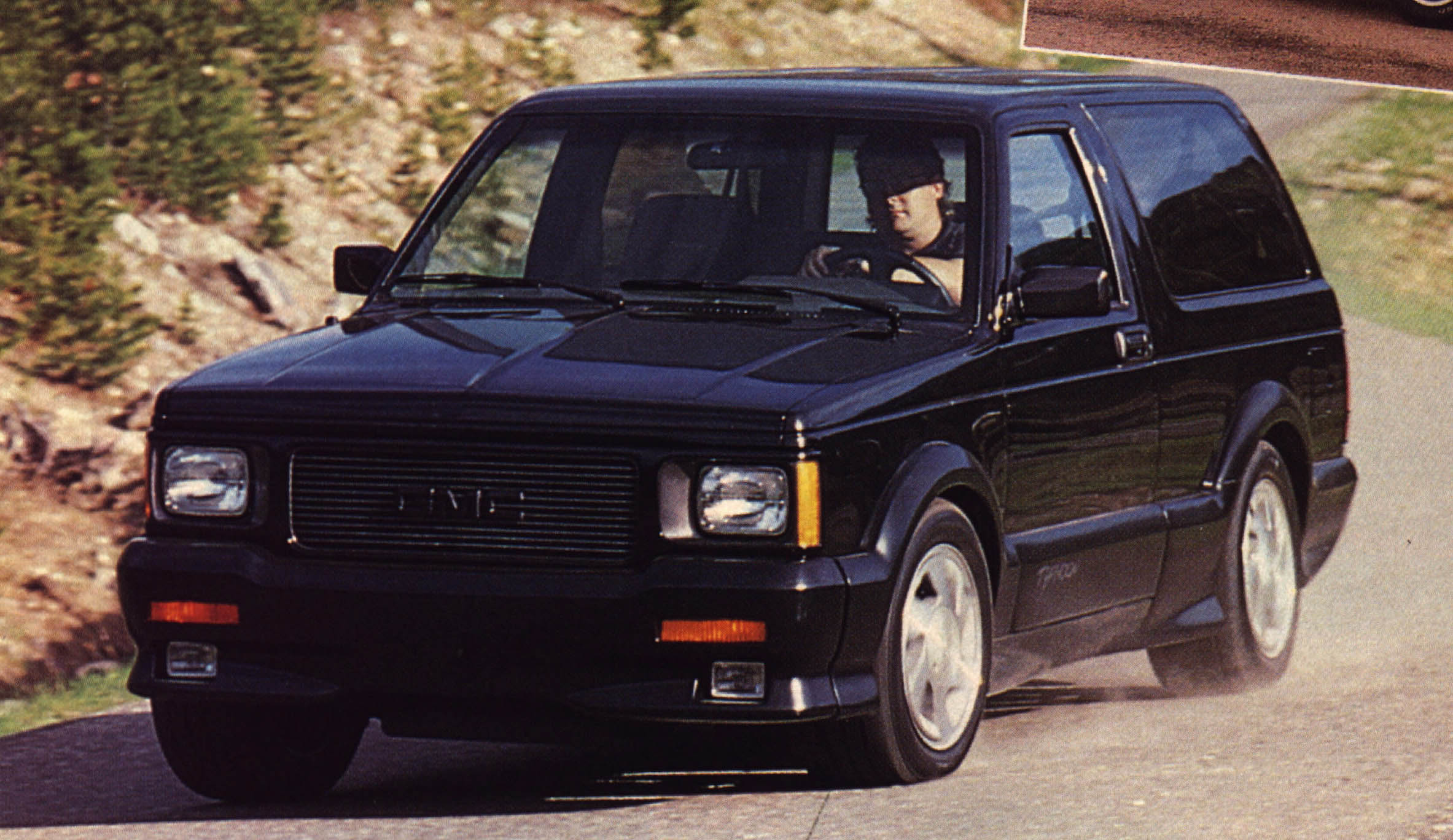 Just when you thought it was safe to go outside, GMC Truck Division is predicting a storm. As a follow-up to the fast and furious 1991 Syclone, GMC is preparing to unleash more heavy weather for 1992 with its all-new Typhoon, high-horsepower Sonoma GT and improved-for-'92 Syclone.
The popularity of the original 4.3-liter V-6 turbocharged Syclone has prompted GMC to apply the ultra-high-performance treatment to a limited number of these three new street stormin' trucks. The trio is aimed at the driving enthusiast who wants sports car performance in truck packaging. The Syclone, Typhoon and Sonoma GT feature racetrack-bred power and handling wrapped in no-nonsense monochrome styling. Fast, nimble and stylish, these new GMCs provide sport truck enthusiasts the opportunity to be king of the road in 1992.
TYPHOON
The '92 Typhoon is a tropical storm on wheels. A combination of Syclone-inspired drive train and S-10 Jimmy/ Blazer chassis and bodywork creates an all-wheel drive, hi-po luxury vehicle.
The Typhoon's Vortec V-6 engine produces 280 horsepower at 4400 rpm and 350 lbs.-ft. of torque at 3600 rpm. Intercooled turbocharging, electronic port fuel injection and an 8.35:1 compression ratio help the little V-6 pump out power, but dictate the use of premium unleaded fuel. The engine is hooked to a Hydra-matic4L60 four-speed automatic transmission. A BorgWarner transfer case and viscous coupler split the torque 35 percent to the front axle and 65 percent to the rear. Final drive ratio on the limited-slip rear differential is 3.42:1.
Handling is enhanced by live-axle rear suspension, a 32 mm stabilizer bar and electronic load leveling utilizing integral air bags. Variable ratio power steering and four-wheel antilock brakes (front discs, rear drums) are standard equipment. Low-profile tires on 16-ioch aluminum wheels complete the handling package.
More than just a Syclone with a back seat, the Typhoon boasts a full-featured, luxury appointed interior. Charcoal-colored leather covers the seats, door trim and steering wheel. Air conditioning, cruise control, tilt steering, electric mirrors, power windows and door locks are all standard.
The Typhoon offers the convenience and comfort of a luxury vehicle with the powerful punch of the Syclone's performance. GMC plans to produce less than 3000 Typhoons in '92. And with a projected price tag of $28,500, it is a good bet that the Typhoon will be a sellout.
SONOMA GT
The 1992 Sonoma GT is not just a stylish, blacked-out S-10-based truck. It is the first vehicle to be equipped with GMC's new L35 4.3-liter high-performance V-6 engine. The new powerplant puts out a healthy 195 horsepower at 4500 rpm along with 260 lbs.-ft. of torque at 3600 rpm without the aid of turbocharging. The cast-iron (block and heads) V-6 can propel the Sonoma GT from 0 to 60 mph in just 8.5 seconds. This is no dog. The Sonoma GT puts the power to the wheels through a Hydra-matic 4L60 automatic overdrive transmission.
This two-wheel-drive street machine hugs the road thanks to Bilstein shock absorbers, torsion bar suspension, two-stage leaf springs and a semi-floating rear axle. Brakes are front discs and anti-lock rear drums. BFGoodrich Comp T/A radial tires mounted on 15-inch wheels complement the suspension characteristics.
From behind the wheel, the only clue that you are not sitting in a Syclone is the lack of a turbo boost gauge, otherwise, the instrument panel is identical. The seats, steering wheel and auto shifter are items also shared with the Syclone. Comfort and convenience in the GT is aided with the inclusion of standard cruise control, air conditioning, power windows and door locks, tilt steering, tinted windows and remote electric mirrors. An AM/FM/cassette stereo with graphic equalizer is also a standard item.
A limited production run of 5000 units priced at under $15,000 will make the GT even more popular. If you want to buy a Sonoma GT, you should start talking to your dealer now!
SYCLONE
It's no secret that GMC's high-performance Syclone is the quickest sport-pickup ever produced. The truck shredded the competition in 1991, and is poised to pounce again in 1992. The 4350-pound Syclone's turbo-assisted Vortec V-6 engine pumps out 280 horsepower at 4400 rpm and with the help of full-time all-wheel- drive, the little black truck will smoke just about any vehicle on the street. For performance truck enthusiasts, few things in life are as satisfying as humiliating expensive sports cars. This is a truck that hauls more than just a payload. The Syclone's standing-start quarter- mile time of 13.4 seconds and a 0-60 mph acceleration time of less than five seconds guarantees a wide assortment of sports cars and hot rods shrinking in the rear view mirror.
The fun will continue in 1992 as GMC is preparing to unleash a limited production run of 2500 new Syclones. The news for 1992 is that the Syclone has received minor refinements to make a great truck even better.
Changes in computerized engine calibrations have resulted in several improvem1tnts. The '92 Syclone is able to better digest low-octane fuel, the turboboost has been smoothed a bit and overall engine noise has been reduced. New dual remote rearview mirrors and carpeted floormats have been added as standard equipment on the '92 model.
The rest of the Syclone package remains the same as in 1991. Four-speed automatic trans, Bilstein shocks, fourwheel anti lock brakes and plenty of horsepower make the Syclone an attractive package. The high-performance hardware is wrapped in the familiar aerodynamic black monochrome exterior that Syclone fans have come to love.
Even though General Motors is not producing and selling millions of Syclone trucks , the project has been a great success. This aggressive little truck has captured the imagination of a whole generation of enthusiasts. It may not be the most practical vehicle in the GMC lineup, but it certainly is the most talked about. The Syclone's success has inspired production of both the Typhoon and the Sonoma GT for 1992. If all three vehicles fare well in the marketplace, who knows what we'll see in 1993?
Perhaps the other manufacturers will follow GMC's lead and we will have myriad ultra-performance trucks with catastrophic names. GMC has its Syclone and Typhoon, maybe Ford will build the Cataclysm. Dodge fans may drive a new Apocalypse. Would you be interested in a Mazda Meltdown?