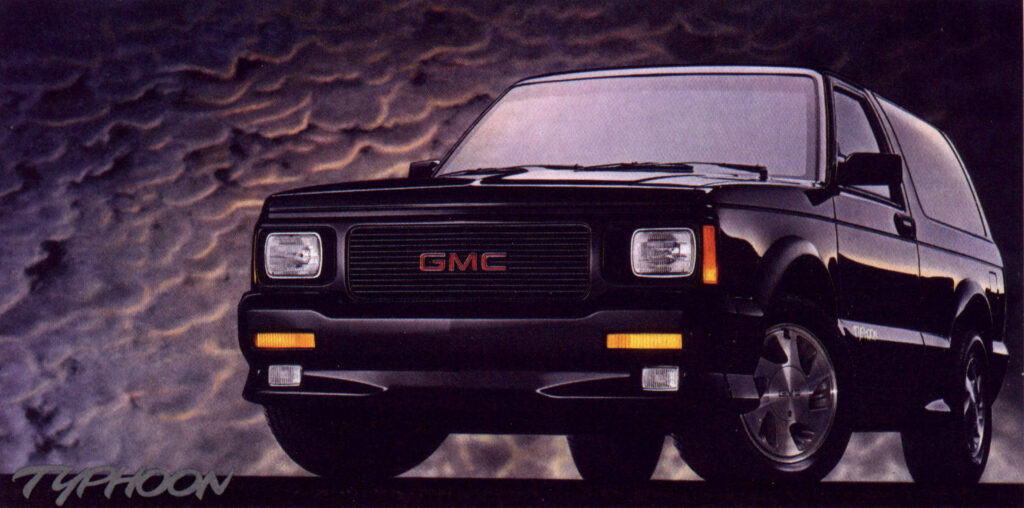 On September 14, 1990, a modified GMC Truck set a new F.LA. authenticated record of 204. 145 miles per hour, two-way average,
in the flying mile. Yes, you read that right. A GMC Truck. The street-legal truck inspired by these explorations was a compact pickup called Syclone. Performance cognoscenti still speak of how Car and Driver pitted Syclone against a $122,000 Ferrari 348ts. "In a blink, the Ferrari is looking at tailgate:' they wrote.
Now we've taken this experience in power, handling and braking to a new. astonishing level. In Typhoon. The sports coupe of sport utilities.
Brace yourself: Typhoon is riding on the kind of technology you wouldn't expect in a utility vehicle: the same safety and performance technology as Syclone. A 4.3L V6, turbocharged and liquid-intercooled, that yields 280 horse-power. A 4-speed automatic transmission with over-drive top gear. All-wheel drive. And 4-wheel anti-lock braking.
Typhoon's luxury appointments will be comforts to you, too. Body styling that's easy on the eyes. A leather-trimmed seating area with front bucket seats. Adjustable lumbar supports and side bolsters in the buckets. A Delco AM/FM stereo system  with available compact disc player.
 Did we mention 673 cubic feet of luggage space (with the rear seat folded down)? Typhoon is still, after all, a utility vehicle.
Only from a company with over 80 years of truck experience could a vehicle so wholly unexpected seem so wholly fitting. Call 1-800-879-4621 to find out how to put yourself in the eye of the storm: Typhoon, from GMC Truck.