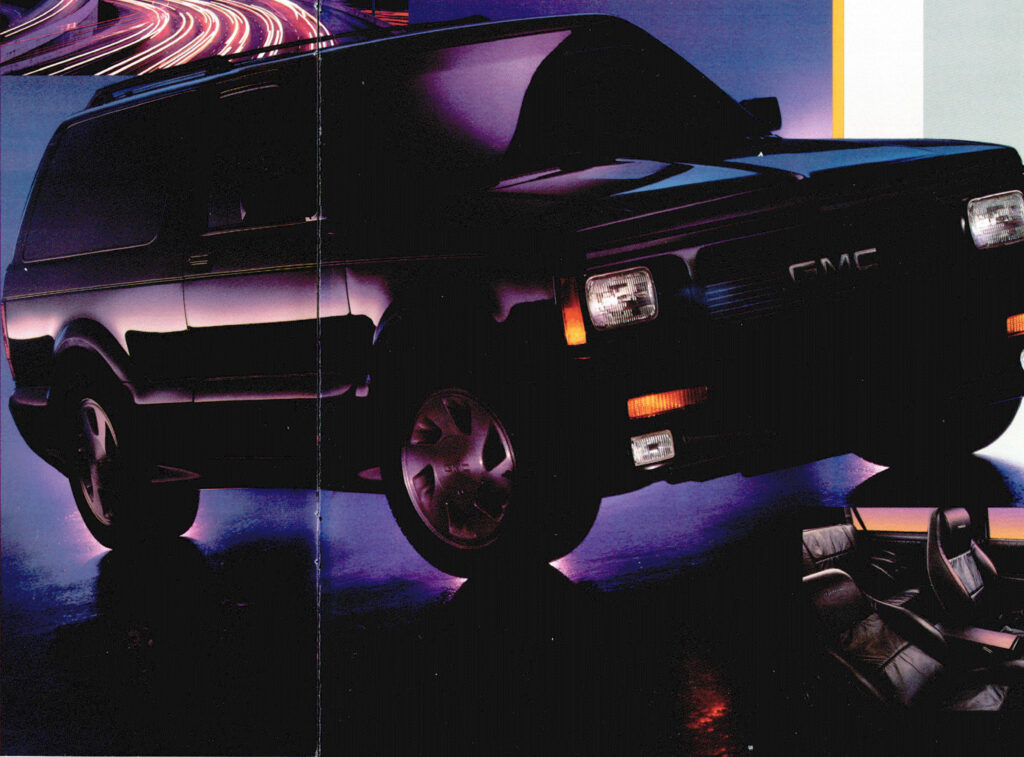 THE SPORT COUPE OF SPORT UTILITIES
TO CREATE THE WORLD'S MOST TECHNOLOGICALLY ADVANCED SPORT UTILITY VEHICLE IT TOOK US 80 YEARS AND 6 SECONDS.
This Jimmy does what any good sports coupe should do: It makes you feel adventurous. And why not? Pair the most powerful standard V6 engine in its class with a shorter, easy-to-maneuver wheelbase, and you'll definitely enjoy the ride. Standard front bucket seats round out our sports package. And your GMC Truck dealer has GM Performance Parts Catalog to customize an already great ride. To use the words of Car and Driver: "(Any Jimmy) will make you let out a little whoop of delight, so favored is its handsome face and so pleasing are its actions both on- and off-road." Now take a look at what just blew in from the vast imaginations of engineering know how. The new 1992 Typhoon. It's what happens when you intercool and turbocharge an already powerful 4.3L V6: 280 wild horses that go from 0 to 60 in a mere 6 seconds. The purest performance. And it's surprisingly affordable. Typhoon is based on the specially modified GMC Truck that set a land speed record of 210.069 mph in the flying mile! It's a symbol of absolute, undaunted technology: Full-time all-wheel drive puts Typhoon's raw power to the streets. 4-wheel anti-lock lets you stay in control even during hard stops. Typhoon! II could only come from the one company that eats, sleeps. breathes, and above all, dreams trucks: GMC Truck.