Car Craft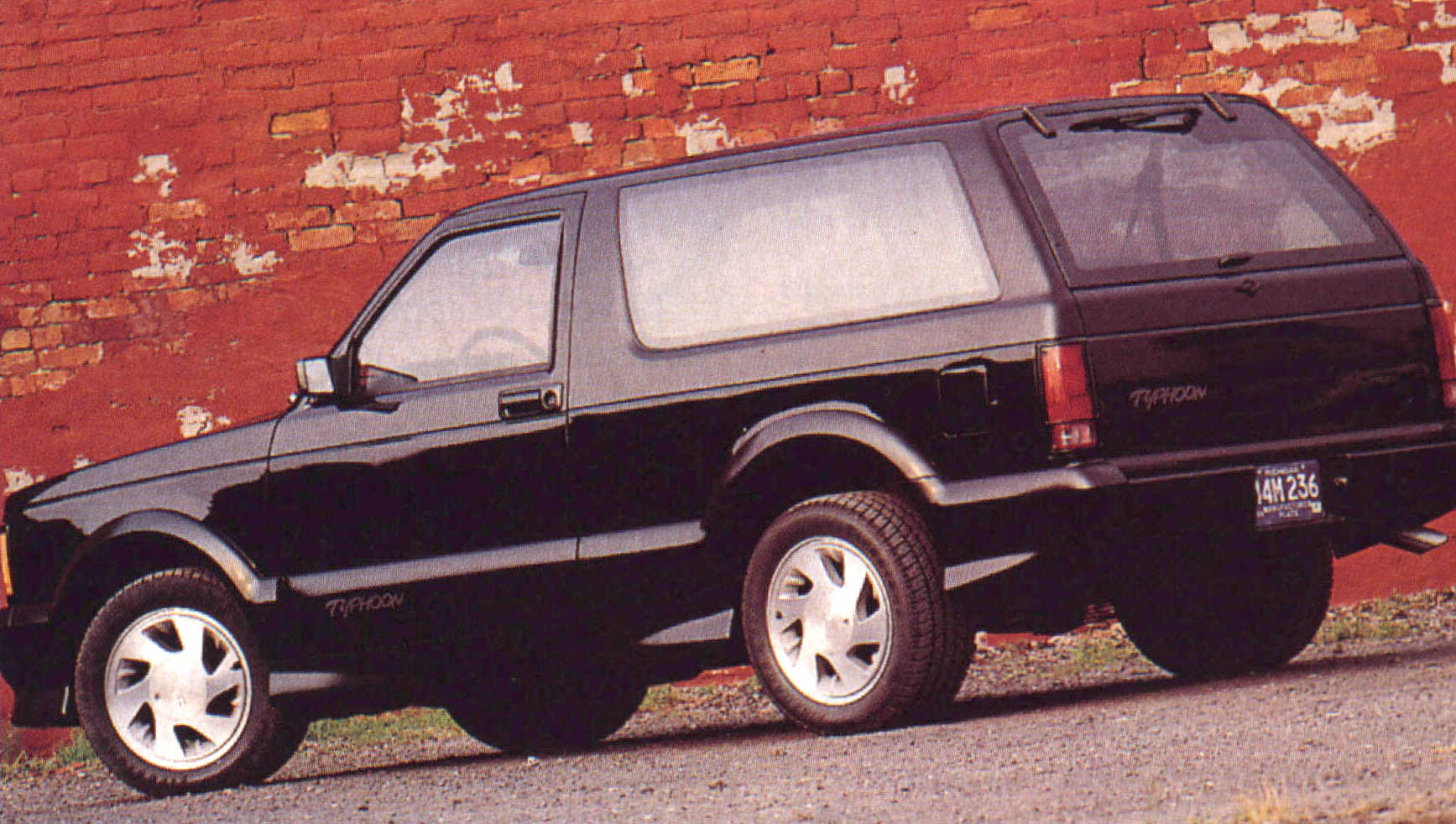 By John Pearley Huffman
GMC's ALL-WHEEL-DRIVE, 280-hp, turbo V-6, new-for-'92 Typhoon sport utility solves the all-wheel- drive. 280-hp, turbo V-6 Syclone pickup's one problem: The Typhoon's good at being a truck. In abstract, the Syclone isn't meant to function as a pickup, so its meager 500- lb. payload rating and inability to tow seem insignificant against 4.3-second 0- 60 blasts and blistering 13.5-second e.t.s.
In the real world though, only two people fit into the Syco, and that vestigial bed taunts every time anything more substantial than the weekly groceries needs moving. The Syclone's right up there with the absurdist Lamborghini Diablo and untamed Ferrari F40 in the Captivating-But-Impractical-As-All- Hell Hall of Fame.
The Typhoon on the other hand. has room for four in its leather-laden cockpit, can carry up to a 900-pound payload, and is perfectly capable of the mundane tasks most vehicles are expected to perform most of the time. For anyone with an inseam beyond 32 inches, it's a vast improvement over the Syclone merely because the seat can be pushed back comfortably. With only a 100.5-inch wheelbase (8 inches shorter than the Syclone) and steering that allows relatively extreme wheel angles, the turning diameter is a tiny and convenient 35.4 feet, making it far easier to park than most performance cars. It's not quite the suburban mall-prowling trucking appliance that the Ford Explorer is, but it can do a pretty fair imitation. A baby seat wouldn't look wholly out of place in it, though the moppet better be strapped in tight, because the Typhoon is fast. But not as fast as the Syclone.
Mechanically. the Typhoon is a Syclonated Jimmy, with everything good from the pickup appearing on the Typhoon. There is a new version of the normally aspirated Vortec V-6 this year that incorporates a balance shaft into the design, but the port fuel injected and turbocharged Syclone version hasn't yet been so blessed. In the Typhoon, output remains 280 hp at 4400 rpm and 350 lbsft of torque at 3600 rpm. About the only immediately apparent power production change is a move from the Syclone's split exhaust tip to a single outlet system. The all-wheel-drive system, 4L60 (aka 700R4) transmission. and Borg-Warner viscous-center differential sending approximately 35% of the torque forward and 65% aft also remain the same.
The one significant mechanical change is the incorporation of an electronic load-levelling suspension system "borrowed." like many Syclone and Typhoon components. from another GM product line—the Cadillac Brougham in this case-which accounts for the increased payload rating. Otherwise, everything else, from the P245/50VR16 Firestone Firehawk SVX radials mounted on 16×8 cast-aluminum wheels to the leaf sprung rear, is Syclone.
Where the Typhoon breaks with the Syclone is in presentation. GMC intends to appeal to buyers who aspire to owning a BMW and a Jeep Cherokee Limited, so they have given the Typhoon its own personality by dressing it in more subdued, sophisticated clothes than its pickup brother. The only color available is still black, but instead of brash orange accents, the Typhoon is finished with subtle grey highlights. Like the Syclone, the interior ingeniously incorporates a Corvette shifter and Pontiac Sunbird Turbo instrument panel into the basic Sonoma/ Jimmy design, but it's finished in soft, dark charcoal leather instead of fabric.
As an exterior design exercise, the Typhoon is wildly successful. The Syclone-derived lower aero body panels give it an all-business appearance. The unique Typhoon door handle design should be carried over to all of GMC's compact trucks. It looks aggressive, but even the blackness of its paint can't make it look sinister. It's as if the most musclebound guy at the gym also owns the biggest heart and friendliest smile.
The inside isn't as successful. Cupholders and flotsam receptacles are distributed throughout the interior, Even the rear seat is tolerable, and the leather which covers nearly everything the driver touches is softer than a roll of Charmin. All the extras are standard, including air conditioning, power windows, power door locks, lighted vanity mirrors, tilt steering wheel, rear wiper, remote keyless entry, and electric outside mirrors. But many bits and pieces seem tacked on or better suited to a commercial vehicle than a sophisticated performance machine. There's an honest stab at luxury, but it's thwarted by an aging and chintzy basic design. The driving position is more school bus than Corvette, but it's nice to sit comfortably upright in an easy-to-see-out-of vehicle. And after all, this is a truck.
Ultimately, and despite its relative practicality, the Typhoon's appeal is based on performance. Production Syclones have been running about half a second slower to 60 than the legendary 4.3-second pre-production time, and we expected the Typhoon to knock off easy low-5-second clockings. It was therefore disappointing when the best we could squeeze out was a 6.5-second 0-60 and a 15.0-second quarter mile at 93.1 mph.
Beyond disappointing, the acceleration numbers are baffling. Our 6.5-second 0-60 time is exactly the performance GMC predicts in its press literature, but it doesn't make sense that the truck can be a full 2 seconds slower than the Syclone. The Typhoon weighs about 200 pounds more than the pickup, but that's about the only difference that should affect performance, and 200 pounds shouldn't cost this much. The only explanation we can come up with is that we drove an early pre-production vehicle that had already seen a lot of abuse, and which may not have been quite up to production specs. Of the two examples at the press introduction, we tested the slower of the two. As soon as we can get our hands on a fresh and final production version, we'll retest and hopefully find the missing oomph.
Still, even with the performance we extracted, the Typhoon is comparable to such cars as the BMW M5, Z/28, Toyota MR2 Turbo, and Porsche 944S2—and all of them would be hard pressed to swallow the amount of cargo the boxy Typhoon can.
The engine's everyday behavior is exemplary. Around town where the boost isn't necessary, it's as docile and forgiving as its normally aspirated progenitor. Once it gets into the boost though-and it comes on pretty suddenly-your molars shift back in your mouth. The best acceleration runs were achieved by first torque braking the engine to get boost up early. The transmission feels like a performance piece with stout, aggressive, and always satisfying shifts.
Chassis-wise, the Typhoon is betrayed by its ancient truck origins. On the skidpad it generated 0.76 g of lateral acceleration- and was about as dramatic as driving in a big circle can be, particularly with smoke pouring off the outside front tire like three seasons worth of Starsky and Hutch reruns. With nearly 57% of its weight over the front wheels, it's hardly surprising that the truck is a profound understeerer. That understeer was even more evident when it literally lifted its inside front wheel going through our 600-foot slalom (though managing a respectable 64.8-mph average). The four-wheel anti-lock-equipped discs and drums hauled the Typhoon down straight and true from 60 in 139 feet and showed little fade.
In normal driving, the Typhoon is a forgiving and competent companionone of the best vehicles for long distance cruising. The steering is truck-slow, so you have to thread a lot of the jumbo four-spoke wheel through your hands to make course corrections, but it's incredibly easy to drive at about 7/10 ths of potential. It's those last three tenths, tenths no rational driver would ever approach on the street, where the Typhoon's ladder frame, archaic leaf sprung rear suspension, high center of gravity, and 3828 pounds of ground-grinding weight conspire to steal composure. After all, this is a vehicle based on a lo-year-old compact truck design, and all-wheel, high technology can only do so much to hide that.
Given the choice between Syclone or Typhoon, we'd take the Typhoon. It's a bit slower, but much more useful in everyday situations. We don't want to earn a reputation as pragmatists, but in this case, a bit less astounding numbers have resulted in a far more livable vehicle.
The Typhoon belongs to that rare class of things that do what they aren't supposed to, and are better for it. Like the swimming Galapagos Marine Iguana, the Dream Warriors' jazz/rap fusion, or Dumbo, the flying elephant, they earn their glory by combining two once-thought mutually exclusive elements— by being anomalies. The Typhoon combines truckness with performance better than anything built before it. It's the best damn swimming lizard, jazz rapper, or flying elephant in truck history.