Popular Hot Rodding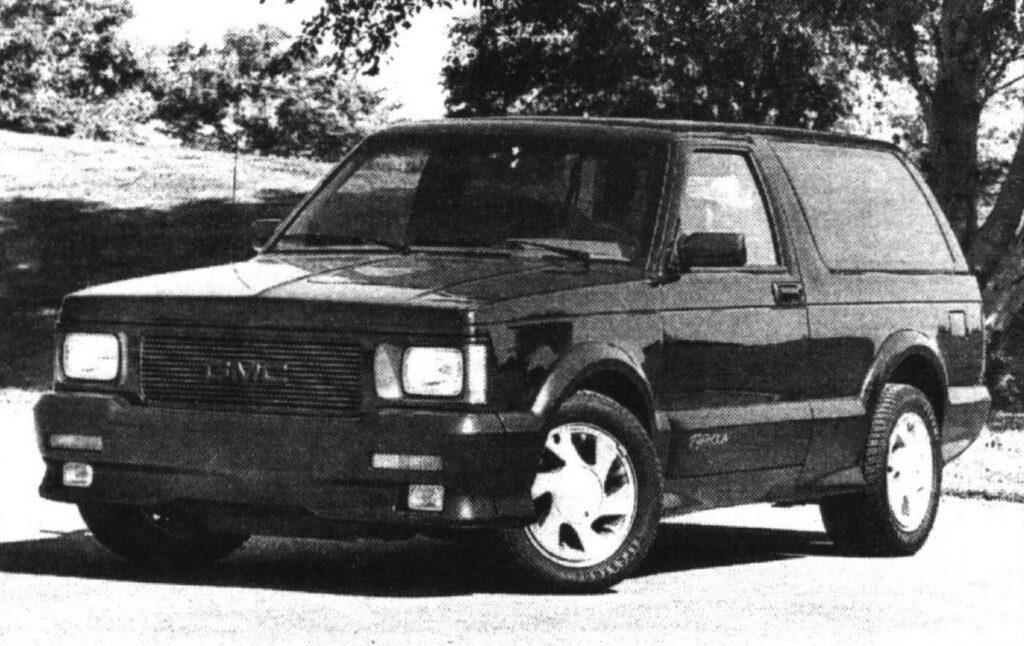 GMC claims its not just a truck anymore. Now, after hearing several stories about the rich and famous adding Syclones to their stables of Ferraris, Beamers and Harley soft-tails, we feel inclined to agree with the slogan. Fact is, after less than one year of production, the black turbo pickups are now finding themselves parked alongside the most luxurious of European marques. Of course, while those members of the upper echelon consider the Syclone a trendy conversation piece, hardcore enthusiasts have also been more than happy to cough up the $25K required to drive (er, race) it off the showroom floor. All things considered, the Sylcone package is the perfect weapon for straightline acceleration.
Brute horsepower isn't everything, though. While Syclone owners may in fact be able to dust off a ZR-1 Corvette or just about anything else that gets in its way, it still has room only for two: remaining passengers are subsequently left with a constant draft and cold hard steel. To make matters worse, it's meager 500-pound payload ability inhibits towing or hauling heavy loads. So much for utility value.
The all-new Typhoon. however, makes up -. for what the Syclone lacks. It will easily seat four people, haul the groceries and squeeze into a parking spot easier than a VW Golf, thanks to its 100.5-inch wheelbase and a 35.4-foot turning radius. Most importantly, the Typhoon's electronic load-leveling suspension (grafted from a Cadillac Brougham) increases the payload capability to a more suitable 900 pounds, allowing it to perform such menial tasks as hauling the family or pulling a light trailer.
Under the hood, the Typhoons powerplant duplicates what you d find under the hood of the Syclone—a ft. Vortec V6 that puts out 280 hp at 4400 rpm and 350 ft.- lbs. of torque at 3600 rpm. The 700R4 transmission, viscous center differential, four-wheel discs and all-wheel- drive system are also included in the package. All things considered. we figured the Typhoon to be only slightly slower than the Syclone with a 200-pound weight disadvantage. But if 100 pounds is worth a tenth of second, how come we could could only manage a 14.96 quarter-mile time and 0-to-60 best of 6.4 seconds? Versus the Syclone's best of 13.2-second time slip and 4.4-second 0-to-60 mark, we're still scratching our heads. Fortunately, what the Typhoon gives up in acceleration is more than made up with the total package.
Believe us, you won't mistake the Typhoon for an S-15 Jimmy! Wrapped with aero panels and 16×8 cast aluminum wheels mounted to Firestone Firehawk P245/50VR16 SVX radials, the all-black Typhoon is an immediate eye catcher. The only weak point of the entire package is on the inside. Either we're just too picky or the interior staff needs to spend some time over at Pontiac. Though comfortable seating and interior design has never been a strongpoint at GM's truck division, the Typhoon's accoutrements are.. well.. .a slight improvement over the current 10-year-old design.
Built for utility as well as for pin-your- tail-to-the-seat acceleration. we prefer the Typhoon over the Syclone purely for its ability to do both jobs so well. Imagine owning a vehicle that can tow a boat to the lake while filled to the ceiling with camping gear on a Saturday. then square off with a 5.0 Mustang on the way into the office Monday morning. Now that's a truck!