GM High-Tech Performance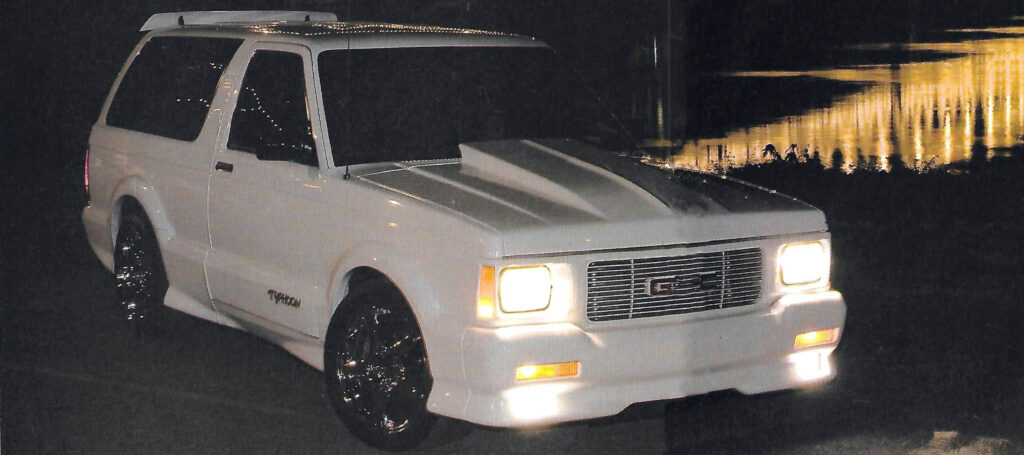 It took years for hot rodders and street racers to finally grow accustomed to the jet engine sounds emitting from the tail pipes of Grand Nationals, but thanks to owners like Bob Galla, soon those very same people will be on the lookout for seemingly docile S10s with that familiar whooshing over-run. Since purchasing his Typhoon back in 1993, Bob has turned many wrenches and many heads going 11 .20s in his daily driven, emissions-legal truck in his hometown of Ellicot City, Maryland.
These all-wheel drive trucks lend themselves well to staying completely street-friendly while still boasting impressive timeslips, but that is not to say that it hasn't been a hard road for Bob who has acquired a trophy case of broken parts along the way. The first carnage occurred as the Ty was in its modification infancy. A few bolt-ons and a custom-burned chip were all that were required to go 12.40s, and bend a connecting rod. Subsequently, the weak stock rods were traded for heavy duty Oliver forged steel replacements, and the hypereutectic pistons upgraded to low compression TRW forged. The stock crank and block were deemed sufficient for reuse with a little freshening, the addition of four-bolt mains, ARP studs, and a .030 over bore. The stock heads were swapped for the more desirable L35 heads, which were ported and polished by Jim's Performance and Machine in nearby Catonsville (who also did the machine work on the engine). The iron heads were treated to Manley stainless steel 2.02 intake and 1.60 exhaust valves, along with COMP Cams beehive springs. The cam of choice was a mild street grind from SyTy experts, ATR, measuring 194/204 duration at .050 and .407/.429-inch lift without factoring the Crane 1.6 ratio rocker arms.
With the help of a Precision Turbo T63E hairdryer, Bob's 4.3L V-6 was now capable of well over 500-hp. As the result, ATR was also sourced for a set of turbo headers, 3-inch downpipe, and external wastegate to meet the 63mm turbo's exhaustive demands. A Random Technology free-flowing cat, DMH electric cutout, and MagnaFlow 3-inch cat-back also uncork a few emissions-friendly ponies. Intake flow is enhanced by a custom intake, fabricated to hold a deep breathing 9- inch cone filter, and a TPI airfoil to negotiate air through the stock throttle body. An AIR air-to-water intercooler with a Griffin heat exchanger allow the six shooter to accept 25 psi of detonation-free boost from the PTE turbo. An MSD coil, plug wires, and NGK plugs were all that are required to provide sufficient spark at this power level. The weak stock fuel system, which is partly responsible for the death of the stock motor, has been revamped with PTE 50 lbs/hr injectors and an ATR Double Pumper featuring two 190lph fuel pumps.
The advancement of tuning capabilities, and the use of F.A.S.T. engine management has prevented further damage to the rebuilt engine's vitals. Anderson Performance, for their reputation in the Turbo Buick community and familiarity with the F.A.S.T. system, was chosen to dial in the new motor. The crew from Baltimore has many 8, 9 and 10-second GM EFI builds to its credit and with a little more tuning Bob's truck will be added to that list. The current 112-octane race tune, Bob says, is still a touch too "fat" and will need to be tightened up before improving upon his best of 11.2 at 119 mph. Anderson also provided a safe street tune, which is optimized for 17-18 psi and 93-octane pump gas.
The grim reality of racing a brick with wheels is that Bob is fighting an uphill battle because of poor aerodynamics and weight. However, a tubular front suspension, from the now defunct Precision Engineering Performance, and a few other slimming components have managed to keep curb weight at a manageable 3,800 lbs. Its size doesn't seem evident in the Ty's 1.58 short times, owed to CalTracs traction bars, QA1 shocks at all four corners, beefy Nitto drag radials and 3100-stall converter from The Converter Shop. The billet converter helps the 63mm turbo spool, while being both capable of holding the massive torque and staying streetable thanks to the 9-inch converter and 11-inch clutch combination. The stock 700R4 has been beefed up significantly after having broken the output shaft. Using TCI's five-pinion front and rear planetary gear set and input housing along with Alto red clutches and 2-4 band, Bob installed his own custom shift kit and the Hydramatic tranny was better than new. Despite having broken his share of parts, the only time his Ty has ever required a tow has been when the transmission went and the front prop shaft bent like a bow. A stronger piece from Dynotech has since replaced it along with the rear driveshaft.
Unquestioned reliability, along with streetability, is no doubt what Bob loves most about his 11-second Typhoon, which enables him to put 5-6,000 miles on the odometer every year. In years past, this is something completely unthinkable for a 10- or 11-second car—further proof of how late model GM EFIs are changing the face of drag racing.