Motor Trend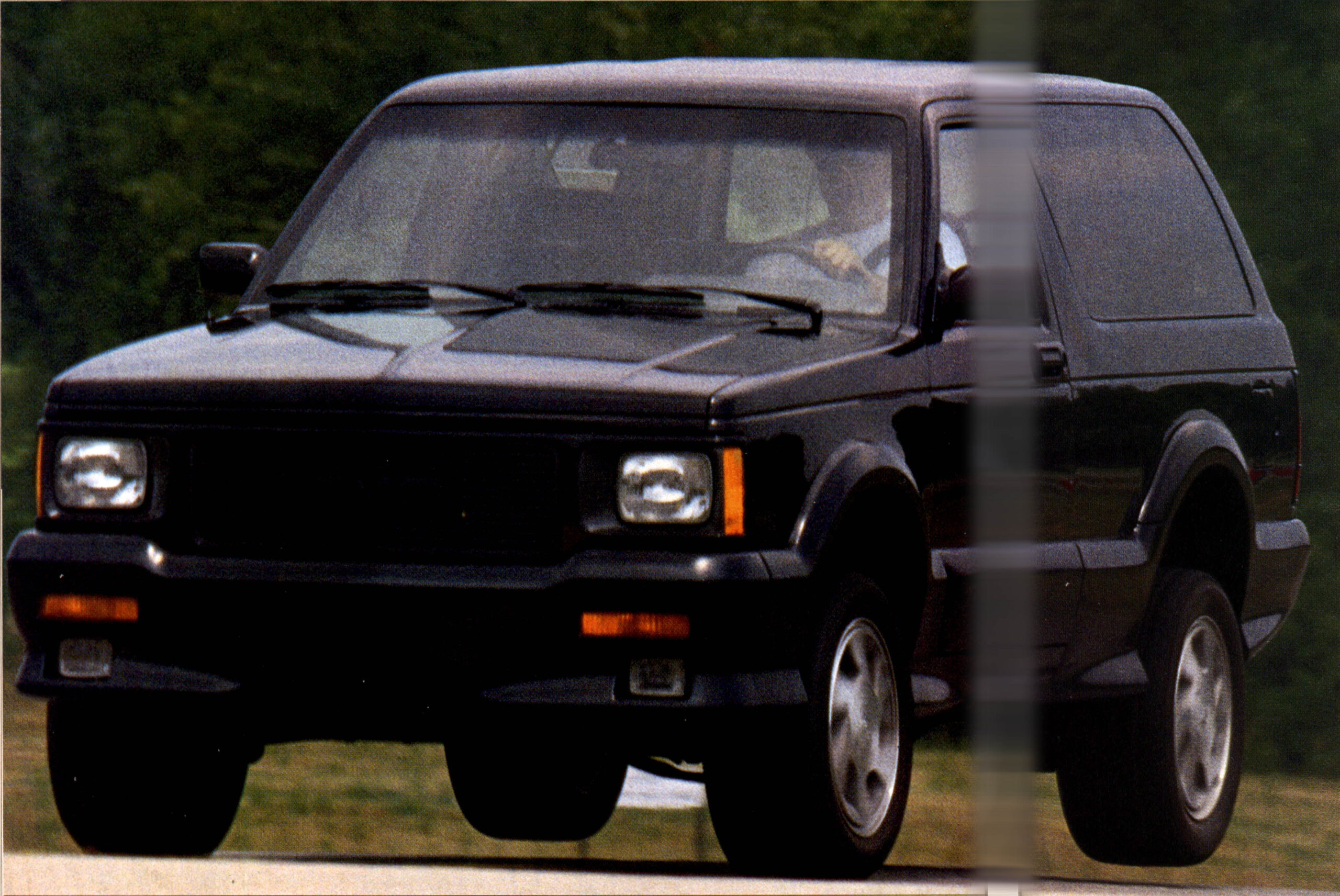 by Don Sherman
When is a truck not a truck? When it's a Syclone. Last year, GMC stormed the American scene by introducing a pickup truck without precedent.
The limited-edition GMC Syclone accelerates like a Corvette snorting nitrous oxide and does so whether the pavement is wet or dry. Packing a turbocharged and intercooled engine, full-time four-wheel drive, 16-inch performance tires, and a cockpit rigged for action, the Syclone is an amazing concoction—a pinch of Porsche 959 blended with the classic compact American pick-'em-up truck. What the Syclone won't do is a good day's work: Its trailer towing capacity is unrated, and the cargo capacity is a paltry quarter ton (compared to the regular GMC Sonoma's three quarters of a ton).
Son of Syclone is the '92 GMC Typhoon, another gale-force gust from General Motors' truck division. The power-generating equipment has been improved in minor ways and transplanted to the GMC Jimmy's two-door sport/utility platform. (The Syclone lives on in '92, as well.) To assess the changes wrought, we borrowed a prototype for full performance testing.
 Under the hood there's a 4.3-liter V-6 engine with several modifications from the norm. Pistons and head gaskets are special in the interests of durability. New cast iron manifolds funnel the exhaust stream to a compact Mitsubishi turbocharger. On the cold side, there's an air-to-water intercooler plumbed between the compressor outlet and a tuned intake manifold. Fuel is delivered to each intake port by an electronic injection system. Boost is limited to 14 psi by an electronically managed wastegate, quite enough to deliver 280 horsepower at 4400 rpm and 350 foot-pounds of torque at 3600 rpm.
A four-speed Turbo-Hydramatic transmission stands this gaff and passes the Typhoon's prodigious torque to a Borg-Warner transfer case that splits it on a 35-percent front/65-percent rear ratio. A viscous-type limited-slip device makes sure none of the oomph is frittered away. A second limited- slip unit within the rear axle's differential performs a similar function.
Other modifications performed by GMC's co-conspirator on the Syclone/Typhoon project— PAS Incorporated, a Troy, Michigan, conversion firm—include special exterior and interior treatments. The ride height is substantially lowered and molded-plastic skirting shrouds P245/50VR16 Firestone Firehawk tires mounted on 8.0-inch-wide aluminum wheels. Inside, there are enough orange-needle instruments to keep a P-51 pilot entertained, a grippy four-spoke steering wheel, leather upholstery, and aggressively padded front bucket seats. This is the Porsche of sport/utility trucks in attention to detail. Like the Tin Lizzie, you can buy a Typhoon in any color you like.., as long as it's black.
On the evil-intent scale, there's nothing to compare to the Typhoon. It sulks at the curb like the devil's black box. And when the engine is fired up, there's a foreboding snarl that warns the meek to stand clear.
Unfortunately, the Typhoon doesn't quite yank your neck during acceleration with the same intensity as the Syclone. An extra 200 pounds of weight adds 1.6 seconds to the 0- 60 sprint, so the Typhoon is merely quick (6.5 seconds to 60 mph), while the Syclone delivers a runaway-elevator thrill ride every time its accelerator pedal is tapped. Our suggestion to GMC: Consider sacrificing the Typhoon's cumbersome four-wheel-drive system in the interests of a more entertaining power-to-weight ratio.
The fat Firehawk tires, ABS, and well-tuned suspension do a convincing job of elevating the Typhoon well beyond truck levels of dynamic performance. Nail the brakes and the electronically regulated disc/drum system hauls you down from 60 mph in 139 feet. Skidpad adhesion is a commendable 0.76g lateral acceleration (limited by understeer), translating to slalom speeds of 64.8 mph, which is quicker than most of the BMWs we've tested.
In fact, while driving, you could almost convince yourself this isn't a truck at all except for the few rough edges that invariably snap you back to reality: a ride that's jiggly over bad pavement in spite of soft springs, an exhaust rumble that drives rearseat passengers nuts on any trip beyond 30 miles in length, and a dull driveline vibration that starts to rumble when the speedometer needle exceeds 70 mph. You also must remember that the Typhoon isn't a truck in the normal sense: GMC rates its load-carrying capacity (including passengers) at only 900 pounds and trailer towing is restricted to 1000 pounds.
With an anticipated pricetag of $28,900, the GMC Typhoon is an intriguing toy for any individual who's bored with the automotive mainstream. Those seeking something truly different, step right up. This is a unique opportunity to enjoy Porsche performance and mechanical sophistication in a plain black American sport/utility-truck wrapper.