Motor Trend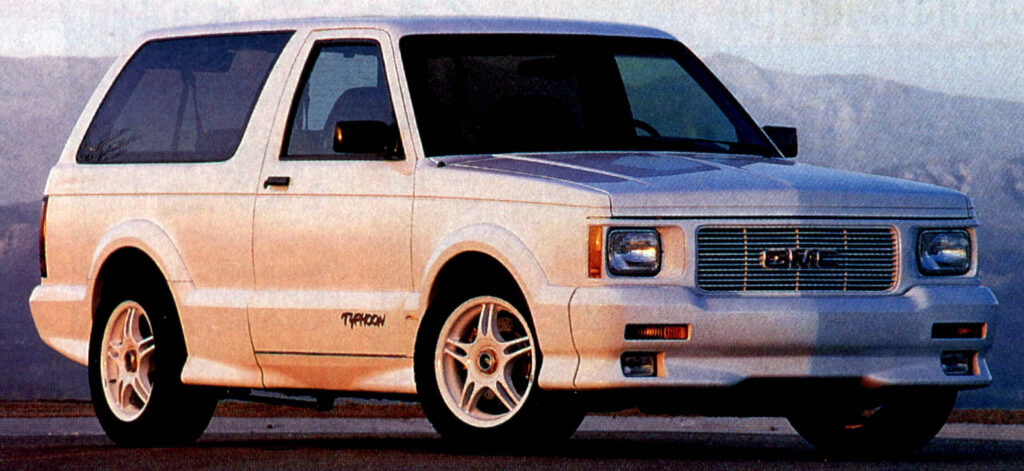 In retrospect, the turbocharged, all-wheel-drive GMC Syclone and Typhoon were noble experiments, early-'90s investigations into truck performance and GMC brand definition. Gary Bryson of Bryson, Cote & Company modified this '93 Typhoon as a further exploration of what could be accomplished by applying layers of bolt-on tricks to what is still the quickest factory sport/utility vehicle ever built.
Helping the engine breathe in is a Kenne- Bell fresh-air-induction system and K&N air filter, while exhalation is enhanced with a Borla exhaust. Making use of that power is a four-speed automatic massaged with an Art Carr shifter kit, clutch lock, and HP Target torque converter. Suspension modifications include Air Lift's fiberglass rear leaf springs and traction bars, and Tokico gas shocks; tying it to the ground are 245/50ZR16 Goodyear Eagle GS-C tires around TSW alloy wheels. Finally, the stock brakes vanish in favor of four-wheel PBR discs from Baer Racing.
The stock Typhoon was no slouch, but the Bryson-Cole effort is a rocket. Blitzing from zero to 60 mph in only 5.3 seconds, that's more than a full second quicker than MT measured way back when Typhoons were new. Even more impressively, the quarter mile vanished in only 14.1 seconds at 96.7 mph with the engine still pulling strong. Remember, this is from a truck whose aerodynamics are roughly equal to the Smithsonian Institution's.