Sport Truck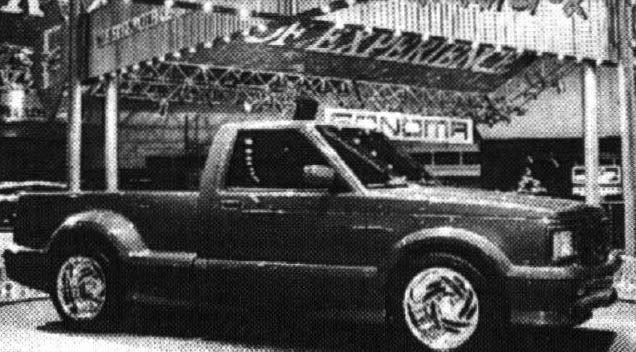 By Hoyt Vandenberg
Amazing, but true. Despite the current sluggish economy, the sport truck marketplace seems to be alive and well in the '90s. While retail sales of nearly everything else are down, trucks are a bright spot on the horizon.
People are still buying, selling, customizing, and driving trucks. Right now we can look forward to a '92-'93 season packed with quality custom trucks, more truck shows than ever before, not to mention some great new trucks from the manufacturers.
Detroit has been keeping a close eye on truck trends and has responded with several stylish new trucks aimed right at the sport truck market. GMC offers the Syclone, Typhoon, and Sonoma GT along with the wild, new Sonoma GTX unveiled at the recent Detroit Auto show, Dodge had the right idea stuffing a V8 in its Dakota. Its new high-horsepower Magnum 318 V8 made a good thing even better. Apparently the best is still to come as Dodge appears ready to market an uncorked, high-performance version of its Magnum engine in a lowered, bright red monochromatic Dakota complete with custom wheels. The package will be marketed as a modern-day Little Red Truck. Best of all, the LRT is rumored to be priced at about $15,000. What more could you want?
Chevy's trucks are still as popular as ever, and its new updated Blazers and Suburbans have already attracted the eye of customizers as evidenced by the custom Blazer in the "CSR SEMA Chevys" (April, '92) and the sleek street Suburban featured this month. Although we have seen a number of high-performance concept trucks from GM lately, our sources indicate it may still be a while before we see Corvette engines offered in production models.
Ford's new-for-'92 F-150 body lines, along with its Flareside series, has sparked renewed interest among sport truck enthusiasts. It seems excellent custom Fords are popping up everywhere. The restyled '93 Ranger should enjoy renewed popularity. We have also heard that the Blue Oval folks are planning to release some limited-edition, high-performance trucks later this year. Stay tuned for a 454 Killer from Ford. Speaking of killers, high-level Ford executives recently hinted that in addition to the new restyled '93 Ranger line, there may also be a limited-edition, high-performance Ranger in the works. Could Ford be cooking up a 5.0-liter V8 Ranger for 1993?
The Japanese manufacturers are still cranking out their full truck lines and have some great new sport/utility vehicles on the market too. The much rumored full/midsize Toyota truck keeps popping up in spy photographs, but it doesn't look as if it will hit the streets until late '93.
If you just can't wail until the new trucks are here to get started on a project, you can customize your existing truck with the help of our Hot Body Parts Buyer's Guide in this issue.
However you slice it, the coming year will definitely not be the same old thing!