GM High-Tech Performance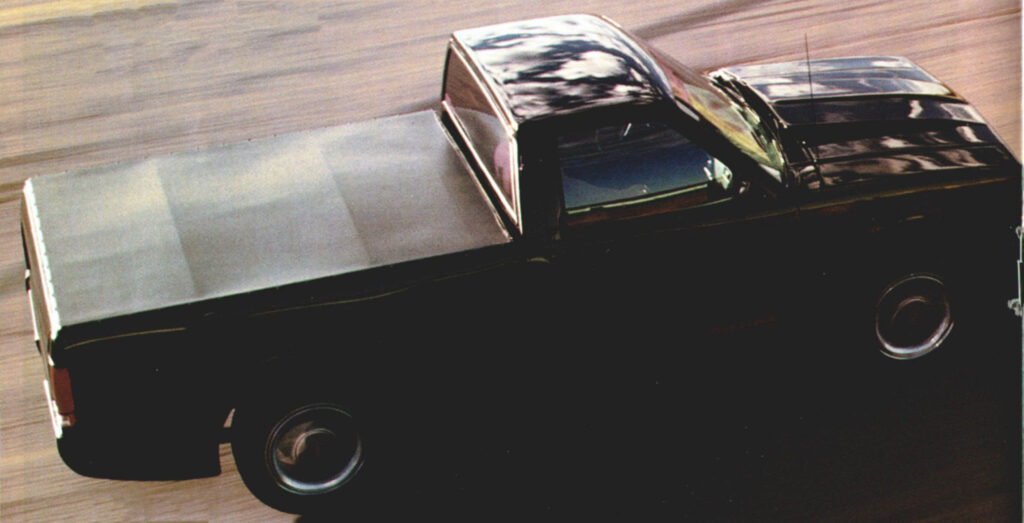 Sedona, Ariz., is without a doubt one of the most beautiful places on earth. Towering red rock, plush green forest and cold clear streams combine to make this a place like no other. A serene and deeply spiritual place, Sedona is known for alternative health, new age healing, and other such self-discovery, touchy-feely nonsense. It is also known for fortune-tellers, Tarot card readers and vortexes.
Sedona found itself with an extra vortex one weekend in September. Understand, we're not talking about the smarmy tourist-trap variety vortex her. On that particular weekend, Guy Lavy Borenstein and his '91 GMC Syclone rolled into town.
This was to be no ordinary photo shoot. Our intrepid editor has been known to do some crazy antics in pursuit of the perfect photograph. Shoot from the deck of a moving car trailer? No problem. The hood or even the roof of a moving Explorer? Done it. But this time he took his antics one step further by chartering a chopper, only to hang out the door 30 feet above the ground at roughly 35 miles per hour to take the necessary shots. For his sake, let's hope John's insurance agent doesn't read this book.
That peace and serenity we spoke of in the first paragraph? Let's just say that was brought to a screeching halt on this particular Sunday morning by the whine of a helicopter engine. The Birkenstock-wearing, tree hugging, whale-saving granolas who inhabit the town were none too happy about us buzzing their houses at 6 a.m. on a Sunday morning in a Bell Jet Ranger III. They'll get over it.
And, in case you haven't guessed by now, Guy's is no ordinary Syclone. His is currently the fastest stock-block Sy in existence (two years in a row, according to the organizers of the SyTy Nats, who hold their annual get-together in Kansas City). As is usually the case, laying claim to this prestigious title was a long and arduous process.
"I had been wanting this Syclone from moment I saw it at the GMC dealer. At the time, my father didn't approve of my choice, so I was out of luck." But Guy's father had a change of heart and surprised his son by taking delivery of the all-wheel-drive terror on Valentine's Day, 1992.
"I had been leaving Syclone brochures all over the house and office," the 29-year-old video producer recalled. "My father said it was just too impractical. He told me that if I were going to buy a truck, it had better be able to tow and handle a respectable payload." Unfortunately, the Sy does neither. So when Guy was handed the keys to the sparkling new Syclone, he was, to put it mildly, excited.
"I began modifying my truck right away. I got hold of a Kenne Bell catalog shortly after buying my truck, and went from there." The first mods to the turbo hauler were a KB street chip and adjustable fuel pressure regulator, along with a K&N air filter. Muffler Connections in North Hills, Calif., designed a trick 3-inch side-exit exhaust that utilizes a Kenne Bell muffler.
These very basic modifications had the truck running 13.50s at 98 mph. "I was very happy," Guy says, "but I wanted more." Sound familiar? Thought so.
"Over the years, I have bought literally every part KB offers for the Syclone. It is this combination of parts that has allowed me to go as fast as I have." Guy is emphatic, as is his mentor, that combination is everything: "Jim Bell just has so much knowledge. Back when I was running mid- to low 12s, Jim suggested that I needed a different torque converter. I already had a very well-known—and expensive—9-inch converter in the truck. I told Jim I couldn't afford it. He was so insistent that my truck would pick up 2/10ths from his converter that he offered it to me for free. If it didn't do what he said, I'd go back to my old unit. The KB converter picked the truck up exactly 2/10ths and 3 mph, just like Jim said it would. From that point on, I have never doubted anything Jim Bell has told me."
To that end, the Syclone has the very best components available from Kenne Bell. A polished Jimmy 3R turbo feeds compressed atmosphere to a KB Big Boy air-to-air intercooler. The OE liquid intercooler has proven much less efficient than a modem air-to-air unit.
The stock block is filled with TRW forged pistons swinging on Eagle forged rods rotating the stock cast crank. The little V6 short-block is capped off by a pair of KB/Brodix heads sporting 2.0-/1.60-inch valves actuated by (what else?) a KB TRX1 camshaft. Exhaust is expelled through KB headers into the same 3-inch exhaust installed years ago.
Guy tells us he's had very little in the way of parts breakage with his Syclone. One problem spot, though, has been the transmission. After breaking three of them, Guy decided it was time to step up to a serious, purpose-built race piece. Enter J.R. Granatelli at Granatelli Motor Sports, who built Guy a bulletproof 700-R4. The new trans has been able to withstand the repeated strain of launching the 3,800-lb. truck to 1.62 60-ft. times.
An ACCEL DFI unit controls the engine electronics. John Concialdi at Advanced Engine Management tuned the system on the rollers at R&D Dyno Services in Gardena, Calif. Guy credits AEM for the perfect driveability exhibited by his truck during our photo sessions. Nothing makes a photographer crankier than a poorly tuned, coughing and sputtering feature car (or truck).
In case you're wondering how to dyno an all-wheel drive truck, the answer is simple: Removing the front driveshaft converts the truck to a conventional rear-wheel drive vehicle. No muss, no fuss.
Reliability is of the utmost importance to Guy, as the Syclone remains his only vehicle. "I can't tell you how many all-night thrashes I've done while modifying the truck. I've been highly motivated to keep the truck running at all times, because if the truck is apart or broken, that means I'm walking."
Visually, the Sy remains pretty much as GMC intended. Guy had his stock wheels chromed while Approve Auto Body sprayed the Harwood cowl induction hood. Inside, an S&W two-point roll bar, safety harnesses for passenger and driver, an air fuel monitor and a small boost gauge only hint at the performance potential of this truck.
Signs litter the landscape in and around Sedona, pointing the way to vortexes, crop circles and UFO landing sites. Brochures proclaim spiritual healing and inner growth. Most of us recognize this as so much hyperbole. Some would dismiss the notion of a 10-second Syclone just as quickly. Not us. We've seen it, and we're believers.