Construction Equipment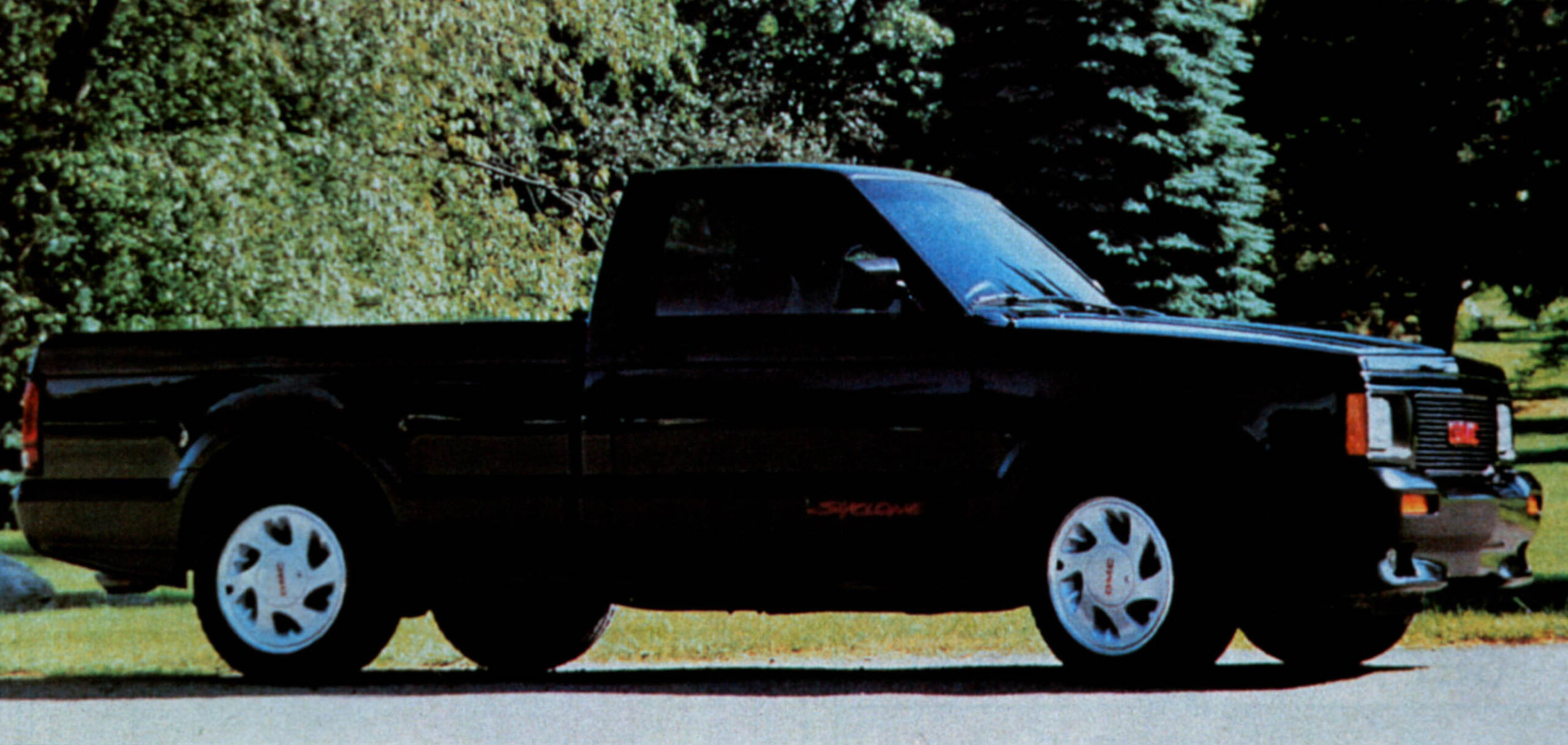 GMC's new pickup has 40.1 cubic feet of cargo capacity, and the power to accelerate from 0 to 60 mph in just 5 seconds
The 1991 GMC Syclone pickup truck is made for contractors who want a pickup with speed and enough cargo capacity to be useful on the jobsite.
Capable of 0 to 60 mph in 5 seconds, this compact pickup truck can generate 280 hp. A quarter-mile dash takes just 13.4 seconds. The LSR, a special production model, set a " flying mile" record of 204 mph.
The Syclone is a high-performance machine, powered by a turbocharged 4.3-liter Vortec V-6 engine. The engine features port fuel injection that produces 350-foot-pounds at 3600 rpm, a new piston, new left hand/ right hand exhaust manifolds, and pintel-style individual port injectors. It has a Hydramatic 4L60 four-speed transmission.
Priced at $25,500 (the manufacturer's recommended retail price), the Syclone is not for everyone. The price of a full-size, regular cab two-wheel drive Sierra 1500 model is $12,409 and a similarly equipped Sonona compact pickup is $9,915.
Once you get over the sticker shock, the first thing you'll notice about the sporty little pickup truck is its aerodynamic styling, subtle red graphic accents, the two-tone black paint, and specially tailored, high-performance tires and wheels.
Inside, features include contoured bucket seats, leather-wrapped steering wheel, and a floor-mounted gear shift. Standard equipment includes air conditioning, cruise control, tilt-wheel, power windows and door locks, and fog lamps. In fact, about the only optional equipment left to specify is the stereo.
As an added bonus, the two-passenger Syclone features a full-time, all-wheel-drive system for added traction and the first four-wheel ABS braking system found on pickup trucks.
The front suspension has independent torsion bars with stabilizer bar and sport calibration for low-ride height and ease of handling.