Today's Truck & Sport Utility Performance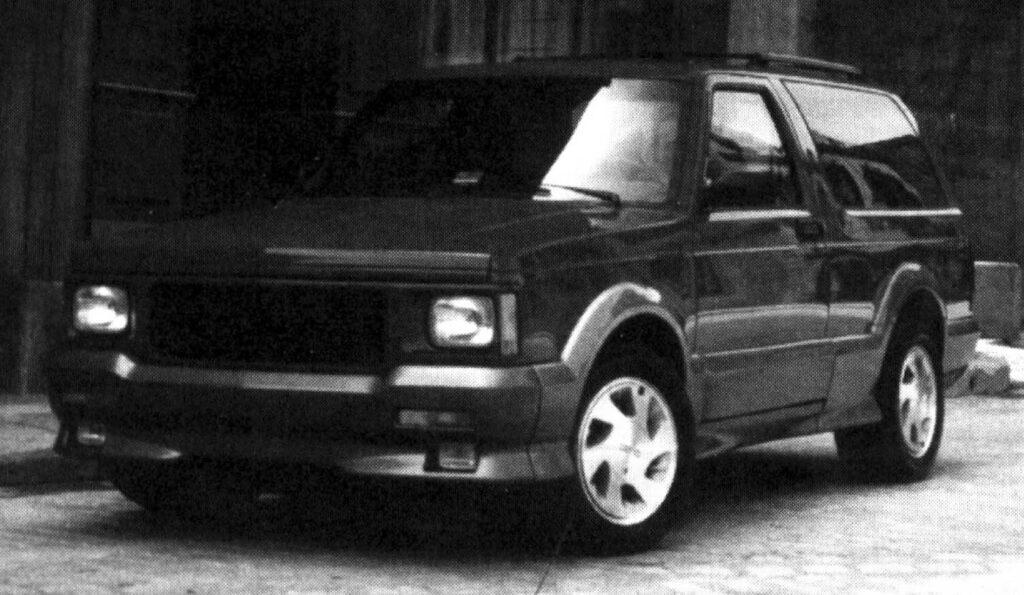 In the last couple of issues we've tried to personalize the magazine by providing more opinions in our feature stories. In our series of SUV shooyouts, for example. you got three individual opinions on each of the trucks we tested. and we left it up to you to decide which had merit and which did not. It was our intention to allow you to form your own opinions on the vehicles and as a consequence. know more about them. Remember. an informed buyer is a lot less likely to fall under the spell of a dealership sales person. One of these 5hoot out articles pictures, although microscopically, the staffers who were conducting the test. To give you a better idea of who you are dealing with here at Today's Truck. I thought it would be neat to share our "Dream Trucks" with you.
I have made it clear since I took the helm of this magazine in 1992 that my dream ride is a GMC Typhoon. preferably a '93 model with the improved rear suspension. With 285-horse power. all-wheel drive and 5.4-second 0-60 capability in stock trim, the commute to work on scenic Pacific Coast Highway would become much too short. After a few break-in miles, I would probably visit Kenne Bell for some go-fast goodies-nothing too outrageous. Yes. a nice red-over-gray '93 would suit me to a tee.
As for the others, Feature Editor Carl "The Iceman'" Calvert, who gets his nickname for his coolness under deadline pressure, would opt for a Jeep Grand Cherokee with the in-line six. His truck would include a tugged suspension set-up for the occasional off-road jaunt and a leather-clad interior to assure he gets there in style. Technical Editor Michael Ferrara also has a nickname but good taste keeps me from mentioning it in these pages. Mr. Ferrara's dream truck would be a Dodge Ram outfitted with the Cummins turbo diesel. The Cummins would be modified with an upgraded intercooler, bigger turbo and a high-flow exhaust system. The rig would be used to tow his race car-also imaginary-to and from events.
Our esteemed publisher, Kipp Kington, would opt for a truck very much like our cover truck. His dream ride is a souped-up Suburban with a Whipple twin-screw supercharger pressurizing the intake and Brembo brakes bringing things to a standstill. The best thing about his dream truck is that it may become a reality. We have arranged a project build up with Chevrolet-our victim will be a Tahoe four-door SUV. Forced induction and bigger binders are on our list of things to do. When we 're done, the Tahoe will be a dream come true-it's good to be the publisher.
This make-believe collection of vehicles-our Dream Team-a Typhoon, a Grand Cherokee, a Ram diesel and a Sub represent the wide variety of vehicles that make up the editorial content of our magazine. A street truck and an off-road truck. SUVs and a pickup, gas and diesel powered- it doesn't get any wider than that. Our toughest job is to provide you with a well-balanced package that addresses the subject matter that means the most to you, while opening new avenues of thought by covering subjects that relate to you and your truck indirectly. Many of our tech pieces fall under the latter category. In this issue, for instance, there is the Meta-Lax process that we came about while doing a tech story for our sister publication Turbo & Hi-Tech Performance. Since many trucks operate in severe-duty situations, a story on stress-relieving internal engine parts made sense. One of our re-occurring themes is on suspension modifications as this is what many of our letters ask about. This issue contains a look at the basics of lowering the rear of a truck, identifying the pitfalls and pointing out the advantages. In the future, we will address the inner workings of four-wheel drive suspensions. What kind of stories do you want to see-more tech, less tech, different tech, more street truck, more off-roaders, show trucks or performance trucks? What about motorsports? Does the new NASCAR Supertruck series light a fire under you? Perhaps desert offroad racing? Your opinion has a good deal of weight-we make the magazine for you. If you have an opinion drop us a line at Today's Truck, 9952 Hamilton Ave., Huntington Beach, CA 92646. Address it to Evan-we're friends now.