Auto Sound & Security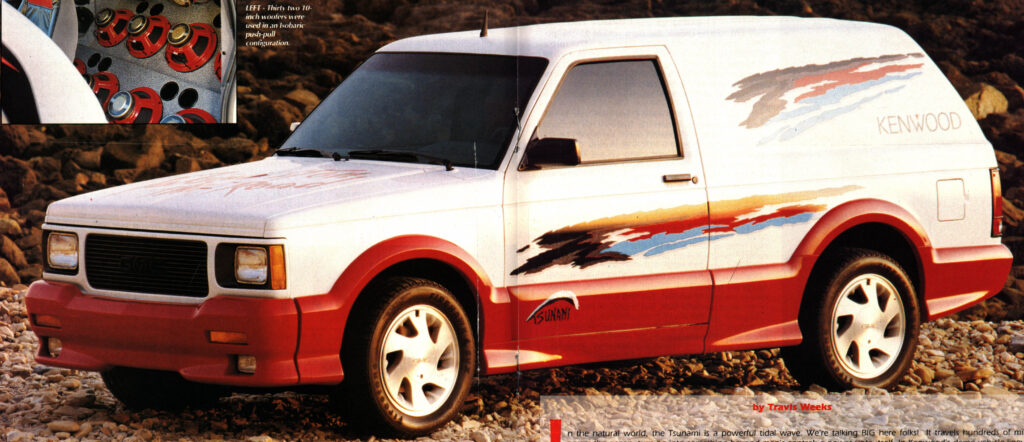 In the natural world, the Tsunami is a powerful tidal wave. We're talking BIG here folks! It travels hundreds of miles across the ocean, turning into something beyond man's control; a power unto itself. In Kenwood's demo vehicle lineup, however, the Tsunami is not a water wave, but a sound system equipped sport utility vehicle that creates a sound wave equally impressive.
When Kenwood decided to build an all-out ground-pounding demo system to display their state-of-the-art components, they first had to choose the right vehicle for the job. They opted for a 1993 GMC Typhoon. The turbo-charged V-6 Typhoon is recognized by many as a leader in its class, so it was only fitting that Kenwood chose it for their full-on 6400-watt 50-speaker demo vehicle. When Kenwood's design engineers finished, their average George-off-the-corner Typhoon became the Kenwood "Tsunami."
The design team used nothing less than their top-of-the-line components to turn the Typhoon into a "sound wave." To create the Tsunami's signal, Kenwood's factory installation team chose a KDC-95R in-dash CD player (that also controls the KDC-C800 10-disc changer — mounted in the rear). A KGC-9042 Kenwood EQ and KEC-302 electronic crossover were used to fine-tune the signal, and to properly channel the frequencies to each set of amplifiers.
The top-end is powered by five of Kenwood's finest amplifiers (four KAC-923s driving the mids and tweeters, and one KAC-1023 running the midbass). Each door panel houses four KFC-T301 tweeters, four KFC-M205 5-inch mids, as well as two KFC-W1023 6-inch midbass drivers. These speakers are powered by dual KAC-923 amps, and one KAC-1023.
The same speakers and amplifiers are used for rear- fill, except the speakers are slightly attenuated and mounted next to the wall of woofers. The wall itself is constructed of laminated panels of MDF, and finished in Fleck-Stone.
To pump out the low-end, Kenwood designed a vent ed Isobaric box for 32 KFC-W310 10-inch woofers. Due to the Isobaric configuration, only the magnet side of 16 woofers are exposed. This means that although you can only see the backside of 16 woofers, there are actually 32 of them hard at work. Each KAC-1023 amplifier drives four woofers, all of which are wired in a series-parallel configuration. Each low-end amplifier then sees a 4-ohm load and delivers 600 watts of raw power.
Although meteorologists will state that a typhoon is not a wave, but rather a water-based tornado, auto sound buffs will undoubtedly assert that the Kenwood Tsunami is one of the most powerful waves (sound waves, that is) they've ever encountered. To experience Kenwood's version of the Tsunami for yourself, watch for it as it storms across the country to major events or to an authorized Kenwood dealer near you.