Today's Truck & Sport Utility Performance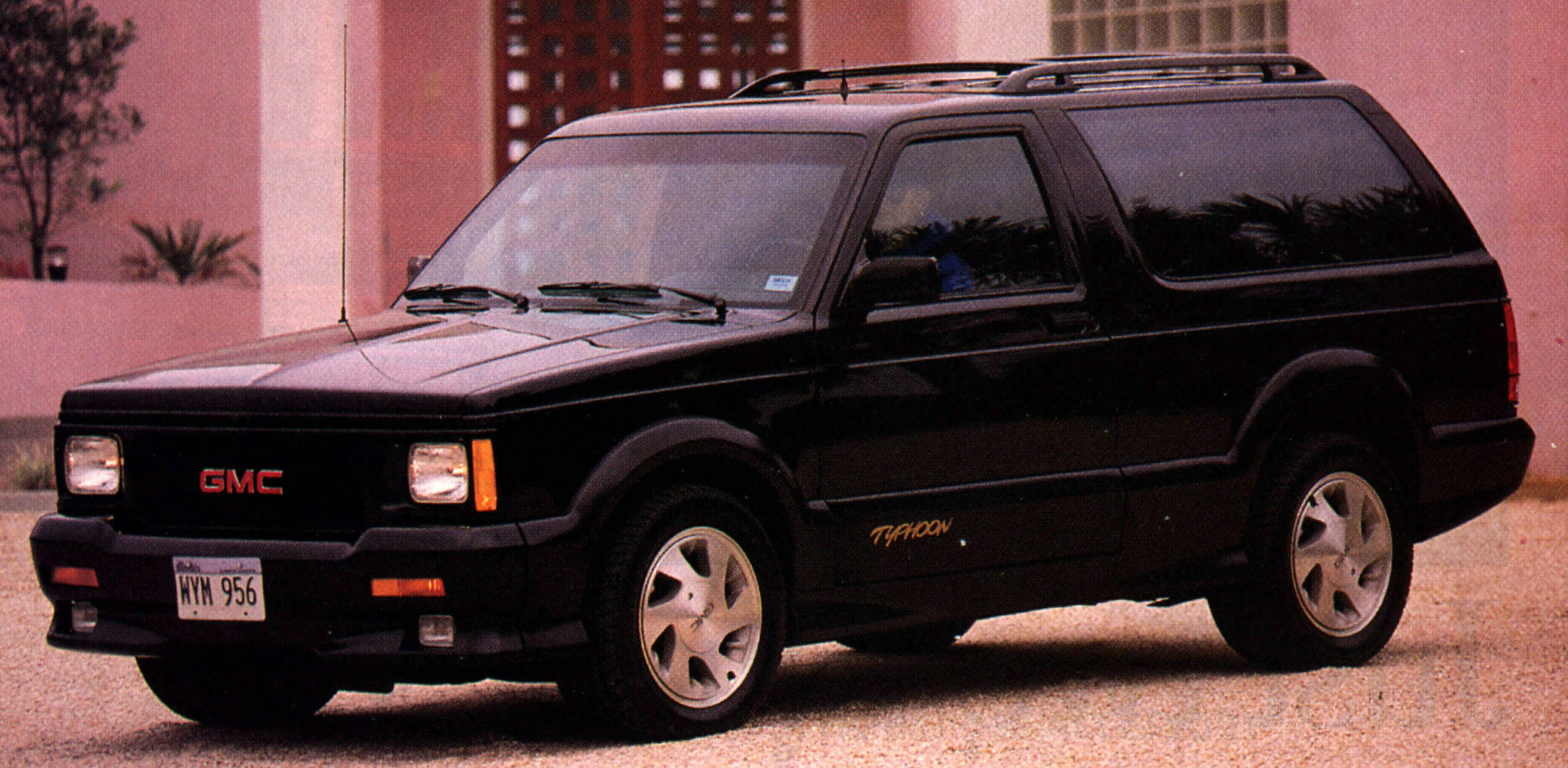 The Typhoon is without a doubt the most terrorizing sport/utility on the highway. It attracts attention even from people who know little about cars and trucks. This was the driving force behind Panasonic's selection of a Typhoon as their demonstration vehicle. Squeezing out the most from the truck, Panasonic installed two, yes two, separate systems. This is an excellent idea for demonstration purposes. The first set-up is a high-performance, reasonably priced system comprised of a CD player driving four speakers. The second system is a full-tilt, go-forbroke affair with cassette deck, CD changer, crossovers, equalizers, multiple amps and component loud speakers.
Although the dash houses two head units it still appears stock looking because of the extra large stock GM radio mounting area. Both systems have phone-triggered Auto-Mute, a feature that reduces the stereos volume when a call is made or received on the Panasonic EB-H50 cellular phone. The "simpler" system sports a CQ-DP48 CD! receiver with a removable front panel. Its MASH one-bit digital analog converter supplies superb audio signals and the builtin four-channel amp (roughly 12 watts per channel) capably drives four loudspeakers. In this particular application, Panasonic utilized its Model EAB-H65 6.5-inch coaxial speakers in the front door and a pair of EAB-H95 6×9 coaxials in the rear. Any normal person would be pleased with this system's performance. Abnormal people, read on.
The big kahuna system takes no prisoners. Its CQ-R75 cassette receiver (also with removable front panel) has built-in DSP circuitry, allowing the listener to tune the system to acoustically resemble a concert hall, living room or stadium. The unit also acts as a CD changer controller for for not one but two DP-60 changers. Each of these ultra-compact changers holds six CDs, and incorporates the MASH circuitry mentioned above. Audio signals pass through two CY-MC91 nine-channel electronic crossovers, each has center channel and subwoofer outputs. The signal from one of these crossovers is sent to an M-1004 amplifier. This versatile amp can be run in four-, three- or two-channel configuration. In the Typhoon it's wired for three-channel duty, driving the rear speakers and center channel speaker. The rear component drivers are EAB HS55 5 1/4-inch mids with an EAB-ST1 dome tweeter. This crossover also sends signals through a CY-EQ 10 equalizer to a second and third M-1004 amp. Each amp drives two EAB-W250 10-inch subwoofers. The EQ-10 can adjust 14 bands of equalization with up to 12dB boost or attenuation and has separate controls and outputs for center and subwoofer channels. The second MC-91 crossover feeds signals to a second EQ- 10 which, in turn, passes it on to a fourth M-1004, set-up in two-channel configuration which is good for 120 watts-per-channel. The amp drives the all-important front loudspeakers, EAB-HS65 6.5- inch mids and dash-mounted dome tweeters, E66 1 3/8-inch units.
It would seem that even the sweetest sounds loose their magic. Why else would anyone want to drown out the muscular buzz of the Typhoon's turbocharged 280-horse powerplant. But, hey remember it took two stereos to do it.