Autoweek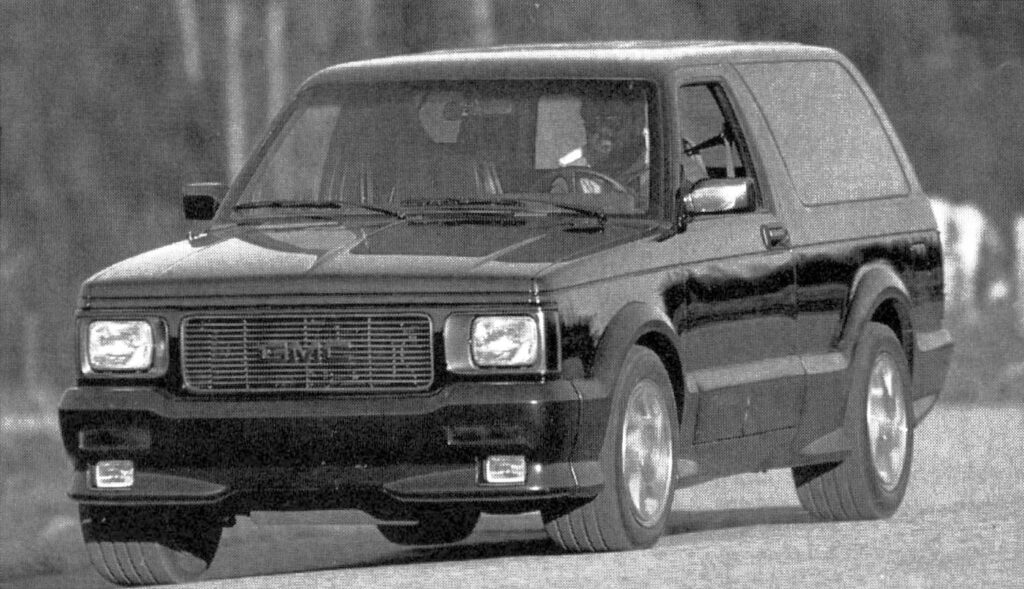 If GMC's Syclone piques your interest but doesn't quite fill the bill, the new Typhoon lets you run for fun and bring three friends
By Kevin A. Wilson
Good news for those who thought the GMC Syclone was a great idea, but who couldn't justify buying a two-seat pick'cmup any more than they could a Corvette or a Miata: a Typhoon is blowing in your direction.
What we're talkin' here is one stormin' sport/ute. The second chapter in GMC's effort to rewrite its image from good-for-you heartland virtue to bi-coastal bad boy, the Typhoon is a regular $30,000 hot rod. Corporate types are peddling a line about "luxurious grand touring" but we don't buy it: This truck's a compact four-by-four missile like Syclone, but with the seating capacity and cargo room some folks need in order to justify ownership of such a puerile plaything.
Typhoon is your basic yuppified station wagon (built off the S-15 Jimmy) given a strong dose of power-pumped, leather-lined attitude. It'll blow from 0-60 mph in an estimated 6.5 seconds. That's a second and a half longer than it takes Syclone to reach the mile-a-minute mark, but in exchange for a little less rush you get a lot more plush. If your family and the gendarmes would sit still for it, Typhoon is even capable of howling all the way to 120 mph with four up.
Not that we recommend such behavior: in a single, brief blast toward the top-speed zone, we found the bricklike aerodynamic qualities of the basic Jimmy shape, despite a plethora of add-ons, unable to hold the machine on the ground, the front end going decidedly light and directional stability becoming dicey as velocity increased.
On the other hand, Typhoon was tame and happy at speeds sufficient to claim one very expensive citation on any rural interstate, and achieves such a pace with alacrity.
The changes that turn little Jimmy into a Typhoon start with a heart transplant: The standard 160 hp Vortec V6 is shouldered aside in favor of an intercooled, turbocharged version with electronic port fuel injection. The pumped-up 4.3-liter makes 280 hp at 4400 rpm, and requires unleaded fuel of 93 octane or better.
Power is routed through a recalibrated four-speed automatic, a viscous-coupling center differential and a limited-slip rear diff, flowing to each wheel full-time. As a result, you just wind it up and the Typhoon goes out to launch, and without much drama, either. It just squats, gathers up its skirts and hustles down the road.
The 4wd system allocates 65 percent of torque to the rear, 35 percent forward. So each fat (P245150VR- 16) rear tire is dealt a torque loading roughly equal to that handled by a normal S-iS Jimmy's skinny rubber. Burnouts aren't a specialty.
But all 350 lb ft of torque (peaking at 3600 rpm) is dedicated to hauling the contents of the Typhoon: No trailering option is offered, and payload capacity is a decidedly wimpy 900 pounds. Though that's better than Syclone's 500-pound rating, filling Typhoon's seats with people will eat into the extra ration significantly.
The suspension is tuned in more car-like fashion than is usual at the trucks-only division, with GMC claiming a 0.82 g cornering ability. But this is automotive suspension of the cruder, pony-car variety: The live rear axle sports two-stage semi-elliptic leaf springs and electronic load leveling via air-bag-assisted shocks. The front upper and lower arm layout features a hefty antiroll bar. There are front disc brakes and rear drums, with four-wheel ABS, and cast aluminum wheels like Syclone's carrying the aforementioned fat rubber. There's quicker-than- Jimmy variable ratio power steering, too.
The resulting ride and handling traits are best described as extra-tall Camaro. Not bad, but not the height of sophistication, either, unless your everyday ride is a workaday truck.
What's most car-like about Typhoon are its creature comforts, on a par with many domestic luxury cars. Charcoal-colored leather is used for trim and seats; the front buckets have inflatable lumbar support and a Typhoon logo stitched into the back. The center console houses not only the shifter, but also a batch of accessory power outlets sufficient to make any phone-and-fax-addicted exec happy. And the standard equipment list is mega-long, ranging from ac and cruise control through a Typhoon-specific sound system with equalizer (a CD player is optional).
Outside, Typhoon isn't exactly subtle, despite GMC's assertion that its accents are in "understated gray-metallic." Understated isn't the word that comes to mind when one eyes this ground-hugging, body-kitted two-box roller skate, with integrated fog lamps in the front air dam, plus "aero moldings" on the fenders, doors, rockers and rear fascia. A late decision to offer the truck in several colors (rather than sticking with the original intent of using monochromatic black clearcoat only) softens the edge a little. Typhoon's also available in red, white, aspen blue or teal with dark-gray lower body cladding.
So what you've got here is a hot rod, with the accompanying emphases on style and acceleration over utility. Granted it's plush and mighty sophisticated by shadetree mechanic standards (considering not only its engine, but also its 4wd and ABS).
But still, while riding in the leather-lined cave that is Typhoon's cabin, behind its heavily tinted glass, we felt an urge to panel over the rear side windows and go all-out for an updated sedan delivery look. Now that would be fully in Typhoon's spirit.