Road & Track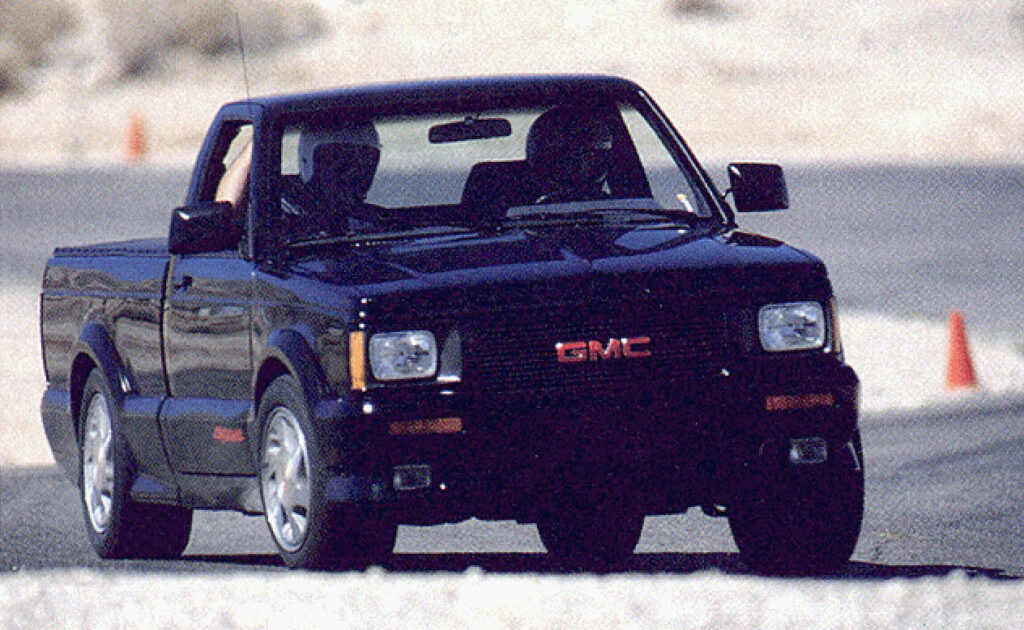 BY KEN ZINO
CALL IT A 2-door coupe with a large, open trunk. Call it an avatar of Buick's GNX. Call it an automotive contradiction-a truck that may never haul cargo. But just don't call the Syclone slow.
General Motors' attempt to boost its light truck image is an interesting combination of old-style hot rod with dollops of new technology applied to the problems inherent in the stock chassis. Rear drive was scrapped for all-wheel drive in an attempt to translate some of the torque produced by the turbocharged engine to acceleration rather than just a smoky, tire-squealing melee that ultimately leads nowhere fast.
As drag-strip times indicate, this lowered 4×4 can launch from a green light and keep up with just about anything on a straight street, hitting 60 mph in 4.9 seconds. Step on the gas and the truck takes a set as all four tires dig in with a minimum amount of wheel spin.
Power is provided by a 90-degree 4.3-liter pushrod V-6. A Mitsubishi turbochargerwith a liquid-cooled center bearing and air-to-liquid intercool-er for the intake charge are added to the engine. Pistons, individual port fuel injectors and the throttle body are borrowed from the L98 Corvette V-8. The result—with a maximum of 14 psi of boost allowed by the Deico computer—is attention-getting go.
A transfer case borrowed from the Astro van and a modified 700R4 transmission from the Corvette transmit power to the ground. Torque is split 35 percent front, 65 percent rear on dry pavement. The unique Firestone V-speed rated, all-season tires were developed especially for this machine.
As you would expect from a truck with 64 percent of its weight on the front tires, understeer is pronounced during hard cornering. And even though the spring rates and anti-roll bar of the rear axle have been modified, axle tramp appears when traversing uneven road surfaces. Still, the all-wheel drive provides a confidence-inspiring level of stability during most driving conditions.
The subdued exterior is designed to deny that this is one fast machine, as confounded ZR-1 owners might learn the hard way. Inside, there's an instrument panel from a turbocharged Sunbird with easy-to-read analog gauges. The bucket seats have extra thigh support and bigger side bolsters. Air conditioning, tinted glass, stereo cassette, center console, tilt steering and power-actuated windows and locks round out the package.
Production takes place at GM's Shreveport, Louisiana plant. Partially completed trucks are delivered to a Triad facility next door, which modifies the engine by adding the turbocharger. intake system and in-tercooler and plumbing, as well as assorted exterior and interior pieces.
GMC expects to sell between 2500 and 3000 Syclone models per year, each with a price tag of $25.500. And they are expected to be in sufficient supply to discourage dealer gouging, as another 50 or 60 a day can be produced.
Oh, in case you're wondering what's under the tonneau cover in back—the pickup bed can hold 500 lb. of cargo.
Copyright © Hachette Filipacchi Magazines. All rights reserved.
Reprint rights granted by Hachette Filipacchi New Media on January 20, 2000.