Hot Truck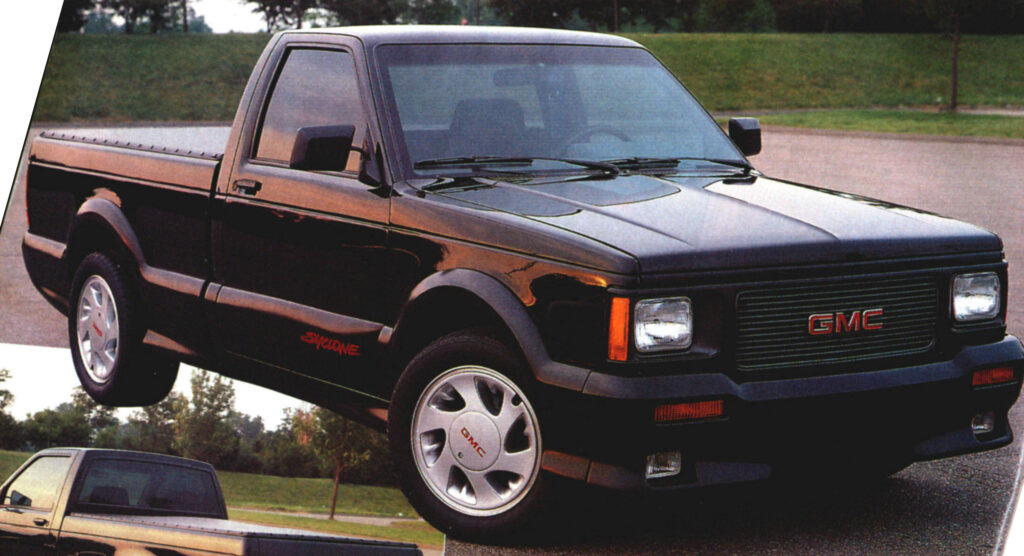 By Mike Magda
When driving a new GMC Syclone, you have to keep reminding yourself: "It's Only a truck. It's only a truck."
One quick hook in the rearview mirror confirms that, yes, there is a pickup bed behind you. But the Syclone just doesn't ride, and especially doesn't drive like a truck. It's more like a sports car.
For the past few years. automotive pundits have proclaimed that compact trucks will be the "sports cars of the '90s." Thus, the term "sport truck" grew in popularity and accuracy. Trucks were easy to personalize, taking on a wide range of sporty characterizations. Owners, especially those in the Sun Belt states, expressed themselves with the sleek Euro look, innovative and colorful graphics. ear-shattering stereo systems, convertible tops and low stances. They always drew attention and admiration, but the hot, new trucks also lacked the one element that would truly put them on the same plateau as the sports car: performance.
With the Syclone, GMC has taken the most significant step of any manufacturer in transforming the pickup into a true sport truck. The utility function of a pickup was hardly a factor when GMC developed the Syclone. This truck will never see a stack of 2x4s or a load of gravel in the bed (payload capacity is only 500 pounds). Instead, street performance was its sole motivation. Engineers lowered the ride height, softened the springs, tightened up the steering, designed a stunning and functional ground-effects package, added pavement-hugging tires, and most important, installed a potent turbocharged, all-wheel-drive powertrain.
The results are impressive. The Syclone is as quick, if not quicker, than a ZR1 Corvette over the quarter-mile. It's probably the hardest launching American-built vehicle ever to come oft any showroom floor. While Syclone can holds its own against lust about any sports car on the dragstrip, it will not keep up with the best two-seater on the road course or slalom. The Syclone will, however, outhandle any other pickup on the market.
We spent a hot, muggy day at Milan (Michigan) Dragway with the Syclone and a group of engineers from GMC and PAS, a Detroit-based small-volume manufacturer of automobiles that helped develop the Syclone. We ran a best of 13.25 at 98.68 mph, while GMC engineer Kim Nielsen clicked off a 13.22 at 99.55. On a cooler day two weeks earlier, Nielsen ran a 13.06 at 100.44. Two weeks after our test session, the same Syclone was given a tune-up. Nielsen then ripped off a stunning 13.01 at just over 102 mph.
The Syclone gets its neck-snapping acceleration from a turbocharged 4.3-liter Vortec engine and an all-wheel-drive foundation. This is not a 4-wheel-drive system in the traditional truck sense. The heart of the Syclone's drivetrain is a full-time, single-speed, viscous-coupler-equipped, Borg-Warner transfer case.
The engine is assembled at GM's plant in Romulus, Michigan. It gets 8.35:1 hypereutectic pistons (compared to 8.5:1 cast pistons in the standard Vortec) and a new split manifold. The engine is then hot tested and shipped to the PAS plant in Shreveport, Louisiana, where it's fitted with port fuel injection, reconfigured cast-iron exhaust manifolds, a front-mounted exhaust crossover tube, a Mitsubishi water-cooled turbocharger, an intercooler and a Corvette L98 throttle body.
The Syclone's powerplant is rated at 280 horsepower at 4400 rpm with a peak torque output of 360 lbs.-ft. at 2800 rpm. That's a 75 percent increase in horsepower over the stock Vortec engine. and GMC officials predict the Syclone will get better gas mileage because of the port fuel injection.
The engine is mated with a Corvette 700R4 automatic transmission and the Borg-Warner transfer case. The tranny has a calibration unique to the Syclone, and the viscous coupler is set up for a 35/65, front/rear torque split. The powertrain module is then sent to the GM assembly plant in Shreveport for installation into the Syclone.
The chassis is equipped with the same front differential and axles as the Safari AWD van. The rear 10-bolt GM axle is equipped with a limited-slip differential. The rear axle housing also gets different backing plates that work with the 4-wheel, anti-lock brake system. Both differentials are equipped with 3.42:1 gears.Suspension components were chosen from GM inventory to save cost. The rear leaf springs and the front torsion bars have softer spring rates than standard or heavy-duty S-trucks. A 32mm anti-sway bar is used up front, but an anti-sway bar was not designed for the rear. Bilstein shocks are at all four corners as are 16×8 aluminum wheels wrapped with special compound 245/50x16VR Firestone Firehawk tires. The suspension and tire changes result in a ride height 2½ inches lower than a stock GMC Sonoma.
The Syclone's interior was upscaled to complement the performance increase. Standard features include air conditioning, power windows/door locks, cruise control, tilt steering and tinted glass. The frames from the stock seats are reconfigured to add more support. A lumbar air bag was also installed before the seats and door panels were recovered with a fabric unique to the Syclone. A new center console was tooled for the Syclone, but costs were kept down by using the Corvette shifter. The analog gauge package was adapted from the Pontiac turbo J-car, but the numeral fonts were changed to match the GMC lettering. A leather-wrapped steering wheel finishes the cab.
The Syclone's distinctive ground-effects package was designed by Bill Davis, GM's chief designer for small trucks. The panels are RIM plastic and are attached with a unique fastener. The body modifications are functional, as well as aesthetic. Wind-tunnel tests were conducted, and the Syclone measured a lower drag coefficient than a stock GMC S-truck.
How does it all add up? The Syclone is without a peer when it comes to street performance. It is unquestionably the most exciting truck to drive on asphalt.
You'll never forget the first time you torque-load the Syclone's tranny and launch off the starting line with turbocharger cranking close to 14 pounds of boost. The body rises up a couple of inches as the revs come up to stall speed. When the Christmas tree turns green and you pop the brake pedal, the Syclone leaps out of the hole like a truck with a mission. The rearend dips down as the axle starts to wrap slightly. Sometimes there's a sharp tire bark as the rear tires break loose momentarily. but the Syclone rarely leaves any noticeable rubber tracks. As with any front-wheel-drive vehicle, there's noticeable torque steer under heavy acceleration. But it's ever so slight with the Syclone. Most of the steering correction off the line is in response to the driver losing sight of the track because his neck has just been stretched a few inches.
Before your eyeballs return to their sockets, the Syclone shifts into second. The tranny is calibrated to shift at about 4200 rpm. which is great for CAFE and emissions but doesn't let the engine perform to its full potential. Don't bother shifting the automatic manually. The Syclone's ECM is programmed with a fuel cutoff at about 4400 rpm with a tolerance of 200 rpm. No matter how careful an eye you keep on the tach; there's always a chance the fuel will be cut off unexpectedly and starve the engine.
We were turning 60-foot times of 1.81 seconds, but our brothers at Hot Rod magazine once clocked an incredible 1.71-second time. This truck launches just as hard as most Super Stock cars equipped with slicks.
Stopping the Syclone is no problem once you clear the traps. The 4-wheel ABS works efficiently with a minimum amount of pedal feedback.
We didn't have a chance to test the Syclone's road-handling capabilities while at the dragstrip. We used a few patches in the shutdown area for an impromptu slalom course. Steering response was better than most trucks, however, not on the same par as other highly touted sports cars. Remember, the Syclone is still a truck. There were conscious efforts by the GMC and PAS engineers to upgrade the steering and handling, but they had to work with a 3500-pound vehicle that has an atrocious 64/36 front/rear weight distribution.
The interior changes were welcomed. Seats are more supportive and adjustable than stock S-truck models. The sports-car-influenced gauge cluster doesn't seem out of place when installed into the truck dash. The S-truck dash has always been more user friendly and aesthetically pleasing than the push-button. rotating-disc nightmare found on its bigger brothers in the C/K series.
We like the muscular, yet aerodynamic look of the Syclone. The monochromatic black treatment exudes a maverick personality befitting the quickest and baddest truck on the market.
So far we have no complaints with the Syclone, especially since it is such a stunning surprise. It's much more than what GMC hinted when rumors of the truck first surfaced. Even more impressive is the fact that the Syclone can go faster with just a few minor modifications. This first change could be made in the engine management system. More power can easily be generated if the turbocharged Vortec is allowed to unwind. A reprogrammed PROM chip for the ECM could add a little more spark advance and fuel, allow a higher turbo boost, and most important, eliminate the rev-limiter safety function. The exhaust can be opened up with a larger, Corvette-style catalytic converter. (There is no muffler on the single-tube exhaust system.) The transmission could use a higher stall speed with higher shift points.
The changes don't need to be major. Although it has been fitted with a turbocharger, the Syclone's Vortec is still basically a truck engine. It has a lot of low-end torque and not much breathing capacity or longevity in the 5000-rpm band. But by opening up the engine to around 4500-4800 rpm, quarter-mile times could easily dip into the low 12s.
A price had not been established for the Syclone at press time. GMC is trying to keep it under $25,000. Only one option will be available: a sunroof. Don't worry about the price tag skyrocketing from dealers gougin buyers, the way they did with the ZR1 Corvette. The Syclone is not a limited-edition truck. GMC will produce as many Syclones as the public orders. So there shouldn't be any outrageous "dealer premiums" added onto the sticker price.
Now were waiting to get behind the wheel of another Syclone to test its handling over canyon roads and to log a few hundred miles of everyday driving. Until then, we're beginning to wonder if GMC really knows what it has created. First reactions might he tentative. Do trucks really need this much power and handling? The truth is, some truckers want performance on the same plateau as a sports car. They like the looks and persona of a truck, but don't care for the Spartan, utilitarian amenities indigenous to trucks. Also, there are some performance drivers enticed by the street-sleeper possibilities of a boulevard rocket wrapped with a truck skin.
There is a place for the Syclone in today's truck and high-performance markets. And if some classy sports cars aren't displaced by the GMC invasion, the Syclone's winds are potent enough to blow off their doors. Just remember, it's only a truck.
GMC SYCLONE
Base price ………………… $25,000 (est.)
Price as tested …………………………. N/A
Options …………………………………… none
ENGINE
Type …………………………. 90-degree V6
Displacement (cu. in./liter) …… 262/4.3
Bore x stroke (in.) ……………. 4.00×3.50
Compression ratio ………………….. 8.0:1
Fuel Delivery ……….. port fuel injection,
intercooled turbocharger
Net horsepower ……. 280 @ 4400 rpm
Net torque (lbs.-ft.) … 360 @ 2800 rpm
TRANSMISSION
Type ………………….. 4-speed automatic
Ratios …………. 1st: 3.06:1, 2nd: 1.63:1
3rd: 1.00:1, 4th: .70:1
Reverse 2.29:1
Axle ratio ………………………………. 3.42:1
Transfer case …………………….. full-time,
single-speed
SUSPENSION
Front ……….. double A-arm, torsion bar
Rear………………… live axle, leaf springs
STEERING
Type ……………………….. power-assisted
recirculating ball
Turns, lock-to-lock ……………………. 3.75
Ratio ………………….. 13/16.0:1 variable
Turning radius (ft.) ……………………. 18.4
BRAKES
Front …………………………. 10.5-inch disc
Rear ………………………… 9.5-inch drums
Anti-lock …………………………….. 4-wheel
WHEELS
Type ………………………………… aluminum
Size (in ) …………………………………. 16×8
TIRES
Type …………………. Firestone Firehawk
Size ………………………….. 245/50x16VR
DIMENSIONS
Wheelbase (in.) ……………………… 108.3
Overall length (in.) ………………….. 178.2
Overall width (in.) ……………………… 64.8
Overall height (in.) ……………………. 60.0
Track F/R (in.) ……………… 57.78/58.00
Curb weight (lbs.) ……………………. 3525
Payload capacity (lbs.) ……………… 500
PERFORMANCE TO SPEED
0-30 mph (sec) ………………………….. 1.7
0-40 mph (sec.) …………………………. 2.5
0-50 mph (sec.) …………………………. 3.6
0-60 mph (sec.) …………………………. 4.9
0-70 mph (sec.) …………………………. 6.5
0-80 mph (sec.) …………………………. 8.5
1/4-mile (sec/mph) …….. 13.01/102.25
STOPPING DISTANCE
30-0 (ft.) ……………………………………… 41
60-0 (ft.) ……………………………………. 144
MILEAGE
EPA hwy/city (mpg) …………………… N/A
Test mileage (mpg) …………………… N/A
Performance speed and stopping tests were
conducted by Motor Trend magazine using
the fifth-wheel electronic test equipment. The
quarter-mile time was recorded at Milan
(Michigan) Dragway and is not corrected for
altitude.