Sport Truck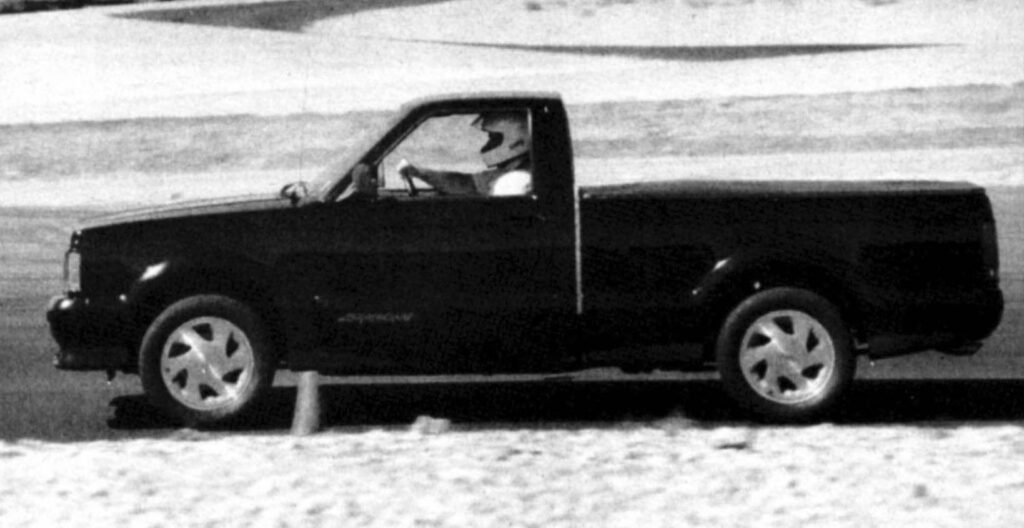 The idea that a muscle truck has to be a full-size pickup, with acres of cubic inches under the hood, is about to be blown away. The spoiler of this myth is GMC Truck, which will begin selling the power-packed Syclone about a month after you read this item. With an unlimited production run and a retail price of $25,500, the Syclone is the performance bargain of the decade. And we're only in 1991.
If you're a regular reader, you've heard about the Syclone before. It's a variant of GMC's Sonoma compact pickup, with an incredibly potent power package under the all-black skin. GMC has added multiport fuel injection and an intercooled turbocharger to the stout 4.3-liter Vortec V-6. These changes, and other refinements, boost the Vortec's power output to 280 net horsepower at 4400 rpm and 350 lb-ft of net torque at 3600 rpm.
Bringing all that muscle to the ground is a four-speed automatic overdrive transmission mated to an all-wheel-drive system and 3.42:1 gears front and rear (with a limited slip in back) that send power to all four P245/50VR16 tires.
Our initial tests of the Syclone gave us 4.8-second 0-60-mph times (nearly half the time the full-size muscle trucks needed) and quarter-mile runs of just over 13 seconds at over 100 mph. Kim Nielsen, the GMC Truck engineer primarily responsible for the Syclone project, has recorded quarter-mile runs of under 13 seconds. Even Chevrolet's ultimate Corvette, the ZR-1, doesn't run that fast.
Better still, the Syclone is not just a straight-fine bullet. Its drive system and sticky tires make it handle, too. We haven't run skid-pad or slalom tests on the truck yet, but a day of thrashing it around Willow Springs International Raceway, here in California, has raised our expectations. It's certainly the best handling factory pickup we've ever driven Is it as close to the sports cars on the skid pad as it is on the dragstrip? We'll see. We hope to complete a full road test of the Syclone for our April issue.
Meanwhile, Chevrolet and Ford (and anyone else intending to build a muscle-truck contender) had better watch their backs. There is a substitute for cubic inches. And it's spelled S-y-c-l-o-n-e.