Truckin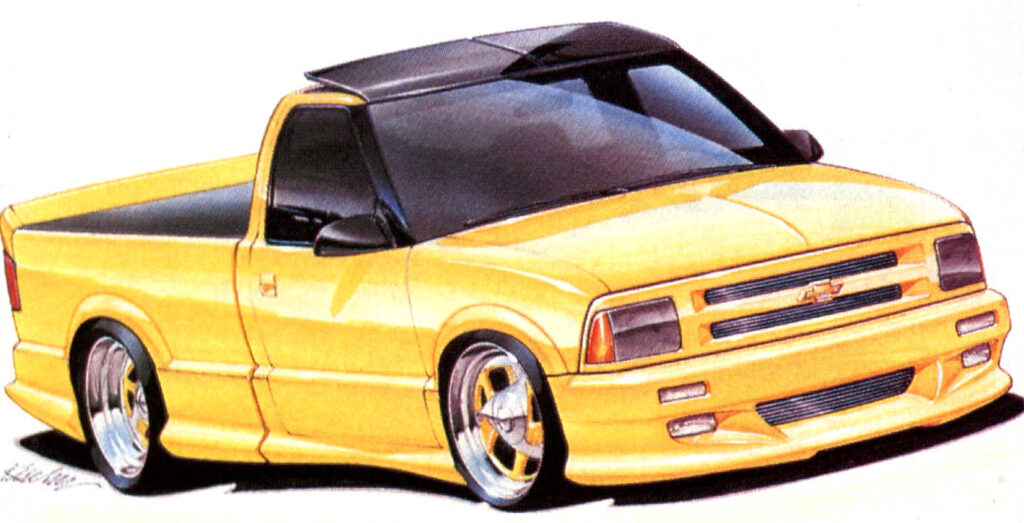 There's no mistaking, this S-10's message comes through loud and clear – IT'S HOT! Trucks West (a division of Wings West Group) got their hands on one of the first-available 1994 Chevrolet minis and locked it, their design staff and artist Duane Kuchar in a well-lit studio for some serious sketching. As image after image burned through Kuchar's brain, concepts were rejected, refined and finally realized in the rendering you see here.
Tooling for the awesome aero ground effects is now complete, and the first available-to-the-public components should be popping out of the molds as you read this. And while the new aerodynamic shape is the heart and soul of Trucks West's S-10, they've succeeded in adding the finishing touches that perfectly complete this little pearl yellow runner. Budnik's "Tusk" wheels were hit with the same yellow as the body, then all relief surfaces were stripped of paint and polished to a mirror brightness before 17-inch General Tire super-low profile meats were pulled on. Low stance is ala Bell Tech.
A 21st-century version of the old T-top design caps this S-truck in space age style. Skylite Sunroofs & Motoring Accessories of Brighton, Michigan has come up with this "Gen II" variation that does not compromise the structural integrity of Chevrolet's design; factory door structure and seals remain intact in this installation, and the twin integrated sunshade panels can be removed or simply vented, as in the rendering. Under the hood breathes an L35 V-6, but its stock output of 195 horses is significantly enhanced by the addition of a Paxton supercharger.
Finishing touches include fog/driving lights by Blazer International, Katzkin leather interior, Pro Design billet grille, Budnik steering wheel and flush fitting tonneau cover by Sprint. Limo window tint came courtesy of Desi's Accessories, while the yellow pearl was pumped by Prukop Auto Body & Paint.
Mid-month will see the introduction of Truck West's newest debutante on the Southern California show circuit, and it should serve as a blueprint for years to come. Chevrolet has one hot compact truck on its hands, and Trucks West has turned it into a real scorcher. For info on any of their truly unique products, write to them at Trucks West, 925W. 18th Street, Suite A, Dept. TR, Costa Mesa, CA 92627, call them at (714) 722-9995, or fax 'em at (714) 722-9997. Wonder what they've got in mind for the new S-Blazer!