Autoweek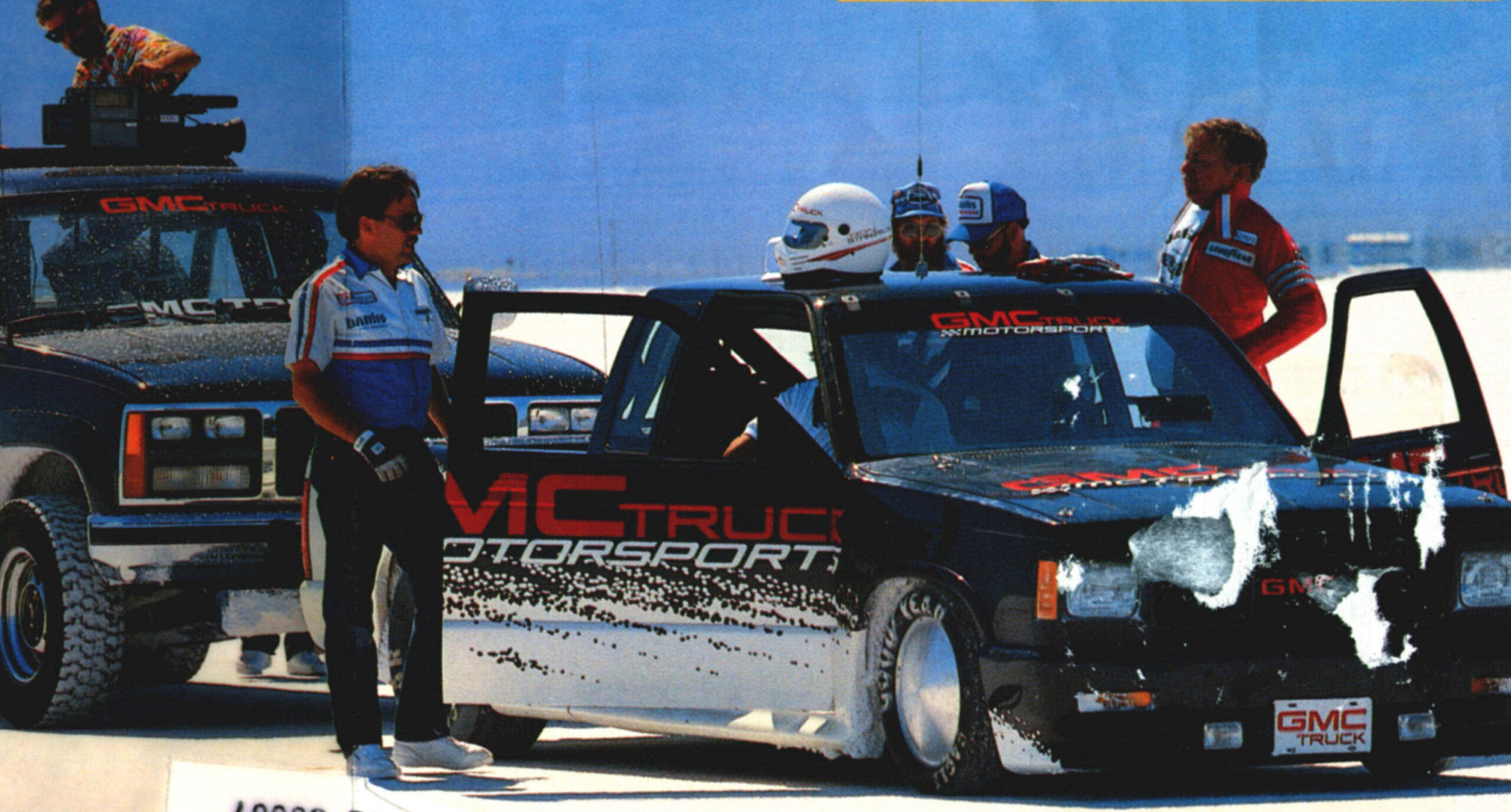 A specially modified GMC pickup shatters Porsche's mark on its way to a 194 mph record run at Bonneville
Ah, those wild and crazy guys in GMC's Advanced Vehicle Engineering department. Last year they created the world's first and only active- suspension truck (AW, July 4, 1988), a tough act to follow. But follow it they did. This summer they conjured up an S-15 mini-pickup that ran within a hair of 200 mph at the Bonneville Salt Flats.
"Our goal was learning as much as we could about high performance vehicles, giving our people some training in putting a vehicle of this nature together," said Donald Gothard, the department's executive engineer. "And doing some work in aerodynamics, chassis, suspension, real-time telemetry systems and data acquisition. We've got all of that in this vehicle."
The pickup itself, known internally as Pegasus III, is based on a stock S-15 Club Coupe (extended cab), modified in compliance with HA rules for international speed runs. It was designed and built by GMC's Advanced Vehicle Engineering (AVE) along with Creative Industries Group Inc., of Auburn, Mich.
All record attempts were certified by stewards from IMSA, acting as representatives of the FIA.
On Day One, right out of the box, the truck ran a 187.6 mph average, breaking Porsche's E-Production class record of 171.110, set in August of 1986 by Al Holbert driving a 928 S4. The next day Pegasus III ran a top speed of 194.5 and upped the record with a composite over 192 mph.
On Day Three, the truck made a warm-up run of 193 mph against the wind. Then Pegasus III unfolded its wings and blasted a 197.530 pass before the wind in the first leg of its assault on the record. To confirm that speed, a return run within one hour was necessary. The two speeds, with and against the wind, would be averaged for the actual record number.
As the truck began its return, driver Don Stringfellow, a longtime member of the 200 mph club at Bonneville, didn't like the engine's sound and shut down. An injector horn had become loose and was out of place on the manifold. It was secured by Gale Banks and his crew, the fouled plug from that cylinder replaced, and the engine refired.
Stringfellow was still concerned because the tach was not reliable. "The tach, for want of a better term," said the rangy driver, "went all cow-shit for a while, so we turned it off and I shifted by ear."
Only four minutes of the hour remained when they fired the engine again. Stringfellow dirt-tracked the little pickup in a U-turn and returned to his launch point, burning up the salt, leaving a Cessna chase plane behind as though it were standing still.
While it was a gallant effort, freshening winds from a rapidly approaching thunderhead put a 200 mph run beyond reach, although the composite speed on the two passes moved the record up another notch, to 194.770 mph for the flying mile. Yet, the salt trolls had their little joke on the GMC and Delco engineers.
Racks of expensive and sophisticated real-time telemetry gear contained in a support motorhome were inexplicably useless all three days. It was later discovered that as a vehicle storms down the salt, it creates a powerful cloud of static electricity around itself, like a spacecraft re-entering the earth's atmosphere. This ion barrier blocked out the data transmitted by the truck to the computer-based recording and display systems at the base camp.
The other problem was the head-up display speedometer and wheel spin indicator in the cockpit of the truck. The massive glare from the salt surface in bright sunshine completely wiped out the HUD imaging system, sending Delco electronics engineers back to their drawing boards.
"GMC Trucks are considered the premium General Motors truck," said Rick Lee, GMC marketing director. "Our philosophy is to maintain a constant pressure and presence in the marketplace. This Bonneville project, which is designed to showcase the 4.3-liter, 90-degree V6 engine technology, is just one of the ways we do that.
AVE returns to Bonneville this month for Speed Week, when it will use a 4.26-liter motor in Pegasus III to contest the Southern California Timing Association E-Production and other speed records.
Finally, it should be noted that the 928 Holbert drove in 1986 was a completely stock vehicle with a catalytic converter. Still, the fact that a tweaked GMC truck could beat a Porsche is no mean accomplishment.
Right out of the box the Pegasus Ill broke the E-Production class record set by Al Holbert in a Porsche 928, but it took two more days and the work of a large support staff (left) to reach nearly 195 mph
Everything from ice to aerodynamics. What makes Pegasus fly.
Engine development on the atmospheric V6 was a joint effort of AVE and Katech Inc. Gale Banks Engineering of California handled vehicle preparation, operation and maintenance during the three days of record attempts on the eerie, endless, blindly whit Salt Flats.
Also known as the ETV, for Engineering Technology Vehicle, Pegasus III is powered by an impressive six-banger. Its normally aspirated, fuel-injected racing motor is based on a stock, cast iron 90-degree V6, bored out from 4.3 to 5.0 liters.
It uses an odd-firing Moldex crank, Diamond Racing products pistons and Oliver connecting rods, along with Brodix aluminum cylinder heads. The valve train includes a Competition Cams steel-billet cam, Iskenderian lifters and a Katech rev kit. Dry sump sump lubrication flows through a Weaver pump. It uses an odd-firing Moldex crank, Diamond Racing products pistons and Oliver connecting rods, along with Brodix aluminum cylinder heads. The valve train includes a Competition Cams steel-billet cam, Iskenderian lifters and a Katech rev kit. Dry sump sump lubrication flows through a Weaver pump.
The fuel injection system consists of a Kinsler manifold and throttle assembly with AC Rochester regulator, fuel pump and injectors. Ignition is provided by a Delco capacitive discharge unit and over-all engine functions are regulated by a modified stock Delco Gen II control module.
To reach maximum horsepower on the salt, Peg III has a charge cooling system similar to the intercooler on a turbo-charged engine. An ice chest in the rear of the pickup bed supplies very cold water to
heat exchangers located at the front of the the truck. These radiator-like exchangers lower the incoming air temperature as much as 50 F below ambient level, ramming a dense air/fuel mixture into the six happening cylinders.
While the ice in the system soon melts, it's more than adequate for a five-minute run at Bonneville. This scheme has been used with success by Gale Banks on other speed record vehicles.
The 301 cubic inch V6 develops 523 horsepower at 6800 rpm and 414 lbs ft of torque at 6400 revs. Such a stunning power output, combined with the vehicle's Cd of 0.31 (down from the production figure of 0.47), led engineers to believe that 200 mph was reachable with sufficient run-up before the timing traps.
That 0.31 Cd was achieved by lowering the truck, adding the California aero package (air dam, fender flares and rocker skirts) from the GMC stock bin, and using a half  tonneau cover on the rear of the bed. The half tonneau proved more aero than a completely covered bed, due to complex swirl patterns generated by the upstanding cab.
"It's been a very good project for us" smiled honcho Don Gothard. "Kinda shattered the old record set by Porsche; so we did pretty good with a little truck."

Some of what went into Peg III was low-tech, like boring the V6 (left) to 5.0 liters, but electronics had a role, too.