Hot Truck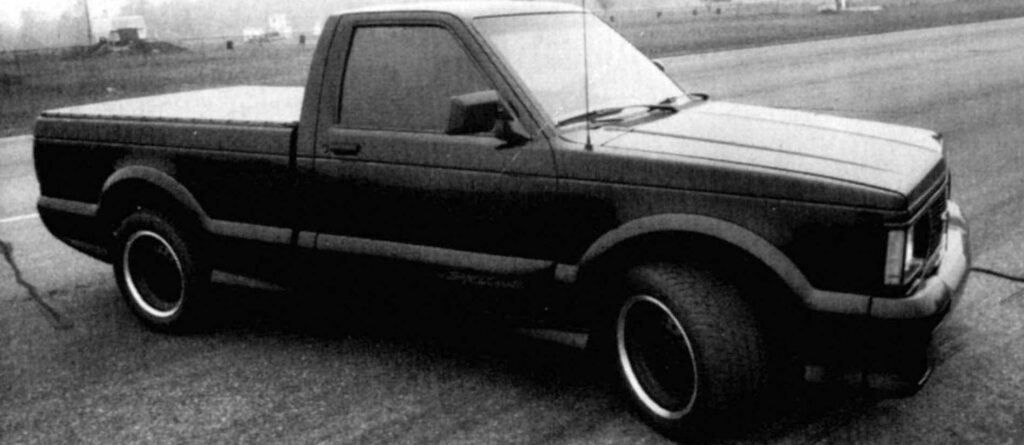 Hold on to your hats, the Syclone is blowing through with a hurricane force that will stun the entire truck industry.
It's no longer a rumor or a concept vehicle for the car shows. The GMC Syclone is a reality and will be available at your local GMC dealer this January.
For those who haven't heard of the Syclone, it is a radical and high-powered version of the S-truck. Syclone was developed by GMC Truck in cooperation with PAS, an automotive custom fabricator based in Detroit. Briefly, the Syclone features a turbocharged 4.3-liter Vortec engine, all-wheel drive, 4-wheel anti-lock brakes, full instrumentation, a redesigned interior and a muscular ground-effects package.
For those who have heard about Syclone, every superlative and favorable report you've been told is true. There are no disappointments. It's safe to say the Syclone is the most revolutionary truck produced since the '55 Chevy Cameo.
We had a chance to test drive a Syclone prototype at Milan (Michigan) Dragway just a few days before deadline. Sorry, you'll have to wait until our next issue for the full report, but we can offer you this tasteful appetizer: Syclone is the quickest American production vehicle, short of a ZR1 Corvette, and those ZAls had better be in top shape before they square off with a Syclone.
Editor Mike Magda ran a best of 13.25 at 98.68 mph on a very hot and muggy day. Kim Nielson, a Syclone engineer, recorded a best of 13.22 at 99.55 mph. Two weeks earlier on a cooler day, while making test runs with our sister publication, Hot Rod, Kim ran a 13.06 at 100.44 mph with the same truck.
Syclone is perhaps the hardest-launching vehicle ever to come off a Detroit showroom. Magda had the best 60-foot time of the day with a 1.819 clocking. That compares to 10- and 11-second musclecars shod with slicks. Our Syclone rolled on the stock 245/50X16VR Firestone Firehawk tires.
The key to these incredible neck-snapping launches is the all-wheel drive system. Syclone starts out as a 4-wheel drive, GMC Sonoma pickup. The two-speed New Process transfer case is replaced by a single-speed, viscous-coupler, Borg-Warner unit used in the Safari vans. The truck also gets a Corvette 700R4 4-speed automatic transmission. Modifications necessary to accommodate the driveline changes, such as U-joints and drive-shafts, are also made. Syclone retains the stock front and rear differentials, both fitted with 3.42:1 gears. Its suspension was modified to lower the truck three inches and to provide a softer ride.
The engine's long block is stock, with the exception of lower compression (8.35:1) pistons. Power comes from a Mitsubishi turbocharger that forces air through an intercooler into a Corvette L98 throttle body. A new split intake manifold, featuring port-fuel injectors was fabricated for the Syclone.
This combination puts out 280 horsepower at 4400 rpm with a peak torque of 360 lbs.-ft. at 2800 rpm. That's an increase of 120 horsepower of the stock Vortec engine, and GMC officials say the turbo version also gets better fuel mileage.
Drivers monitor the turbo's boost with a gauge package taken from a Pontiac Sunbird Turbo. Other interior goodies include a leather-wrapped steering wheel, a floor-mounted shifter (also from the Vette) and a center-mounted console. The seats have been reconfigured and recovered for extra comfort and support.
Syclone's styling package features all-black paint with a subtle red logo on the aero package, which was wind-tunnel tested to lower the drag coefficient. The finishing touch is a set of 16-inch aluminum wheels.
It will also come fully loaded with power windows, a tonneau and an AM/FM stereo cassette. The only options available for Syclone are a sunroof and a CD player. GMC is targeting a $25,000 price.
Besides the performance, the best news is that GMC will make as many Syclones as ordered. There will be no limited production run that often prompts dealers to gouge buyers with inflated prices or encourages collectors to park their vehicles in a garage. This truck is meant to be driven, and it will satisfy even the most demanding sports-car tastes.
Watch for a full report in our next issue.