Hot Rod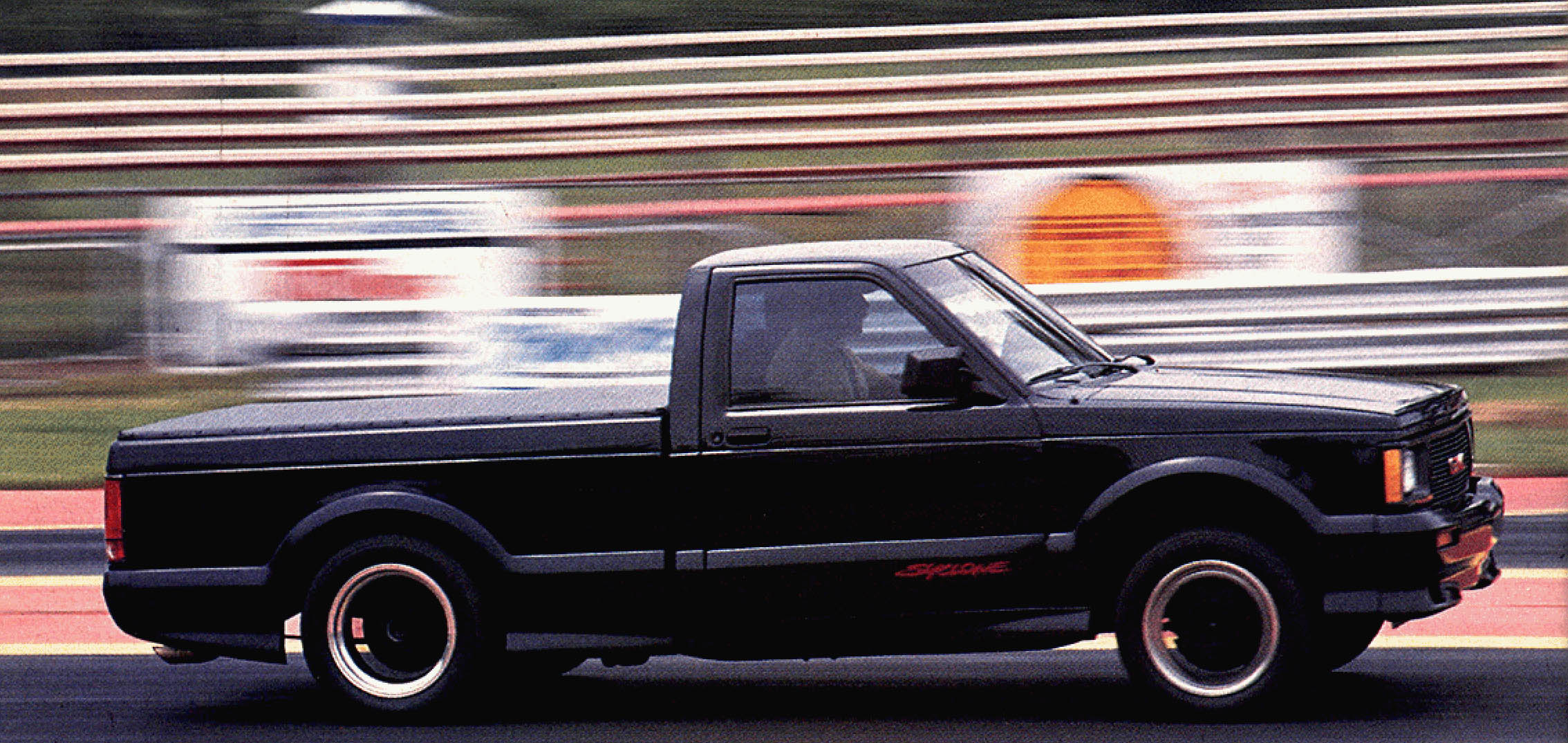 As product planners are wringing their hands and sweating bullets over new bells and whistles that they hope will attract reluctant buyers, one GM division is making a bold move to take command of the high-performance car (and truck) market. Its assessment of performance-minded buyers is dead-on target-always give the buyer maximum bang for his buck, and you've got a friend (or customer) for life. Surprisingly, it took a truck manufacturer to finally build a modern performance vehicle that outperforms virtually every musclecar ever built and most of the so-called performance cars currently available. Trucks are clearly the hottest market these days, and GMC is poised to take on all challengers with its spectacular new '91 ½ Syclone S-15.
The Syclone may be the most significant domestic performance vehicle built in the last 20 years. With a 280-hp turbocharged/intercooled V6, all wheel-drive (AWD), 4-wheel Kelsey Hayes antilock brakes, superb handling, aggressive styling, and a brutal performance content, it's the new bad boy on the block. If Chevrolet's 454 SS is supposed to be "the pick-up from hell," then the Syclone is the devil's own chariot. Its staggering performance level is three-full-seconds and 15-mph faster than the 454 SS truck in the quarter-mile. Comparing jet propulsion to propellers is roughly the same analogy. If you feel the need for speed, the Syclone will oblige you with 5.0-second zero to 60 times-in the rain. On dry pavement, zero to 60 blinks by you in a mere 4.6 seconds, and as an overall performance vehicle, the Syclone handles as well as any pre-IROC F-body, stops on a dime, and runs rings around anything available in this country-short of a ZR-1 Corvette. We're talking 13 seconds flat at just over 100 mph in the quarter-mile. The ZR-1 will run more mph in the quarter, but the Syclone will outlaunch the ZR-1 and match the e.t.'s.
The Syclone was conceived as a total performance package, with its marketing and production build man aged by PAS, Inc., of Troy, Michigan, and engineering and development of prototype units accomplished by Triad Services, Inc., of Troy-the same talented team that brought you the turbocharged 20th-anniversary Trans Am. The design philosophy is based on the classic hot rodder notion that most of the necessary hardware al ready exists somewhere in the giant GM parts bins. By incorporating the proper mix of existing components, the vehicle could achieve a quantum leap in performance and still maintain reasonable costs. It began with a specific performance goal, and the package was engineered to meet that standard. The goal was a totally integrated performance package that combined optimum driveability, handling, ride quality, and AWD performance. Low- to mid-13s at 100 mph and a zero to 60 in less than five seconds was the target zone, and the Syclone scored a perfect bull's eye. The Syclone brings a lot more to the party than just an attitude and a big ad budget. GMC means business, and what better way to blow your doors off than with a full-blown Syclone?
The original prototype utilized a 3.8L Buick Grand National engine, but those engines are no longer available, so the 4.3L CPC 90 V6 (read "Chevy V6") was enhanced for the application. Turbocharged, inter- cooled, and port fuel injected, it de livers a whopping 280 hp and 360 lbs.-ft. of torque. The intercooler is a water/air unit with a separate pump, coolant reservoir, and heat exchanger. It provides the necessary inlet-air- temperature reduction to maintain the 14-psi boost level that creates all that power. The turbocharger is a Mitsubishi unit with a water-cooled center housing for greater durability. This engine has passed all the standard durability tests, including a minimum of 200 hours with variable throttling between peak torque and peak horsepower. This testing demonstrated the reliability of the new hypereutectic pistons, which are the same pistons slated for use in the '92 5.7L V8s. Rounding off the package is a 2 ¼-inch-diameter dual exhaust system, which uses the stock S-15 4.3L catalytic converter. The combination is quiet enough that no muffler is necessary.
The AWD Safari van (Astro van) provided many of the drivetrain and suspension components that make the Syclone possible. New S-15 Syclones will be fitted with the van's AWD front differential and torsion bar suspension right on the Shreveport, Louisiana, production line. A performance – calibrated Corvette TH700-R4 4-speed automatic transmission, coupled with a transfer case and a viscous coupling, is mated to the back of the V6 engine. A specially designed and constructed torque converter delivers approximately 2000- to 2200-rpm-stall speed, while the transfer case and viscous coupling provide a 35/65-percent front to rear torque split, respectively, under full load. The viscous coupling passes 65 percent of the engine's torque straight through to the rear wheels, while the outer half of the coupling drives a belt chain in the transfer-case housing that routes the remaining 35 percent of the torque to the front differential. The AWD package added less than 200 pounds to the vehicle, and when adding front wheel drive to the existing rear-wheel-drive package, the engineers claim only a 4-percent power loss through the drivetrain. A specifically designed tire comparable to the Firestone Firehawk SZX is used to transfer every last bit of power to the ground.
GMC was also keenly aware of the need to make the Syclone visually attractive-hence the subtle yet aggressive styling package that includes a front airdam with integrated road lamps, unique lower rocker panels, a two-tone body appliqué package, a tonneau cover, 16- inch aero-styled wheels, speed-rated tires, and a monochromatic black paint treatment. Standard interior appointments include power windows and door locks, cruise control with a leather-clad tilt wheel, air conditioning, a heavy-duty battery, tinted glass, and an AM/FM/ cassette stereo. Recontoured sport bucket seats with lumbar support have a unique cloth covering that matches the door trim, and a floor console with automatic shift control and storage space is provided. The analog gauge cluster incorporates a tachometer; turbo boost, oil pressure, and coolant-temperature gauges; and a 140-mph speedometer.
Think of it as an integrated total- performance system. GMC wanted to address a particular market without stepping on anyone's toes; however, the product is so good that it clearly steps on everyone's toes. We say, "Thank God for GMC." In its wisdom, GMC has not only built the ultimate American performance vehicle, but it has also ensured that speculators won't drive the price out of sight the way they did with the Buick GNX and the turbocharged Trans Am. The Syclone is not a limited-production vehicle. To paraphrase a popular commercial, GMC's philosophy suggests that you, "Buy all you want, we'll make more." True, the initial offering is a little pricey for some of us at an estimated range of $25,000 to $28,000, but you have to remember that it comes with everything you could possibly want in a performance vehicle-car or truck. We've been assured that an unlimited supply of these trucks will be offered so you won't be at the mercy of an unscrupulous dealer who might see this as an opportunity to fatten his profit margin. GMC wants you to have this truck for a reasonable price, so shop around and make your best deal. After all, this is the pickup that will walk all over the "pickup from hell," and there's no reason why you shouldn't be able to get a hell of a deal on one.
 Spec Sheet
'91 ½ GMC SYCLONE AWD
RETAIL:
Base Price ………………….
$25,000 to 28,000
Price As Tested …………..
N/A
ENGINE:
Type ………………………….
OHV 90-degree V6
Bore & Stroke ……………..
4.00×3.48 inches
Displacement ……………..
262 cid, 4.3L
Compression Ratio ………
8.35:1
HP, SAE Net @ rpm ……..
280@4400
Torque, SAE Net
@ rpm ……………………….
360@3600
Induction System …………
Turbocharged/intercoolded
with sequential
multiport EFI
Maximum Boost ………….
14 psi
DRIVETRAIN:
Transmission ………………
4-speed automatic with
overdrive, Hydramatic
TH700-R4
Axle Ratio ………………….
3.42:1 limited-slip
AWD Transfer Case ……..
From Safari L-Van
CHASSIS:
Front Suspension ………..
Independent with
torsion bars, lower
spring rate and ride
height, revised jounce
bumpers, and 32 mm
stabilizer bar
Rear Suspension …………
Semi-elliptic leaf springs
with Salisbury axle
Steering …………………….
Recirculating ball with
13/16.0:1 variable ratio
Brakes ……………………….
Power-assisted
Front: 10.5-inch discs
Rear: 9.5 inch drum
Wheels ………………………
16×8-inch
cast-aluminum alloy
Tires ………………………….
245/50VR16 Firestone
all weather
GENERAL:
Curb Weight ……………….
3526 pounds
Wheelbase …………………
108.3 inches
Fuel Capacity ……………..
20 gallons
PERFORMANCE:
Power to Weight …………
12.59 lbs./hp
0 to 60 mph …………………
4.6 seconds
Quarter-Mile ……………….
13.06 @ 100.2 mph
60 to 0 mph …………………
131 feet
Skidpad ……………………..
.82g