Sport Truck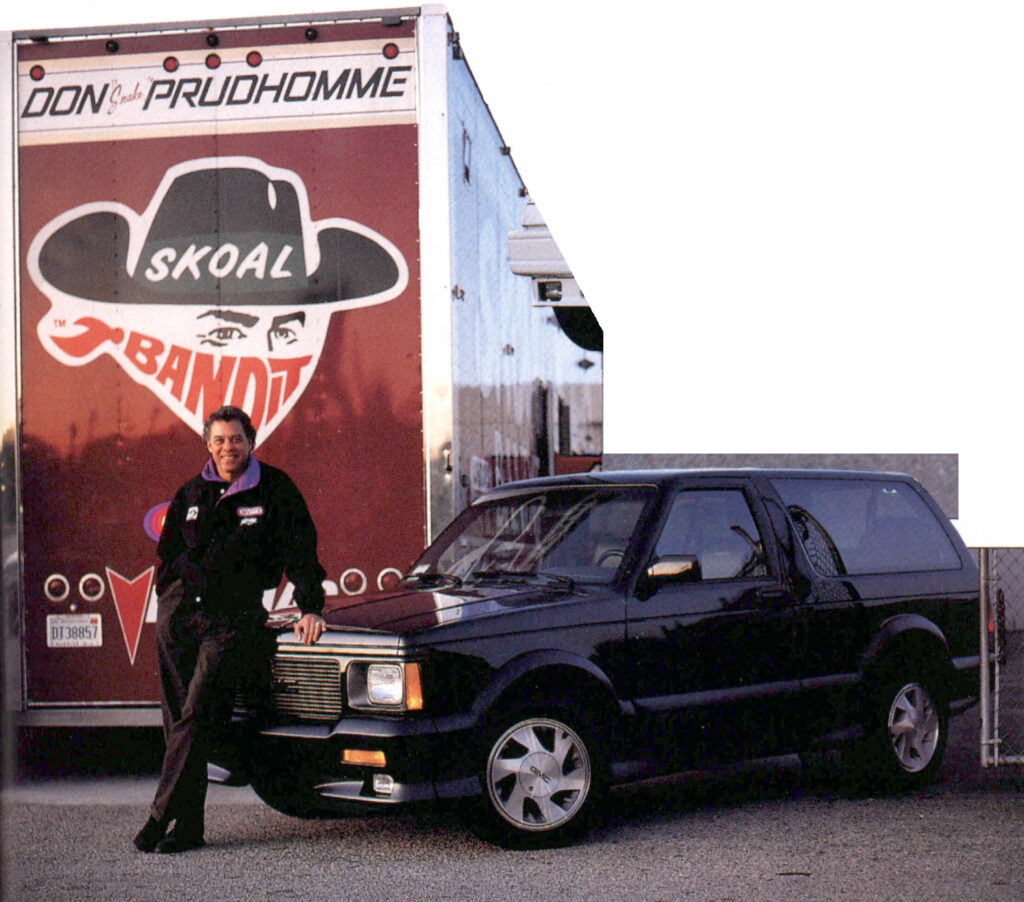 DON PRUDHOMME
Veteran racer Don "The Snake" Prudhomme doesn't ask for much—just the 1993 Winston Championship. And odds are that he'll get it.
It all started way back in 1960 when the 20 year old burst on the drag racing scene with a Top Fuel victory at Bakersfield, California, "Smokers March Meet." And, well, the rest is history.
In 1965, Prudhomme was the first NHRA driver ever to win both the Winternationals and the U.S. Nationals in one season, and just two years later he on the Spring Nationals in Bristol, Tennessee. In 1969, he won the U.S. Nationals, and in 1970 he took back-to-back Top Fuel titles at the U.S. Nationals.
In 1973, Prudhomme parked his Top Fuel Dragster in favor of a Funny Car, and—big surprise—he won the Funny Car U.S. Nationals that year. Two years and many wins later, he became the first drag racer to win seven of eight National titles, and he also took the NHRA Winston World Championship First Place trophy for the second time.
You may have noticed by now that there's one word that's always associated with Prudhomme, and that word is win. Throughout the '70s and '80s he wowed the racing community with his extraordinary talent and tenacity. And when he joined forces with Skoal Bandit Racing in 1986, his winning streak continued.
When Prudhomme switched to Top Fuel in 1990, he had a minor setback with two blowovers at Bakersfield and Montreal, but that just made him more determined than ever. Three victories at the Spring Nationa1s Keystone Nationals, and the Chief Auto Parts Nationals made 1991 a great year. And three more wins in 1992—bringing his total to a burning 46 victories—makes it look like the decade will he shaping up favorably.
These days. when Prudhomme's Granada Hills, California. neighbors see him on the streets, it's a safe bet that he's driving his GMC Typhoon. Not just a Jimmy anymore, this all-wheel- drive, Mitsubishi-turbocharged road rocket propels him in style. And four-wheel antilock brakes and major suspension and interior upgrades have turned an ordinary workhorse into a Clydesdale. We all know about the engine— this innocuous-looking truck's 262-cubic-inch VÔ can run 0 to 60 in 6.5 seconds, which puts the word sport in sport/utility. Prudhomme has kept his Typhoon stock—after all, what more could he possibly want from his daily driver? It's a civilized street-legal vehicle that's caught the same racing fever he has, and it's a perfect match.