Autoweek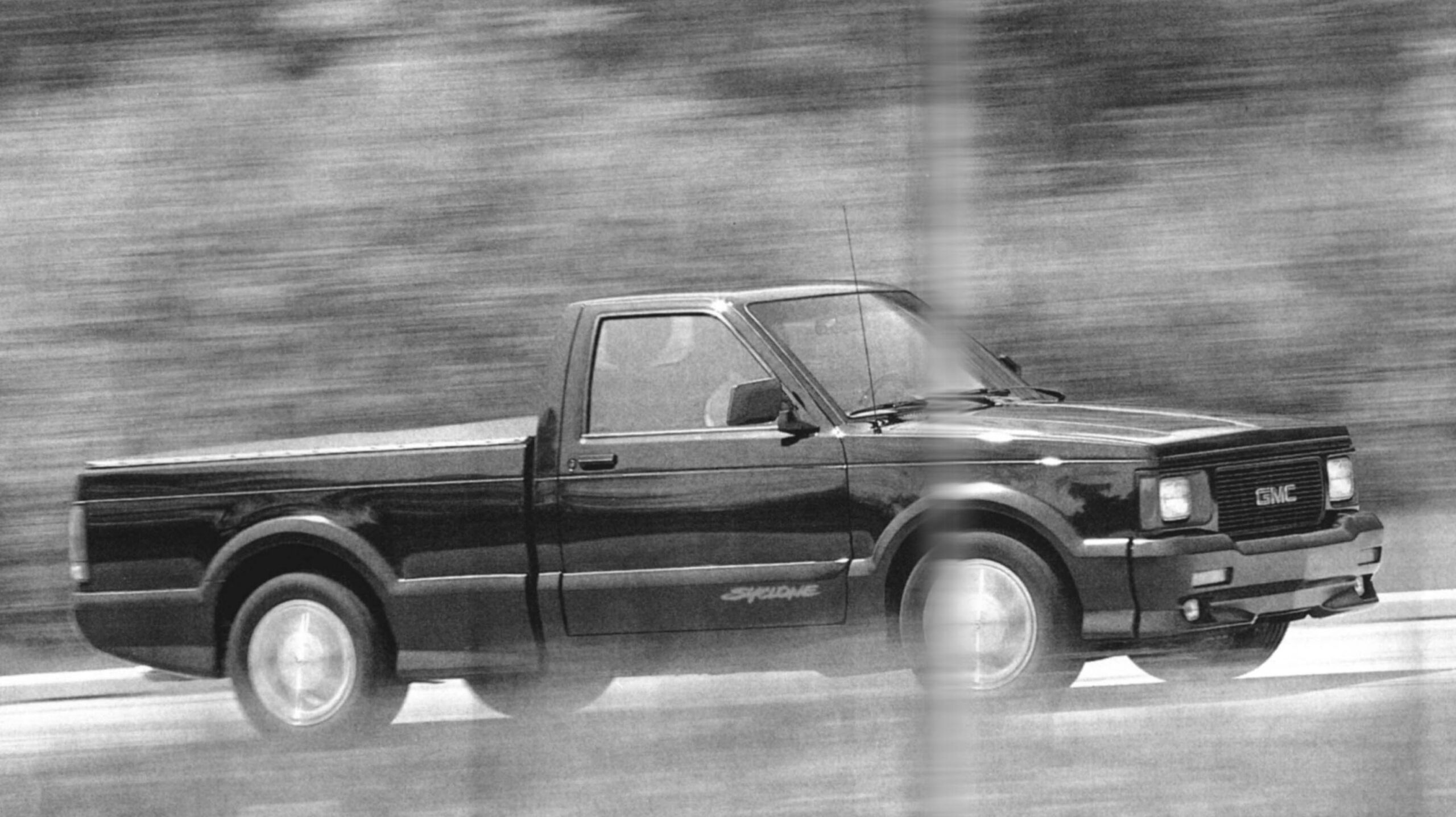 GMC wants to play the numbers game with this truck That's understandable. The Syclone is meant to impress with prodigious straight-line acceleration. Numbers are the easiest way to illustrate that. But that sets a trap for GMC.
Which wouldn't matter much except that the reputation of an exciting vehicle suffers. Besides being a very good straight-line accelerator, the Syclone is a decent all-around vehicle. And that's something that numbers can't always measure.
But, back to the trap. In the Aug. 15, 1991, edition of USA Today, a full-page GMC Truck ad quotes our test of the Porsche Carrera 4 (AW, Feb. 4, '91) in which we report getting the Porsche to 60 mph from a standstill in 5.0 seconds and to the quarter-mile in 13.7 seconds at 103 mph. GMC then gives its own numbers for the Syclone: 0-60 in 4.6 seconds, the quarter in 13.4 seconds at 99.8 mph.
The trap closes now that we've put the Syclone through its paces at Michigan International Speedway. If our Porsche numbers are good enough for GMC, our Syclone numbers should be, too. But we doubt they will be because in our hands the Syclone tested slower than the Porsche, as the figures in "The Numbers" table prove.
Our numbers don't even completely cover what the factory had claimed-5.0 seconds or less for 0-60 and the quarter-mile in 13.4 seconds or less—when the Syclone was introduced (AW, Oct. 1, '90). But a lot of things affect acceleration: air temperature, humidity, track surface, track temperature, driver. Change one of these and the times can change significantly, making a specific number unimportant.
What is important is that the Syclone is in an elite class in being able to hit 60 mph in less than six seconds. Throw in price and the exclusivity rises. The only things priced close to it that even approximate its acceleration are the 5.0-liter Mustang and—maybe–the 5.7- liter Camaro and Firebird.
The secret to the Syclone's success is not just the power it produces but its ability to put the power on the pavement. All-wheel-drive helps it hook up right now, making a brake-torque start resemble a space launch. Rolling acceleration isn't quite as awesome, particularly above about 35 mph, since turbo lag delays things a bit. Off the line is where the Syclone is most impressive.
Still, $25K would be a large price to pay for a one-dimensional vehicle. Fortunately the Syclone offers more than that.
Most purchasers don't seem to care about its truck talents, but some do (see "Owners Voices," page 24). While a few may be disappointed in a 4×4 pickup that wears stickers warning against going off-road or fitting a slide-in camper and is incapable of carrying more than 500 pounds of cargo, most accept the tradeoffs made to gain the performance.
In addition the Syclone's ride, handling and braking are surprisingly competent given that it's an all-wheel-drive truck tuned for drag strip derring-do. Despite a suspension considerably lowered and stiffened, the ride does not jar eyeballs to jelly. Similarly —and thanks in large part to its awd and Firestone Firehawk SVXs—handling on smooth surfaces is better than average for a car, far better than average for a truck. We recorded 095g on our simulAted on-ramp, which compares favorably with the Acura Legend Coupe (097g). Braking distances were also comparable to the Legend's.
And compared with its spiritual ancestors —Buick Grand National and GNX and Pontiac 20th Anniversary Trans Am Turbo—the Syclone has superb road manners.
However, this hot-rod truck is not without its shortcomings. Ride and handling suffer on rough surfaces thanks to the suspension modifications. The automatic transmission jolts as it shifts even under mild acceleration. The instrument panel verges on the farcical since so many gauges, lights and dials have been crammed into so small a space. Unless you have an inseam of less than, say, 30 inches you drive with the seat all the way back and thus risk bouncing your head off the back window. And that window readily reflects the image of the instruments and your hands on the wheel into the rearview mirror.
And speaking of mirrors, you'd think a vehicle that can put objects in its mirrors as readily as the Syclone can would have side mirrors adjustable from inside the cabin. Especially when the bottom line on the sticker is more than $25,000.
Some of the problems mentioned here are addressed by the Syclone's sibling, the Typhoon. This new-for-'92 model is a two-door sport/utility version of the hot-to-trot truck. And as such it provides better room for the driver, no reflections and space for more than one companion.
In sum, the Syclone is a very exciting toy that offers some serious entertainment and a tool that can get down to some serious— if limited—business.