Off Road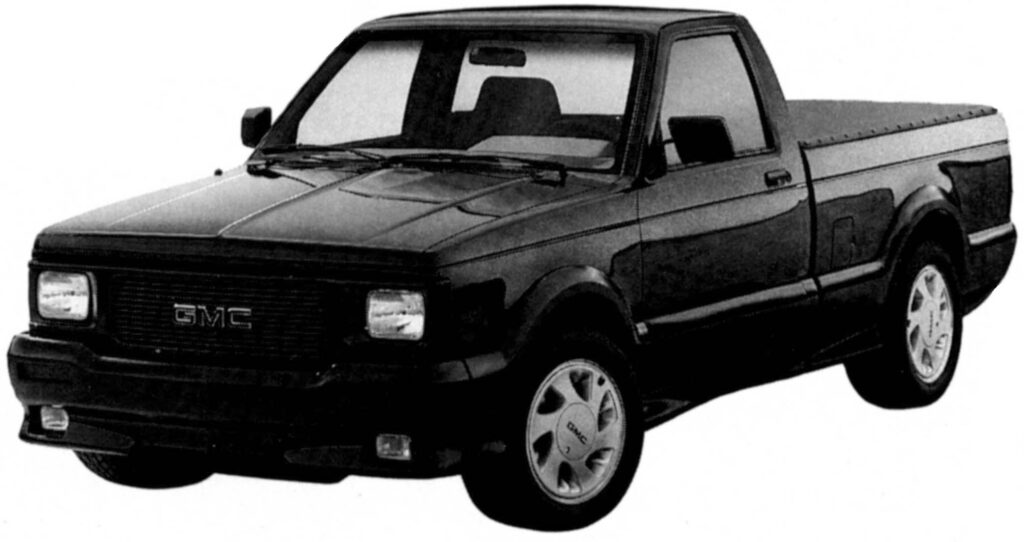 By Moses Ludel
It had to happen! The Vortec 4.3L V6 had just too much potential to go unnoticed. Small-block VS origins provide a natural design for high horsepower. The Vortec's light truck focus has made the prospect even more enticing.
GMC Truck Division captured the limelight at the 1989 Bonneville Speed Trials. Nearing 200mph in an S-truck-based machine really turned heads. Confidently back in 1990, a specially prepped GMC "Syclone LSR" pickup, driven by Don Stringfellow, wailed to a one-way speed of 210.069mph and a two-way average speed of 204.145mph for the flying mile! Gale Banks, noted turbocharging master, applied his firm's expertise to the Bonneville project.
Following the results of September 14th at Bonneville, GMC Truck sprang the ultimate surprise on the light truck industry By January 1991, dealerships throughout the country will offer a Syclone version of the popular Sonoma compact pickup.
HEART OF THE SYCLONE
While the full-size Chevy 454 V8 "SS" truck of last year turned heads, the all-wheel-drive Syclone promises even more. The 4.3L turbocharged and intercooled Vortec V6 engine pounds out 280 horsepower at 4400rpm and 350 foot-pounds of torque at 3600rpm! Port Fuel Injection replaces the mild mannered TBI system found on other versions of this engine.
Standard equipment includes power steering, a four-speed overdrive automatic, low-ride height/sport calibrated torsion bars, shocks and stabilizen The 3.42:1 limited-slip rear axle also features sport calibrated two-stage leaf springs and shocks. Disc front, drum rear anti-lock braking stops this scorcher.
WATCH THE TAILLIGHTS!
Capable of a 13.4-second quarter-mile and 4.3-second 0-60mph times, in under five seconds, the package is the first of its kind in the truck market. GMC's initiative will pay big dividends, with performance street truck buffs already standing in line. The promise of ample stock should keep consumers happy.
What does all this mean to offroaders? Obviously, the singlerange viscous drive, low ride height and ground effects package make the Syclone a very hot street machine, but this technology could easily spill over. Turbocharging and the L-98 Corvette-type Tuned Port Injection (TPI) could also set a precedent for future 4×4 models.
The Syclone, a PAS, Inc. engineering venture with GMC Truck, is a stunning example of high tech fun. GMC's Shreveport, Louisiana, plant has the pleasure of assembling these trucks, and we're sure there's no shortage of test drivers, even at $25,000!
GMC has taken a bold lead in truck performance engineering. 280 turbocharged horsepower take this 3526-pound Porsche eater to 60mph in 4.3 seconds!
Bonneville 1990! The Gale Banks Engineering-prepped Syclone, wheeled by Don Stringfellow, reaches top speed of 210.069mph!