Car Craft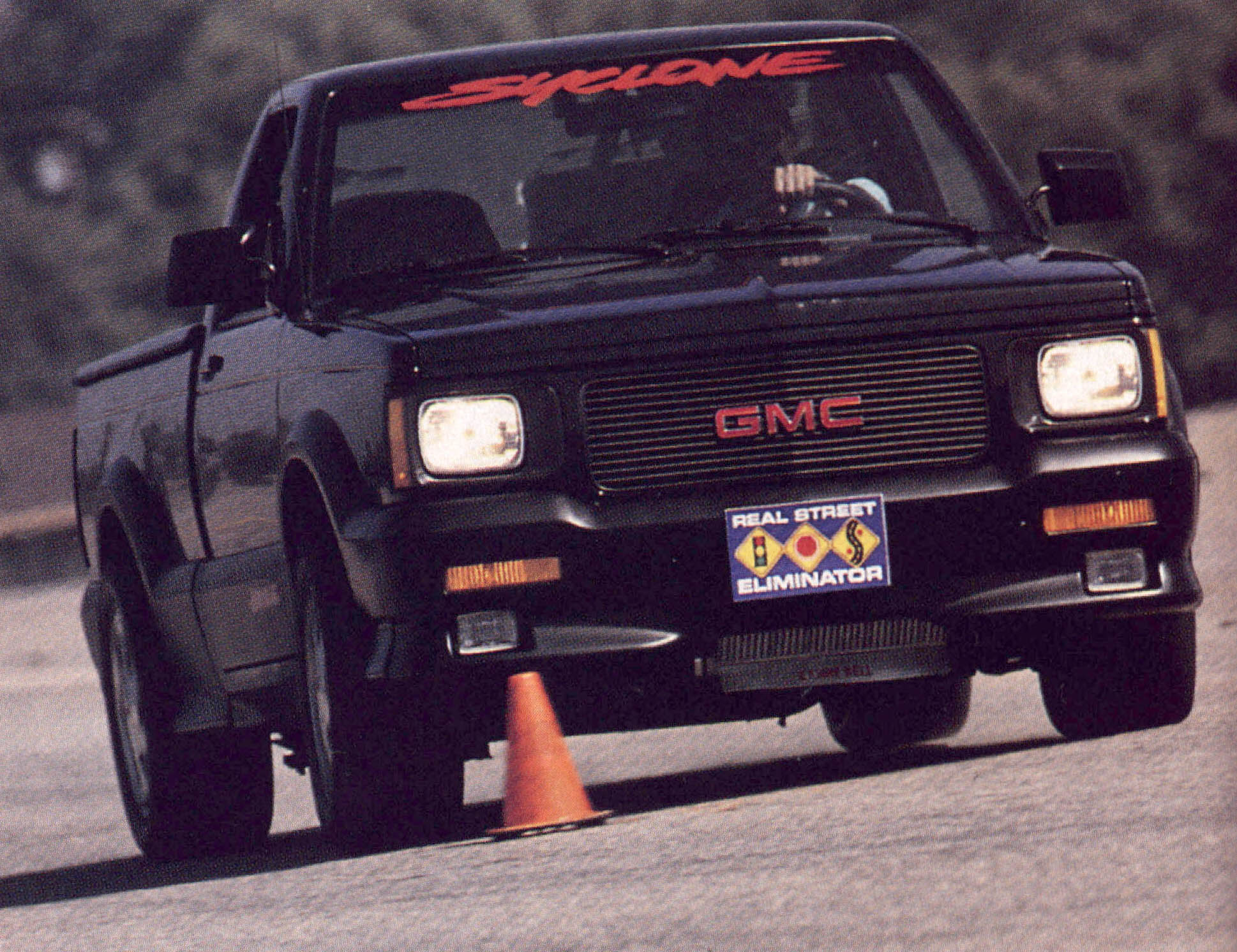 1992 Real Cars, Real Tests, And Real Results Amid The Rubble
MOST OF US OWN EXACTLY one (1) car that has to commute, cruise, travel, race and do-it all reliably. We own exactly one (1) "real street" car.
CC gathered a harvest of real street cars for Real Street Eliminator VI (RSE) at the Fairplex In Pomona, California. Cars for all the mundane and extraordinary things car guys do. Cars built under the pressure of a mortal budget.
Eleven cars were invited but tragically, Mark Dalquist's '67 Riviera was consumed by an engine fire before making out of Minnesota, leaving 10.
It was the largest, most diverse field ever. "Traditional" street machines were Lynn Mosmeyer's Texas small-block '55 Chevy, Erik Bergren's big-block '70 Chevelle, Chris Rentas' bigger-block '70 Camaro, and Rick Blowers' all-Olds all-the-way-from-Missouri '72 Cutlass. "High Tech" was covered by Ken Zeller's supercharged '86 Corvette, Don Sanford's AWD Kenne-Bell-equipped '91 Syclone, and Leon Li's '88 Supra Turbo. "Contemporary Muscle" was shown by these Eighties terrors, Chris Myrhe's '89 Mustang and Adi Mudaliar's Canadian '87 Grand National. Blair Smith's '58 Ford was our "Cruiser."
This year, every car ran one set of tires during the tests. The exhaust had to be legal and all normal street equipment (lights, horn, turn signals, etc) in place. Every car had to show current registration and be modified by its owner. RSE is for guys who drive what they build.
Incredibly generously, BFGoodrich supplied the field with tires. Every car could start the event on new rubber, and no one would have the advantage of some super exotic, DOT-approved (wink, nudge, say no more), shaved gumballs. How better to equalize things than quality BFG Comp and Radial T/As?
Scoring
With such a range of cars, it is folly to compare them. Welcome to folly.
The competition was in six categories: Acceleration (100 points). Slalom (75 points), Braking (50 points). Fuel Economy (25 points), Ride & Drive (100 points), and Craftsmanship (150 points).
In the first four categories, the best performing vehicle received maximum points. The other scores were a percentage of the best car's performance. If the fastest car turned a 12.00 e.t., it scored 100 points, and a 14.00 e.t. would earn another car 85.71 points (12.00~14.00 x 100). If the best car got 20 mpg it would receive 25 points, and a car getting 8 mpg would only receive 10 (8+20 x 25).
The objective scoring, except for the fuel economy, was done on Day One at the Fairplex. Acceleration and braking test driving was done by CC contributor C. Van Tune on the Fairplex's untreated, and rather slow, dragstrip. Acceleration and braking were calculated using CC's fifth-wheel.
The slalom driver was Motor Trend Road Test Editor and road racer Mac DeMere. The slalom course was a straight line with six cones spaced 100 feet apart. The fastest time won.
Fuel economy was determined during Day Two's Ride & Drive, using the odometer in the Chevrolet Astro AWD pace van to calculate consumption.
The objective measures were worth 250 of the 500 available points. Of equal importance was subjective testing conducted the next day, reflecting the collective opinion of six judges: CC Editor John Baechtel, CC Associate Editor Chuck Schifsky, CC contributor C. Van Tune, CC Special Projects Manager Michael Johnson, Mustang & Fords Editor (and former CC staffer) Jerry Pitt, and High Performance Group Associate Editor Erik Falconer.
The most points (150) were at stake for Craftsmanship. The judges assessed each car's fit and finish, drivetrain quality, creativity, integration, and the level of modifications. This category also levels the playing field: a '55 Chevy may not do well on the slalom, but could score big points for all the details and work.
The Ride & Drive (100 points) was 127.9 miles along city boulevards, mountain roads, rural byways, suburban streets, and freeways at legal speeds paced by the Chevy Astro (neat van, go buy one). Each judge drove each car about 10 miles, concentrating on practicality, comfort, and dependability. Dependability can he tough—the route climbed more than 5000 feet on a muggy summer day and some cars overheated.
The numbers were crunched and we came up with a winner.
Acceleration (100 points)
Speed is what has mattered most to car guys through 100-plus years of car guy stuff. All acceleration scores are based strictly on quarter-mile e.t.s.
There are "street" cars that will run 8's, albeit on slicks with a drag racing suspension, open exhausts, and a motor with a 3000rpm idle. But few cars on realistically sized street radials with a real world suspension, corked, and a livable engine, will break into the 11's. Most hard-running street cars, and RSE competitors, run in the 13's.
Aided by a shot of nitrous, Chris Myrhe's Mustang was at the top of the 13-second group, running it well-controlled 13.45 @ 107.81 mph. The launch technique was gentle to not overwhelm the tires, but its high trap speed indicates the nitrous push at run's end.
Right behind the Mustang was Ken Zeller's Corvette running 13.51 @ 102.65 mph. We expected more from a supercharged Corvette with nitrous. An air intake over the hot headers and an unfortunate air route from the blower to the intake, kept the car from performing anywhere near expectation.
Also running 13's was the GN, Chevelle, Camaro. Supra. and Syclone. The Chevelle and Camaro couldn't hook their low-end torque effectively, while the Supra's weight and meager displacement made it difficult to launch.
The best Syclone launches were achieved by torque-loading against its emergency brake, which produced ultra-quick 0-30 and 0-60 times. Its AWD system ensured it was the only vehicle not traction-limited. Unfortunately, and surprisingly for a turbo, it pooped out on the top end—limited by gear ratio, aerodynamics, and drivetrain friction.
The Cutlass and '58 Ford, both limited by generous girth and mild powerplants, finished significantly behind.
The winner, the incredibly quick '55, left us in a dilemma. Its nitrous-addicted 406 small-block is the sort of engine the Italians write operas about, the English build navies to protect, the French hold feasts to celebrate, and the Germans invade neighbors to possess. But its ignition sends out blinding RF interference. The fifth-wheel's computer couldn't overcome that and upchucked. With no timing lights, we were forced to extrapolate. Yeah, that's it: "Extrapolate."
Using our driver's experience, the fifth-wheel's abbreviated data, and a series of timing slips provided by owner Lynn Mosmeyer, we have no doubt the car was running at least an 11.70. So the Bel Air was awarded the 100 points and the other scores were based on the very conservative 11.70 estimate of its run. It's about all we could do considering the circumstances and it's fair.
Acceleration (100 Points)
Car E.T. (Points)
1955 BelAir 11.70@110.00 mph* (100.00)
1989 Mustang 13.45@ 107.81 mph (86.99)
1986 Corvette 13.51 @ 102.65 mph (86.60)
1987 Grand National 13.55 @ 106.42 mph (86.35)
1991 Syclone 13.63 @ 96.26 mph (85.84)
1970 Chevelle 13.77 @ 102.51 mph (84.97)
1970 Camaro 13.79 @ 100.69 mph (84.84)
1988 Supra 13.87 @ 105.05 mph (84.35)
1972 Cutlass 14.66 @ 96.80 mph (79.81)
1958 Ford 15.90 @ 87.81 mph (73.59)
*Estimated
Braking (50 points)
The braking tests held few surprises with ABS-equipped cars dominating.
Late-model Corvette four-wheel-disc ABS brakes are simply the best, and Ken Zeller's are the quickest stoppers we've tested. Zeller's Corvette hauled down from 60 in a phenomenal 110 feet. As well as they did here, they betrayed the car during the Ride & Drive.
Behind the Corvette were the other two ABS vehicles, the Syclone and Supra. The Syclone's better-than-stock distance was attributed to the improved load transfer of its lowered suspension, while the Supra was helped by the large contact patches of its 17-inch tires.
The non-ABSers performed progressively worse the older they were—culminating in the "same day" 180-feet taken by that speed demon, the '55.
Braking (50 Points)
Car Distance (Points)
1986 Corvette 110 feet (50.00)
1991 Syclone 128 feet (42.97)
1988 Supra 134 feet (41.04)
1987 Grand National 142 feet (38.73)
1989 Mustang 144 feet (38.19)
1972 Cutlass 146 feet (37.67)
1970 Camaro 149 feet (36.91)
1970 Chevelle 152 feet (36.18)
1958 Ford 176 feet (31.25)
1955 Bel Air 180 feet (30.56)
Slalom (75 points)
The competitors were familiar with the dragstrip. but none had done the slalom.
The slalom is it good measure of a cars ability to recover from one corner in time to perform another. More than anything, it rewards balance; that point between a car pushing its nose (understeer) and swinging its tail (oversteer).
Leon Li's Supra rocketed through at 66.09 mph, only 0.11 mph better than Adi Mudaliar's GN, but good enough for first. Stock Supras are slalom pigs, with their large mass teetering on modest tires. Leon's lowering, huge rubber, and thick anti-roll bars changed that. The GN starts as it better slalomer and Adi's suspension tweaks paid off.
The Syclone, like a post-menopausal broodmare, plowed. Its AWD enabled the truck to power its way through immense understeer. The Corvette went through wagging its tail like a puppy, the normal Corvette slalom attitude, finishing just behind the Syclone and just ahead of Rick Blowers' Cutlass. The Cutlass had the sensation of infinite grip, equipped as it was with most of the same H-O Racing suspension that made Ken Crocie's '64 GTO so effective against the ZR-1 ("Old Goat New Tricks" CC, 9/92), but was stymied by slow and sloppy steering.
The Camaro, Chevelle, and Bel Air just weren't built for the slalom and were not happy doing it. The '58 Ford was downright miserable—and more fun. With massive amounts of body roll, slug-slow manual steering, a huge thin steering wheel, and a slick bench seat, the Ford was it major drama. It was a hairy, scary, and testosterone-packed thrill machine, even it' it was slow.
Slalom (75 Points)
Car Speed (Points)
1988 Supra 66.09 mph (75.00)
1987 Grand National 65.98 mph (74.88)
1991 Syclone 65.67 mph (74.52)
1986 Corvette 65.04 mph (73.81)
1972 Cutlass 63.82 mph (72.42)
1989 Mustang 63.72 mph (72.31)
1970 Camaro 58.69 mph (66.60)
1970 Chevelle 55.65 mph (63.15)
1955 BelAir 51.72 mph (58.69)
1958 Ford 49.89 mph (56.61)
Fuel Economy (25 points)
Each car was filled at the 127.9-mile Ride & Drive's start and end. The amount it took to fill the car that second time was used to calculate mileage.
Using its Doug Nash 4+3 overdrive transmission and 8.3:1 compression to advantage, the Corvette proved the most economical and returned over 19 mpg. Not surprisingly, since its engine displaces only 3 liters, the Supra was next, followed by the Mustang, GN, and Syclone. As long as drivers stayed out of boost on the turbos, fuel economy soared.
The big engine cars never stood a chance. Worst overall went to the '55 an abysmal 6.80 mpg. That's the price for having an 11-second street car.
From here on out, we offer opinions.
Fuel Economy (25 Points)
Car Fuel Mileage (Points)
1986 Corvette 19.09 mpg (25.00)
1988 Supra 18.53 mpg (24.27)
1989 Mustang 18.01 mpg (23.59)
1987 Grand National 17.52 mpg (22.94)
1991 Syclone 14.70 mpg (19.25)
1972 Cutlass 10.75 mpg (14.08)
1970 Camaro 10.75 mpg (14.08)
1970 Chevelle 9.54 nmpg (12.49)
1955 BelAir 6.80 mpg (8.91)
1958 Ford DNF (0.00)
Objective Scoring Point Totals (Best score in bold)
Car Accel Brake Slalom Mile Total
1986 Corvette 86.60 50.00 73.81 25.00 235.41
1988 Supra 84.35 41.04 15.00 24.27 224.66
1987 Grand National 86.35 38.73 74.88 22.94 222.90
1991 Syclone 85.84 42.97 74.52 19.25 222.58
1989 Mustang 86.99 38.19 72.31 23.59 221.08
1972 Cutlass 79.81 37.67 72.42 14.08 203.98
1970 Camaro 84.84 36.91 66.60 14.08 202.43
1955 Bel Air 100.00 30.56 58.69 8.91 198.16
1970 Chevelle 84.97 36.18 63,15 12.49 196.79
1958 Ford 73.59 31.25 56.61 DNF 161.45
Craftsmanship
This was the single most important competition and the most points went to Chris Myrhe's '89 Mustang. What struck the judges wasn't an endless array of high-buck parts, but the detailing of every component. This is a no-buck, high-effort automobile; a car whose owner has invested more sweat and thought than green into its construction.
Among the details that impressed the judges were the way the blue stripes on the hood of the car continued not just on ( both sides of the hood, but through the radiator shroud and up along the firewall. In order to do that, Chris must have pulled the engine.
While most of the engine components are stock, each was removed and either painted or polished for visual effect. Also, the A/C system used blue hoses to go with the car's theme and the nitrous bottle mount was singled out for compliments. The aftermarket body kit used on the exterior was not only well-integrated into the car, but had been optimized to fit well too. And the simple Center Line wheels were perfect for this car.
Though everyone admired the effort in Chris's Mustang, some thought it may he overdone. One less set of stripes and losing that ball at the tip of the radio antenna would have been better.
Right behind the Mustang came Leon Li's Supra. While it doesn't have near the Mustang's detail, every aftermarket component was perfect in the car, and each component was top quality.
The Supra was bolt-on madness, as one judge noted, "The more turbo toys the better," and another quipped, "He trusted HKS to the nth degree." Since the car came turbocharged, some judges would have preferred more intense engine modifications including nitrous, polishing components, blueprinting the cylinder heads, and re-camming.
The suspension, which included Eihach springs. TRD shocks, and HRE anti-roll bars, was praised for its invisibility and effectiveness, and the Stern Face I 17-inch wheels looked supremely hitchin'. Inside, everyone with a butt loathed the narrow Sparco Monza seat. Leon said the seat was "fine for him" but that didn't cut it with our wide-bodies.
Classic musclecar stuff made everyone slobber over Erik Bergren's Chevelle. The judges found the car "very clean and thankfully so. Overkill is easy and Erik has shown great restraint keeping it looking so stock."
Erik's car started as it 396, so its 0.60- over 427 is a transplant. The detailed engine has neat touches, including underdriven pulleys, and the 3-inch exhaust made the best sounds of the competition. Inside, the dash was nicely covered, the aftermarket radio well-integrated, the LeCarra steering wheel in character, and the tach nicely mounted. Unfortunately, the trunk wasn't finished. Even with its flaws, everyone wanted this car.
Ken Zeller's Corvette looked stock on the outside. Except for the driving lights in the license plate well, it is stock, but was full of other changes. As one judge noted "Stock outside, race under hood." The inside is stock, except for the addition of necessary monitoring gauges. Stock Corvette is still good.
Ken's L98 350 is full of his modifications. He redesigned the Paxton blower's intake plumbing, installed a set of "exempted" Air Flow Research heads, and relocated the alternator for clearance. Ken's engine is impressive, except the air intake is right over the left header, which means the engine sucks in nothing but boiling hot air— not good.
The Syclone and Grand National both gained points for their modifications, but both were essentially stock appearing, nearly new, vehicles. Their close finish to one another is explained by the similarity of their modifications.
Blair's '58 Ford gained big points for its neat paint, custom-upholstered interior, glove box-mounted stereo, custom grille, and detailed tri-power engine. But the tach and speedometer were disconnected. One judge noted that the car "needs plug wire looms, headers, windshield wipers, and overall wiring help."
The '55 Chevy garnered praise for its sleeper status. "Performance isn't pretty" said one judge, but "if you want to know how to build a fast street Shoebox, call Lynn Mosmeyer." "The engine compartment is as unimpressive as a junkyard dog" another judge noted, "but hey, it could pass for a 265!"
According to Lynn, his '55 has a total of $4000 in it, so most of it is stock except for the well-executed mechanical changes, including the front disc brakes. 12-bolt rear, and Turbo 350 tranny. For what it is, and what a money winner as a street racer it could be everyone loved it.
Chris Rentas' Camaro was built quick to go quick, and the compromises show.
Craftsman ship
1989 Mustang 118.75
1988Supra 115.33
1970 Chevelle 113.75
1986Corvette 111.92
1991 Syclone 97.50
1987 Grand National 96.67
1955 Bel Air 93.08
1958 Ford 91.66
1972 Cutlass 88.58
1970 Camaro 83.17
Ride & Drive
On the 127.9-mile Ride & Drive, the most unforgivable sin was not completing the route. Right behind that was overheating. Chris Rentas' Camaro overheated, and his score reflects that. Judges, though, were surprised by how well the car handled despite the lack of a front bar, but hated the fiberglass seats.
Ken Zeller's Corvette's brakes went away. We've never had any problem with late-model Vette brakes before, but these, which set the shortest distance in testing, vanished during mountain driving, so his score suffers.
One judge noted about Lynn Mosmeyer's '55 "very #% &'int cool. As cool as it was, with its wild cam, loose converter, and loose vintage steering box, it wasn't the easiest or most comfortable car for a long drive. The car ran a bit warm up the mountain, but nothing drastic. The disc brakes improved things markedly, but standards of comfort and driveahility have come a long way since this essentially stock '55 was built.
Leon Li's Supra didn't do anything untoward, but these judges worship low-end throttle and there wasn't enough in the Supra for them. They complained that the engine demands too much shifting to get the most out of it. Big kudos went to its quick steering turn-in and stiff, but not harsh, ride.
Rick Blowers' big, comfortable Cutlass didn't shame itself. Malcontent C. Van Tune noted that, ergonomically. "Olds is the worst of musciecar intermediates," but admitted that "if you can stand the interior, it handles well and seats five." For the other judges it seemed low on power and high on handling, and that earned it over 77 points.
"Very cool, very fast, very stock." is how one judge summed up Adi Mudaliar's Grand National. A big, comfortable car, the only complaints were extra turbo noise and harshness from the stiff suspension. Otherwise, this is a car long on traditional Buick comfort.
A speck ahead of the Buick was Don Sanford's Syclone. The closeness is explained by the similarity of the complaints; the only thing anyone could find fault with on Don's mostly stock truck was its relatively noisy turbo.
Everyone adored Erik Bergren's Chevelle. "More torque than a D-9 Caterpillar," said one enrapturee. "Extremely fun to drive," said another. It shifted beautifully, was super comfortable, and didn't complain during the drive. All it lacked here was modern creature comforts.
The best score went to the Mustang. Chris Myrhe's attention to detail paid off again in a car that did everything whilecoddling its occupants. "The best of all worlds: A/C nice, steering great, handles beautifully, and rides nice," noted one judge. The clutch was a bit sticky, but no other car would have made as pleasant an everyday driving companion. It didn't inspire the same passionate responses the Chevelle did, but it earned everyone's respect and admiration.
Blair Smith did not participate in the Ride & Drive with his '58 Ford.
Ride & Drive
1989 Mustang 8417
1970 Chevelle 81.17
1991 Syclone 80.50
1987 Grand National 80.17
1972 Cutlass 77.83
1988 Supra 75.00
1955 Bet Air 70.50
1986 Corvette 69.17
1970 Camaro 59.05
1958 Ford DNF
The Overall Winner
Add the objective totals with the subjective evaluations and the winner is… Chris Myrhe's '89 Mustang LX 5.0. For the second year in a row, a 5.0-liter Mustang wins Real Street Eliminator.
Myrhe's Mustang didn't win a single event in the objective scoring, but was close in all of them. Its solid, if unspectacular, track performance left it less than 15 points behind the leading Corvette going into Day Two.
The Craftsmanship and Ride & Drive evaluations made the difference: Chris won both of those outright. The level of detail on his car far surpassed everyone else's, with emphasis on the little things that take more effort than dollars. And nothing drove as comfortably or reliably. Chris Myrhe's car won because of its overall balance, not its overwhelming performance.
No car embarrassed itself here. But our winner proves that it's not dollars that build a great performance vehicle, it's time and sweat spent carefully modifying a good, solid car.