Sport Truck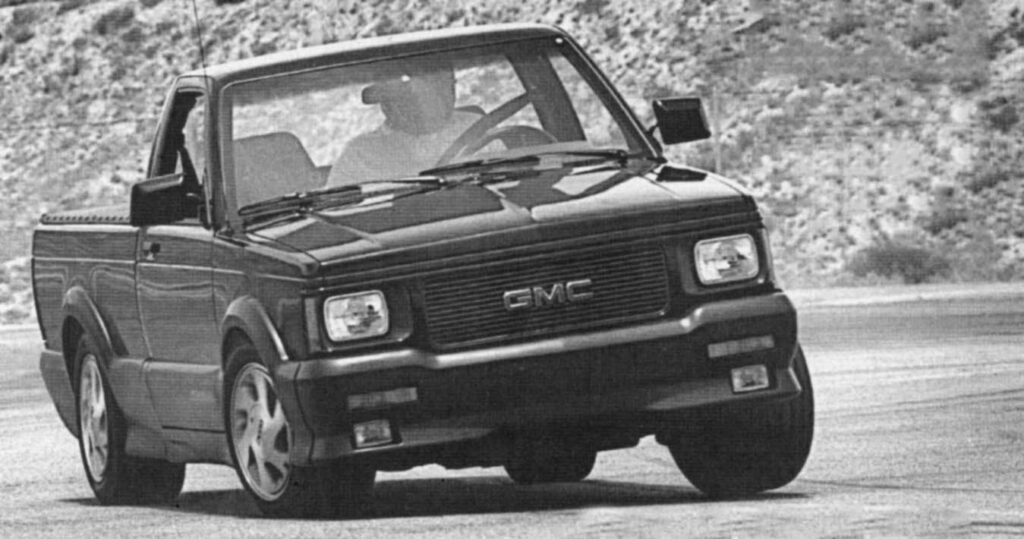 By Mike Magda
There's never been any dispute as to the straight-line performance of the GMC Syclone. Last year on the dragstrip, we hammered a prototype model into the low 13s at just under 100 mph–quick enough to threaten ZR-1 Corvettes. That's easily the quickest any factory pickup has covered the quartermile. The production units are slightly detuned and have additional safety factors built in to limit performance, but the Syclone is still a neck-snapping, whirlwind of a ride that can drain your brain off the launch pad.
With our eyeballs already having tickled the backs of our heads, we wanted to experience the Syclone in a road-racing situation. Skid-pad tests and a few laps at Willow Springs Raceway indicated that the Syclone was the best-handling pickup truck ever made. But could it compete with Vettes in the corners as well as it did on the straightaways?
To answer these questions and more, we obtained a pair of Syclones and entered a Sports Car Club of America (SCCA) Solo II race. The first truck was a stock unit with just over 1000 break-in miles logged on the odometer. Associate Editor Rob Kinnan, who has attended Skip Barber's racing school, drew the driving chores.
I took the reins of the Turbo City Syclone. Turbo City is one of the first aftermarket companies to evaluate and develop performance equipment for the Syclone, and we were lucky enough to be part of the initial testing. Not much was added to the engine except a new PROM chip, a different fuel-pressure regulator, a power pulley, a high-flow throttle body and an upgraded exhaust system. The new PROM was programmed to eliminate the fuel cutoff ( a safety factor to limit engine speed at about 4500 rpm) and to allow the turbo to work more effectively in certain rpm ranges. Turbo City is also working with Kenne-Bell on more engine modifications, which we'll detail in a later article when dyno testing is completed.
The Syclone was delivered to Suspension Techniques for prototype suspension work. The engineering crew had only two days to fabricate antisway bars and adjust the suspension for racing conditions. The front bar is a 1 ¾-inch-diameter unit (larger than the stock 1 ¼-inch unit) and was mounted in the stock location. The rear bar was cold bent from one-inch, stressproof carbon steel. Suspension Techniques' rear antisway bars for the S-trucks are usually mounted to the leaf springs. The Syclone prototype model was designed to mount on the frame. Suspension Techniques left the stock Bilstein shocks, but is working with aftermarket companies to develop a performance shock for the Syclone.
Suspension Techniques lowered the Syclone about 1 ½ inches up front and three inches in the rear. The front was lowered by turning down the torsion bars, while the rear was lowered with three-inch aluminum blocks. For optimum race handling, the camber was set at 1 ¾ degrees negative. The engineers would like to have gone with more negative camber, but that was as far as the stock settings would allow. Caster was set at six degrees positive to help straight-line stability and returning to center out of the turns. The toe setting was 1/16 to 1/8 inch out to help initial turn in. (These preliminary settings are for race only. Suspension Techniques is currently developing high-performance street settings.) Finally, a set of 245/45R16 BFGoodrich Comp T/A R-1 racing tires was mounted on the stock rims. The R-1 from BFGoodrich comes in two compounds: road racing and autocross. We chose the latter.
Our racing venue was the Sixth Pt. Mugu Operation Solo II, a California Sports Car Club (Cal Club) regional championship event and part of the LS Tropies Slalom Series. Sponsored by Gulstrand Racing Association, the race was staged on the runways of the Point Mugu Naval Air Station in Southern California.
A Solo II race is an autocross event where the vehicles race against the clock around a course marked by slalom pylons. (A Solo I event is a race against the clock over an established road course.) A time penalty is assessed against drivers for hit pylons. Solo II races are generally held on large parking lots or airport runways. so the organizers have more latitude in designing creative courses. The Point Mugu course covered 4908 feet and featured three slalom sections, numerous chicanes, a fast dogleg and a concrete skid-pad tum.
More than 220 entries registered for the race, including a bunch of Vettes. Classes are designated according to vehicle type and modifications. Cal Club was one of the first SCCA regional groups to establish a separate class for trucks. (The SCCA Pro Solo division also has a four-cylinder truck class.) Rob entered his stock Syclone in the Sport Truck division, while I put the Turbo City Syclone in the A-Street Prepared class. There are a few requirements to enter a solo race: The vehicle must be in safe working condition with suitable mufflers and seat belts (modified vehicles may be required to have a rollbar and other safety equipment) and drivers must have a valid operator's license and wear a helmet. (I had my trusty Bell AFX-1, but many organizations provide loaner helmets for first-time participants.)
There were 12 entries in my class, including two Vettes, a Porsche 911, a BMW M3 and a handful of 240Zs and 300ZXs. I raced in two previous Pro Solo events (professional, side-by-side solo format), so I had autocross experience. However, I took it easy on the first run and posted a time of 84.74 seconds. I felt the truck was pushing too much in the turns, and I consulted with Ken Nord of Suspension Techniques who was racing in another class. He checked the scruff marks on the new R-1 tires to see if there was sufficient roll over on the tread pattern. Ken determined that not enough of the tread was being used, so he started adjusting tire pressure. My first run was with 36 pounds up front and 32 in the rear. We boosted the front up to 39 and lowered the rear to 27. This change was to induce a little more oversteer.
I lowered my time on the second run to 84.59 seconds. Ken adjusted the tire pressure to 41 in the left front, 39 in the right front and 25 in the rear. I then clicked off a best run of 83.06 seconds ( average speed of 40.28 mph).
My time wasn't good enough to challenge the Vettes. Doug Jacks won the class in his Porsche 911 with a time of 75.04 seconds ( average speed of 44.59 mph) followed by Evilio Sierra in an '85 Corvette (76.75), Rick Brown in a Datsun 240Z (76.78), Brooke Chmielewski in a '90 Corvette (78.35) and Richard Pilfold in another 240Z (80.94). I finished sixth with the Syclone while the remaining six entries rounded out the class with times ranging from 85.17 to 102.65.
Just in case my driving skills didn't give the Syclone its best shot, I asked Doug, the winner in my class and a 15- year veteran of SCCA racing, to take the truck out for three runs. His best was 82.50 seconds, just a half-second quicker than my best.
Rob fared a little better in his class, finishing third out of five entries. His best time was 87.33 seconds. Daryl Porter won the class in his Nissan with a time of 84.26 seconds followed by Matt Hays in the same Nissan (more than one driver can enter with the same vehicle at SCCA Solo events) with a time of 84.83. Following Rob were David Francis in a Toyota (87.56) and Frank Talon in a Nissan (95.92). Later in the day, Daryl clicked off a great run of 79 .42 seconds during time-only racing, but had a two-second penalty for a hit cone.
Daryl and Matt's Nissan Hardbody is the best evidence we can find of downsized pickups that can be modified on a budget to run competitively on solo circuits. Daryl's 79.42-second time would have beat numerous Vettes running in the Super Stock and B-Street Prepared classes. He got into solo racing at the urging of Larry Ford, who was the catalyst for opening Cal Club's truck class. Daryl and Matt built up the '90 Nissan with the help of Nissan racer Spencer Low. It's been modified with composite springs, a limited-slip differential, Bilstein and Koni shocks, homemade traction bars, Cobra seats, DynoMax mufflers, Schroth seat belts, Centerline wheels and BFGoodrich tires. The four-cylinder engine is stock.
Seeing the Nissan run so well with just suspension modifications was motivation to continue testing and development on the Syclone. We were a little disappointed that we weren't more competitive against the Vettes, but we know the Syclone is based on a four-wheel-drive truck. Our race outing was just the first stage of testing, and we showed that the Turbo City/Suspension Techniques modifications chopped four seconds off the stock Syclone's time. Both companies learned plenty from our runs, and we know work is continuing. The engine will be blueprinted and modified by KenneBell, so we should get more power to play with. Suspension Techniques is also working to develop performance shocks, and further skid-pad tests will help determine optimum suspension settings. We're eager to enter another autocross race and challenge the Vettes because we know the potential is there.