Ward's Auto World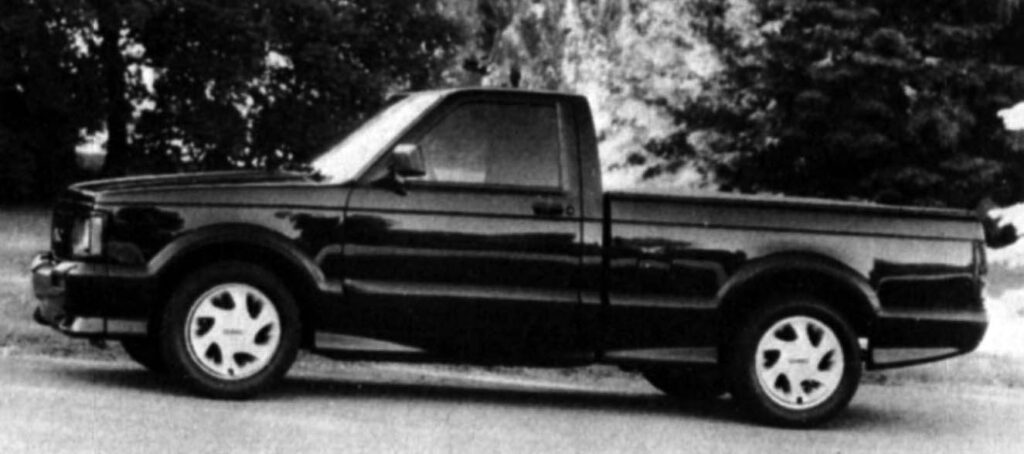 PONTIAC, Mich. General Motors Corp.'s new Syclone is designed to serve two masters.
We believe there are two sub-segments in the performance-truck segment, says Kim Nielsen, Syclone marketing manager at GMC Truck Div. One group of buyers are 'truckers' looking for more performance; and there's another group made up of car people who are willing to cross over into the performance-truck market. Our original marketing goal was to hit both of these subsegments with the Syclone.
FOUR HOT WHEELS
High-performance AWD Syclone compact pickup truck boasts a 280-hp turbocharged, intercooled version of GM's 4.3L V-6 engine.
Powered by a turbocharged version of GM's 4.3L V-6, which delivers 280 hp at 4,400 rpm and 360 ft-lbs. (488 Nm) of torque at 3,600 rpm, the Syclone is capable of sub-5-second 0-60 mph (97 km/h) runs even on wet pavement because the engine torque is put to the pavement by an all-wheel-drive (AWD) system.
The Syclone engine uses hypereutectic alloy pistons that are harder than those used in the Chevrolet Corvette's 5.7L L98 V-8 engine and is fitted with a high-volume, high-pressure oil pump.
In addition, Mr. Nielsen says the Syclone 4.3L gets completely new upper and lower intake manifolds that were engineered by GMC's outside partner, PAS Inc. of Troy, Mich. The normal 4.3L uses throttle-body fuel injection, but the Syclone engine gets multiport injection with Bosch fuel injectors and a Handy & Harman fuel rail.
The turbocharged 4.3L has a thick-wall, cast-iron exhaust manifold, engineered by PAS, which is joined to a new crossover pipe that measures about 3.5 ins. (89 mm) in diameter. The crossover leads to a new dual-exhaust system with two 2.5-in. (63.5-mm) tailpipes. The low-resistance mufflers are from Walker DynoMax. The turbocharger is a Mitsubishi TDO6 unit with a water-cooled center bearing. To round out the changes to the 4.3L V-6, GMC chose an AiResearch water-to-air intercooler to cool the pressurized intake air. The intercooler has its own heat exchanger mounted below the radiator and also boasts its own coolant supply.
The Syclone's 4-speed automatic transmission is a version of the Hydra-matic 700R4 that was "pulled ahead" from the '92-model Corvette program, Mr. Nielsen says. The Syclone transmission isn't electronically controlled like the one expected on the '92 Corvette, but it does use the valve-body and servo mechanisms from the future 'Vette gearbox.
"If Pizza Hut would buy a fleet of these, they could beat Domino's to the door every time,"says John Rock, GMC general manager.
GMC's new truck uses a Borg-Warner transfer case with a viscous clutch and interaxle differential, the same unit found on the Oldsmobile Bravada sport/utility vehicle. Torque split is 35% front/65% rear. Also from the Bravada are 1-piece front and rear prop shafts with heavy-duty constant-velocity Joints developed by PAS.
The rear axle has a limited-slip mechanical differential with a 3.42:1 final-drive ratio. The front differential also is a 3.42:1 unit that splits torque 50/50 right/left and is basically the same unit found on the GMC Safari/Chevy Astro AWD L-van.
The Syclone is based on the GMC S15 compact truck platform with a few alternations. Ride height is lowered 0.8 ins. (20.3 mm) in front and almost 3 ins. (76.2 mm) in the rear by using lower spring rates in stead of drop spindles.
Kelsey-Hayes Co.'s Western Wheel Div. produces the Syclone's GM-designed 1648 aluminum, machine-finished wheels. Firestone supplies the tires.
GMC can build 14,000 Syclones a year, in Shreveport. La. Mr. Rock says GMC has 2,600 orders currently.