Autoweek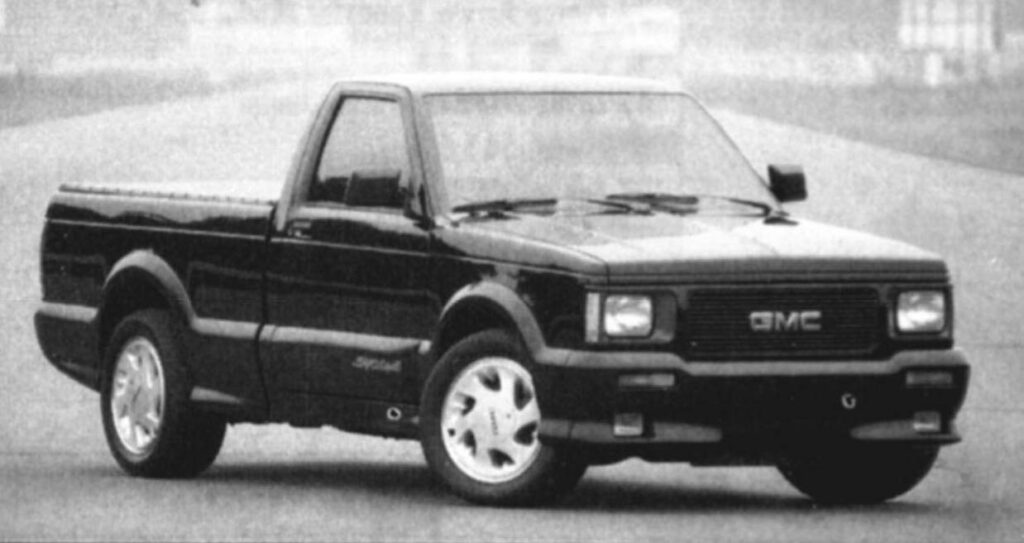 GMC's screaming Syclone sport truck will retail for $25,500, and is just the first of several new image-building machines that will likely include a Syclone-line pavement-oriented sport/utility, according to brass at the General's truck division.
General manager John Rock said GMC will do "everything in its power" to keep dealers from packing the $25,500 MSRP, should initial demand for Syclone exceed supply. Dealers are now taking orders for delivery of the first Syclones in January.
The Syclone's 4.3-liter Vortec V6 is pumped up via turbocharger and liquid-cooled intercooler, delivering 280 hp and 360 lb ft of torque. With all-wheel drive and four-speed automatic, the Sonoma-based compact pickup runs 0-60 times of less than five seconds. GMC will build 5000 annually.
If $25,000-plus seems a bit steep for a compact pickup, GMC notes that Syclone outperforms sportsters like Mitsubishi's 3000GT VR-4 for substantially less cash, with the added benefit of a bed for hauling.
Syclone will be followed by other specialty vehicles. Brian Nielsen, Syclone project manager, says a two-door S-15 Jimmy with Syclone-like tweaks is on the drawing board. A version of Chevy's three-quarter ton 454SS is not in the cards.
"That isn't with the high-tech image we're building," said Nielsen. "The Syclone–because of more efficient injection and better aerodynamics–actually gets better mileage than Sonoma."
The "leading-edge" image GMC hopes to cast will be based on "greater customer responsiveness," according to national sales manager Rick Lee. It also will be built on "more niche vehicles, more risk-taking and more speed getting products to market."
Still, GMC anticipates lower sales for calendar 1991 after four years of new records.
"We're not sure yet how much," said Lee. "The whole market's falling into a pit and I don't hear anyone out there saying exactly where the bottom is. (But) I think light trucks in general are in better shape (than the market as a whole). We could see a shift from full-size to compact trucks."