Sport Truck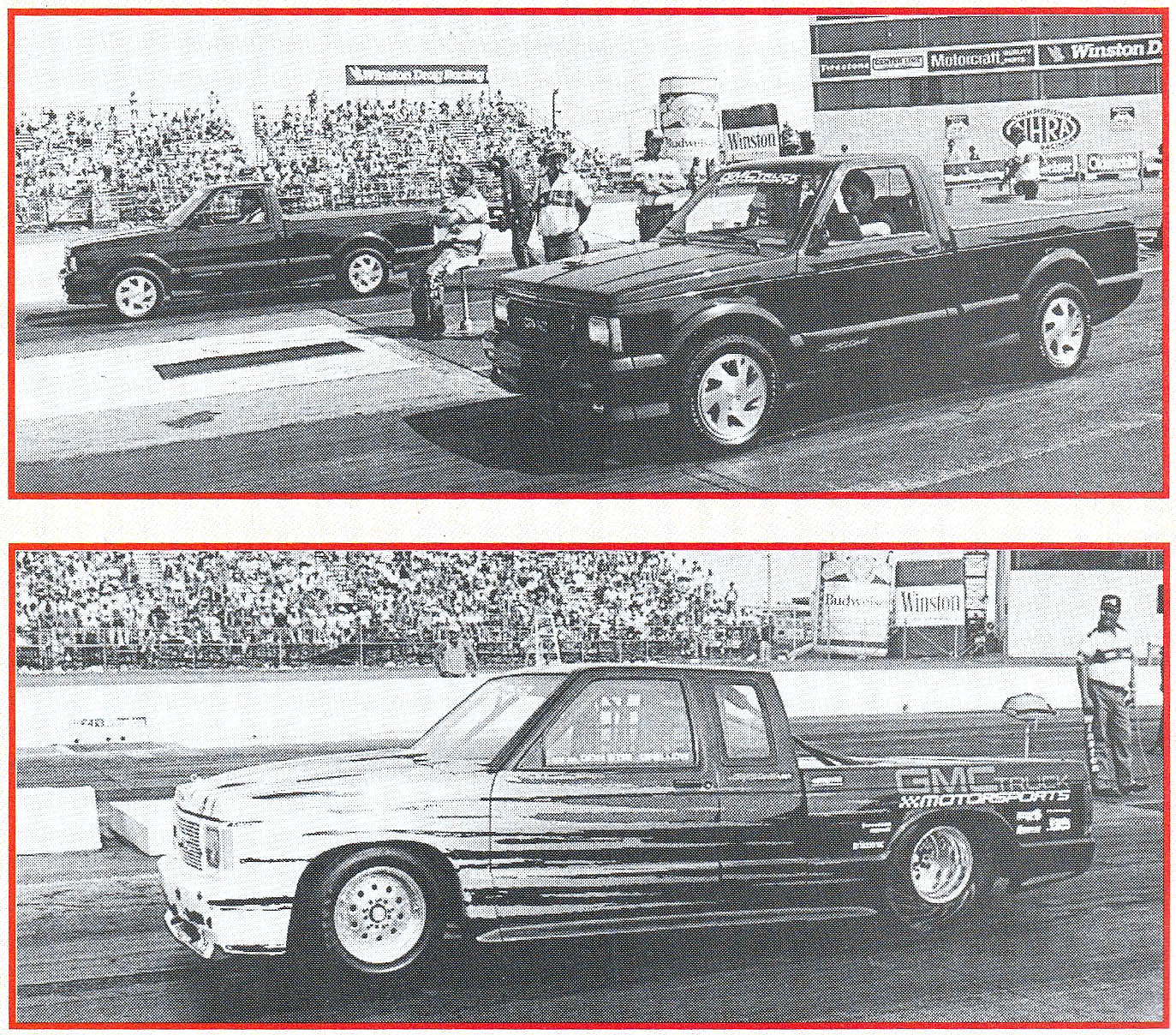 Just kidding-the NHRA hasn't started a separate class for Syclones, but it has included some Syclone demonstration runs at several national events this year, including this race held at the U.S. Nationals in Indy. Members of the media, local dealers and some customers started eliminations on Wednesday, with the winner running heads-up against "The Snake" himself, Don Prudhomme. Brian Kennedy of Tipton, Indiana, bested all comers, including the Top Fuel ace, to take the final win light. The weather was typical Indiana hot and humid, so the Syclones were only turning low- 14s, but the races were still big crowd-pleasers.
The Syclone getting daylight under the front wheel is the "NHRA version" of the Syclone LSR Bonneville truck. This extended cab pickup runs on a 120-inch-wheelbase chassis using Strange and Chassis Engineering suspension components, 32×14-inch Firestone drag slicks, and the same engine used in the LSR: a Katech-built 4.3-liter Vortec V-6 punched out to 5.0- liters with 14.3:1 compression, Kinsler/Delco electronic fuel injection, and a Delco GEN Ill engine management system (straight from an Indy car). Power output is 549 horses at 7 400 rpm and 429 lb-ft of torque at 5650 rpm. The truck was built to Super Gas class specs, has run a best e.t. of 10.01 seconds, and was built "to showcase the potential of GM 4.3-liter V-6 engines in motorsports competition." Strictly an exhibition piece not meant for competition, this "Syclone" will make runs at NHRA national events. Watch for it.
In other Syclone news: Remember when GMC told us that the Syclone would be available in red in '92, then changed their minds? Well, we've just been told that they'll be painting the killer trucks in five different colors. In 1992, both the Syclone and the Typhoon will be available in black, white, red, blue and teal.